Bushnell Motorsports Park Announces 2016 Karting Series Program
New facility in central Florida set for first season of competition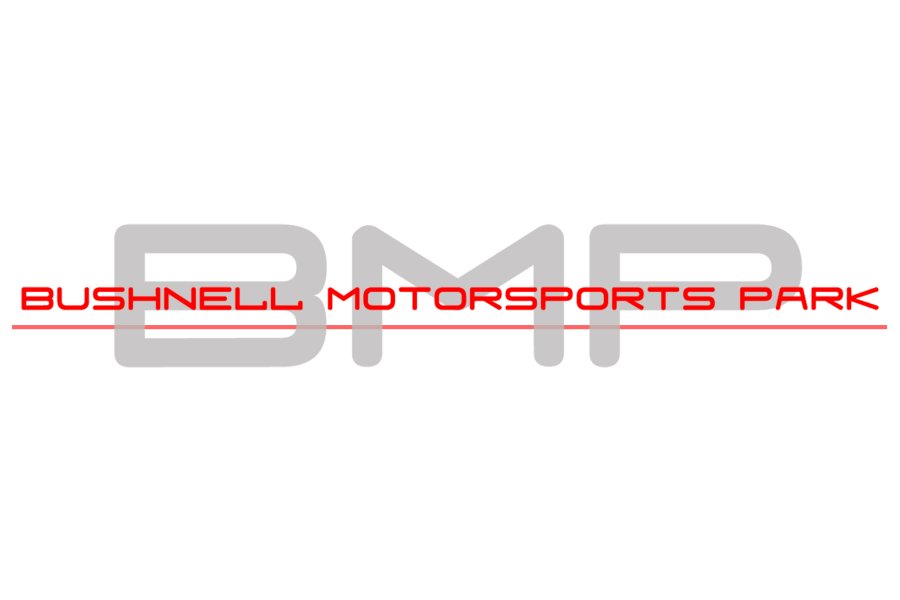 Bushnell Motorsports Park is happy to announce that starting February 27th, it will host an 8-race series for the kart owners of Central Florida and beyond. Using the 4th Saturday of each month format, BMP is on offsetting weekends to other local tracks that draw large crowds in classes like, Shifter, TaG, Briggs and Stratton 206, and other kid classes allowing racers more opportunities to race during any given month.
BMP has been working closely with other tracks in efforts to adopt a particular set of rules and class structures to unite the state of Florida's karting community, allowing easy transition from one event to the next at different tracks. By using the AKRA and 206Cup rule packages, the racer will have a clear and accurate set of rules that can be understood and implemented easily each race.
Their series will kickoff on February 27 with following dates of April 23, May 28, June 25, July 23, August 27, September 24 and October 22. Race entry is $55, pit passes are $10 and BMP will offer free parking. The February 27 event will start at 7:30am and will allow racers 3 rounds of practice, a 10-lap heat race and then a 14-lap final race.
2 Cycle classes at BMP will follow AKRA/TaGUSA rules for all engines, tires, and weights.
4 Cycle Class at BMP will follow 206Cup Rules for engines, tires, and weights.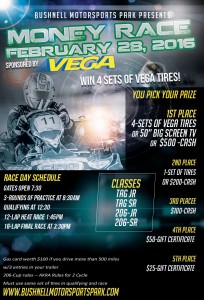 2016 Bushnell Motorsports Park Tire Rules
TaG Sr/TaG Jr/TaG Masters/Shifter(all) – per AKRA/TaGUSA:
Vega FH
Vega XH
MG Yellow
Bridgestone YLM
Bridgestone YLC
Hoosier R60A
Mojo D2
All other 2 cycle classes – per AKRA/TaGUSA:
Vega FH
All 206 Classes – per 206Cup:
Vega FH
Classes Include (must have 4 or more to have a class):
Kid Kart
Cadet 1
Rotax Micro Max
Cadet 2
206 Sportman
TaG Jr
Rotax Max Jr
Rok Jr
TaG Sr
Rotax Sr
Rok Sr
TaG Master
Rotax Master
Rok Master
Shifter Jr
Stock Honda
Rok Shifter
Shifter Masters
206 Jr
206 Sr Medium
206 Sr Heavy
206 Masters
Yamaha Jr
Yamaha Sr Can
Yamaha Sr Pipe
Sunday Money Race – SPECIAL EVENT:
As apart of their initial launch, BMP will also host a Money Race on Sunday, February 28th for TaG Jr, TaG Sr, 206 Jr and 206 Sr (375lbs). BMP and Vega Tire will be giving the winner of each of the 4 classes a choice of either 4 sets of Vega tires, a 50" big screen TV, or $500 cash. 2nd place will have the option of a set of tires or $200 cash. 3rd will receive $100, 4th will receive a $50 gift certificate, and 5th will receive a $25 gift certificate. Entry fee will be $125 and pit pass are $10 for all ages, and parking is FREE. Vega tires only for the Sunday portion of the weekend, you will race the tires you qualify on. As an added bonus, BMP will give trailers coming from 500+ miles with at least 3 entries in it $100 in gas money. Bring 6 entries and get $200! 2-Day pit passes are available for $20 if you plan to attend both days.
Bring 3 entries in your trailer and receive a $100 gas gift card if you came from 500 miles or further! Vega Tires only. The tire you qualify on is the tire you will race. 206 Sr will race at 375lb.
Head over to BushnellMotorsportsPark.com for more information about this new facility.
Please follow and like us: