Offenbach Show: Presentation of OK Engines and Interview with Alexander Geier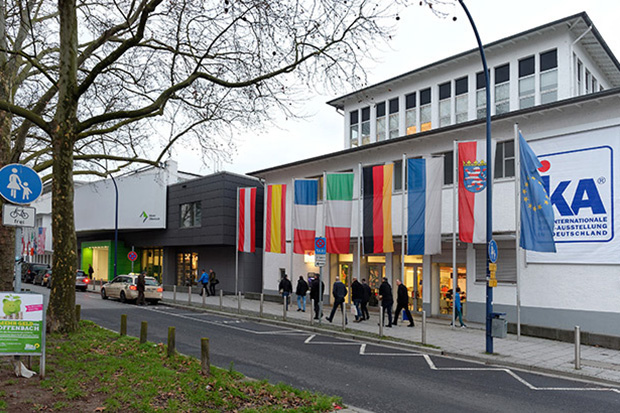 IKA Kart 2000, the largest show in the world devoted exclusively to karting has been held in Germany for 24 years, at Offenbach. This year, the public, as passionate as they were numerous, were able to discover the newly homologated engines, including the new OK and OK-Junior, exhibited for the first time.
Regarding the new generation of direct-drive engines, four brands were represented: TM Racing, Vortex, IAME and Rexon Motors. The TM Racing factory had its own stand to display its engines and internal components, while the technical director Franco Drudi had made the trip to answer questions from amateurs and professionals. Vortex and IAME relied on their Ger man dealers to ensure the promotion of the new engines, and Rexon Motors was hosted by the manufacturer PVL ignitions. Visitors were able to learn about the features of these new engines and compare their far more competitive costs than the old KF. The attraction of the OK and OK-Junior engine was confirmed during the two days of the show at Offenbach, while the teams have already begun their preparation on track and the first race, the WSK Champions Cup, will take place in less than three weeks in Italy on the Adria Karting Raceway.
On the stand of the German ASN, Alexander Geier was able to speak about the generation of CIK-FIA engines, as the coordinator of all disciplines, including karting, within the DMSB.
Germany was one of the first countries to announce its willingness to use the OK and OK-Junior. How was it decided?
"It is very simple. The DMSB has managed to give its National Championship, the DKM, an international high-level dimension for several years that attracts many foreign drivers and teams using the CIK-FIA categories and regulations. So we did not hesitate for a moment to introduce the OK and OK-Junior for the 2016 season at the five Competitions on our calendar. Other series organised in our country will also follow the movement that we initiated. This is particularly the case for the ADAC Kart Masters which opens its doors to OK and OK-Junior among the other categories it hosts in its five Competitions. It will be possible to race with these new engines at all levels in Germany thi s year."
What is the opinion of the DMSB regarding these new engines?
"Like everyone else, we await the verdict from the first races to confirm the promise of these engines. However, OKs have strong arguments that have already convinced many professionals and officials in Germany. Removing the clutch, electric starter and its various accessories was both a flashback and an evolution. We are convinced that the simplification and reduction in costs of the equipment will attract drivers and teams that were kept away from the old KF, I think especially the national Drivers tempted by a new experience. The financial aspect is of course very important and the reduction of competition budgets can only enhance the success of OK and OK-Junior and of karting in general. We believe that the CIK-FIA has chosen the right direction to revitalise the direct-drive karting categories and hopefully a new en thusiasm at the early levels of competition with an overall broadening of the base of participants."
Please follow and like us: