2016 Series Supporters Confirmed for Challenge of the Americas
Premier winter karting series on the left coast set to begin January 29-31 in Tucson, Arizona
Racers from all across North America and selected countries are making the final preparations for the opening event of the Challenge of the Americas, set to begin at the Musselman Honda Circuit in Tucson, Arizona on January 29-31. The ninth season begins a new era with two shifterkart categories joining the class structure in 2016, racing alongside the five Rotax divisions recognized for the three-event championship series.
Many of the racers heading to the Challenge of the Americas begin the journey toward a championship, with three categories providing the opportunity to win a 2016 Rotax Grand Finals ticket. The title winners in Senior Max, Junior Max, and Masters Max will earn the right to represent their respective country in Italy this October at the 'Olympics of Karting', a prize package valued anywhere between $8,000 and $10k. Entries to the United States Rotax Grand Nationals – set for the Simraceway Performance Karting Center in Sonoma, California in August – are scheduled to be awarded to United States drivers that earn the championship in the Mini Max and Micro Max divisions, The Shifter Senior and Shifter Masters champions each earn an entry to the US Open series finale at the Rio All-Suites Hotel & Casino in Las Vegas this November.
These prizes, and many more set to be awarded over the three weekends from January to April, are offered thanks to six karting companies that have step up to show their support of the Challenge of the Americas program for the 2016 season as class sponsors.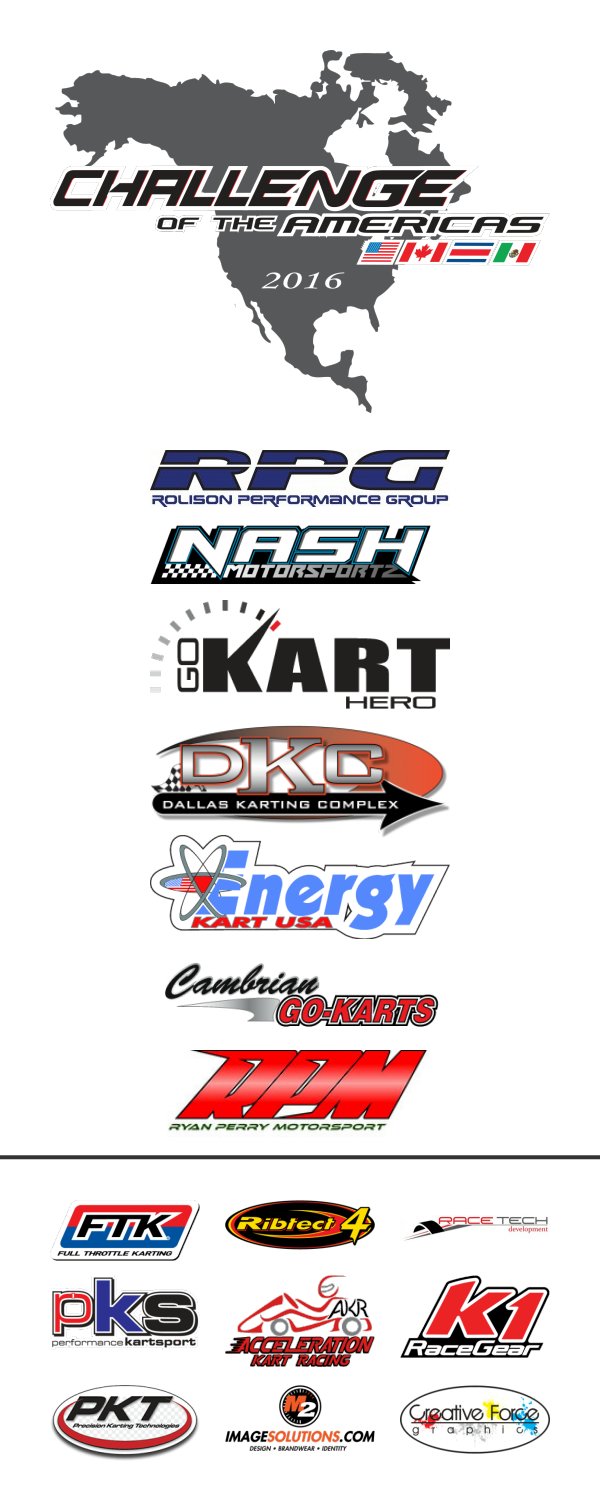 Rolison Performance Group
One of the most successful race teams in recent years is the Rolison Performance Group. Led by veteran karter Mike Rolison, the operation is focused on driver development for any type of driving background. RPG team secured five Challenge of the Americas championships the last three seasons, including three-straight in Senior Max with Phillip Arscott a two-time title winner and last year's champion Luke Selliken. Blaine Rocha and Austin Versteeg claimed titles behind the wheel in Junior Max packages in 2013 and 2014. In total, Rolison Performance Group sent 10 drivers to the Rotax Grand Finals as part of Team USA that last three seasons; www.rolisonperformancegroup.com
Nash Motorsportz
Experience and commitment are two words to describe the work ethic of Nash Motorsportz. Owners Seth and Tracie Nash have built their company on what is best for each client, with the results to prove it. They provide outstanding engineering and coaching for each of their drivers. Nash Motorsportz is a Rotax Service Center and has a complete line of chassis and products for all age levels and different divisions within the sport; nashmotorsportz.com
Go Kart Hero
Located in Medford, Oregon, Go Kart Hero is an independent and locally owned indoor kart racing facility. The 30,000 square foot building houses a 9-turn, 0.14-mile course with specially prepared concrete flooring for their Sodi RT8 and LR4 racing fleet on Duro tires – available for drivers of all ages, including Cadet models for drivers 7-14 years of age. Come and enjoy an experience at Go Kart Hero; gokarthero.com
Dallas Karting Complex
Located in Caddo Mills, Texas, the Dallas Karting Complex is the complete karting facility races can enjoy. Co-owned by veteran karters Mike Jones and Kevin Adds, an 8/10-mile track is situated on 25-acres northeast of the metropolitan area, featuring a full service shop offering the full line of karts from Sodi, Intrepid and CRG along with powerplants manufactured by Rotax and Honda. Their rental kart fleet has helped to promote the sport of karting, introducing thousands of racing fans to the grassroot motorsport; dallaskartingcomplex.com
Energy Kart USA
United States has a new operation importing the successful and popular Energy chassis. The Colorado-based operation established this new partnership with the Italian manufacture, bringing together a strong customer base and one of the top race teams in the country. The Cook family continues to be a strong supporter of the Challenge, and are trackside in 2016 with a full range of parts and services for all Energy drivers competing; Facebook.com/EnergyKartUSA
Cambrian Go-Karts
Entering its 12th season, the family run Cambrian Go-Karts shop is continuing to expand from its San Jose, California base. Don and Donald Durbin were already established in the karting community, and now continue to provide service and support for karting enthusiasts both new and old. Their full array of products, maintenance and repair department, as well as trackside support for a number of local events make them a full service karting operation; cambriangokarts.com
Ryan Perry Motorsports
If your focus is solely on race track performance, look no further than Ryan Perry Motorsports. Their mission is simple, become the top race team in North America. No matter what level of the sport, winning and developing you into the best racer possible is the ultimate goal. RPM provides a list of services valuable to every racer, where preparation, driver development, data analysis, transportation, storage and the most important aspect…tuning. RPM is focused on driving you to success; Facebook.com/RyanPerryMotorsport
Performance Kartsport, Creative Force Graphics, Precision Karting Technologies, Ribtect, Acceleration Kart Racing, K1 RaceGear, Race Tech Developmentand Full Throttle Karting have also added their names to the Challenge of the Americas supporter list. All companies have donated certificates for podium and drivers meeting giveaways, estimated at over $5,000 available for competitors throughout the season. M2 Image Solutions is the official supplier of the Challenge of the Americas podium hats and series apparel, which will be available trackside at registration each weekend. The Challenge is once again working with eKartingNews.com as the online hub for karting is providing its Trackside Live program for all three weekends. Daily race reports, forum updates and numerous social media posts will come from Tucson, Phoenix and Sonoma, along with live audio of all the official on-track sessions through their ekartingnews.com/live webpage.
Pre-registration is closed for the Tucson event, however, racers can get a head start on the Phoenix and Sonoma rounds by visiting Registration.RotaxChallenge.com to register for those events. Host hotels for all three events in 2016 under the Schedule & Tracks menu of RotaxChallenge.com. Racers are encouraged to book their rooms early for all three events, as hotel rooms may be difficult to secure due to other events in each city during the same weekend. For more information on the 2016 Challenge of the Americas, be sure to bookmark www.rotaxchallenge.com and their Facebook page.
2016 Challenge of the Americas Schedule
January 29-31: Musselman Honda Circuit – Tucson, Arizona
February 26-28: Phoenix Kart Racing Association – Glendale, Arizona
April 1-3: Simraceway Performance Karting Center – Sonoma, California
Please follow and like us: