US Road Racing Programs Geared Up For Another Season
Sport's unique genre continues high-speed excitement on United States road courses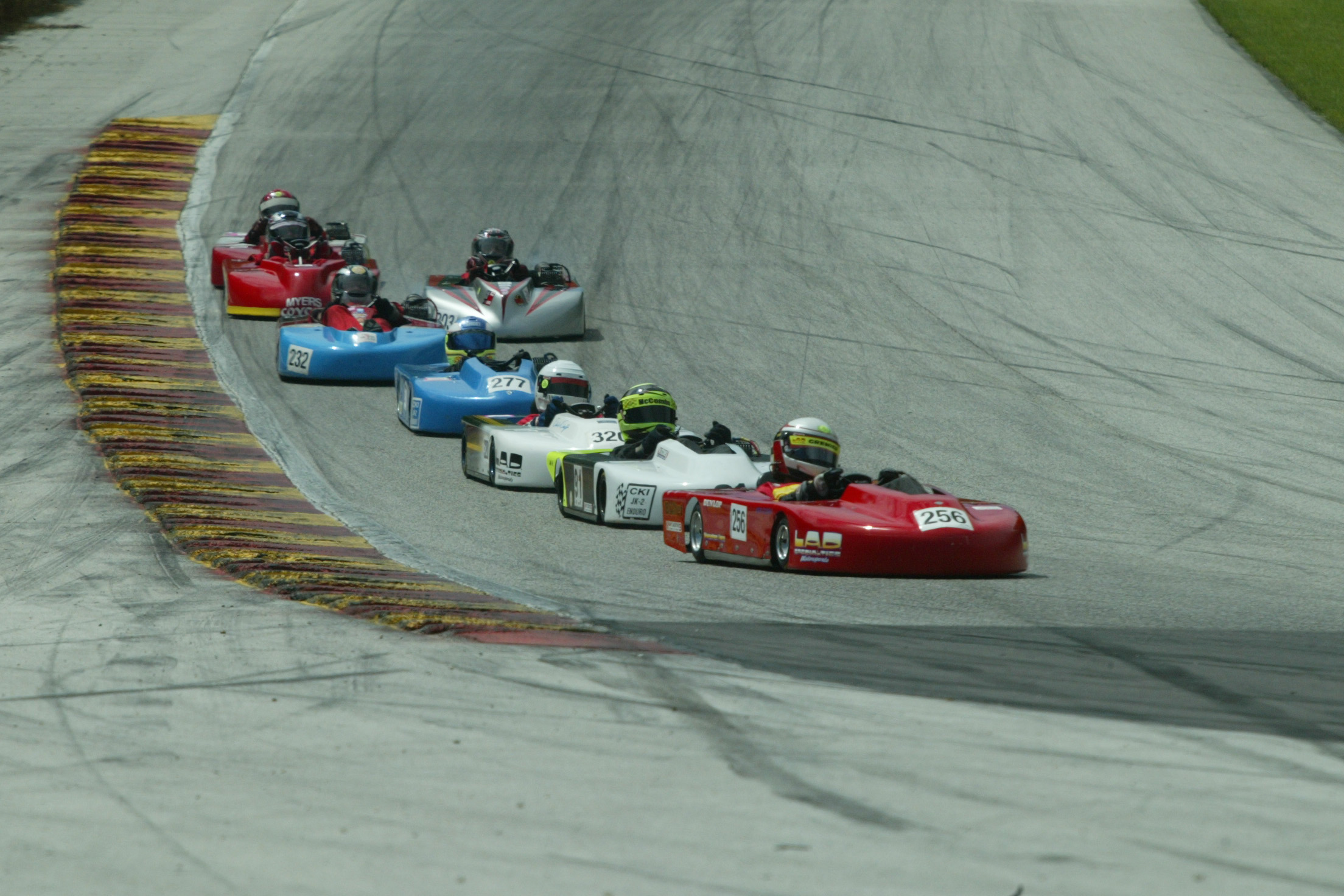 For many participants in the sport of karting, road racing is simply something that they have not yet experienced. When Art Ingels created the sport in Southern California almost 60 years ago, racers took full advantage of any paved area possible to take their new machines for a ride. Eventually, these karting enthusiasts turned to purpose-built courses that hosted car races, and quickly, the discipline of road racing was created.  After six decades, it's still going strong and providing countless drivers with the unique opportunity to sample some of the country's most historic circuits.
Enduro racing was formed as racers tested the endurance of both man and machine. At times, it was not about who was the quickest, but instead who could travel the furthest. The International Kart Federation began to recognize this form of the sport, and appointed the first Enduro Director in 1962 (Bob Matthews) to help racers across the United States create uniform rules and classes. The first major road race event was the 1963 IKF Enduro Grand Nationals at Green Valley Raceway in Smithfield, Texas (Fort Worth/Dallas area) in 1963.
Throughout the 70s, 80s and 90s, many of the top karters competed in road racing events in addition to their sprint track exploits. This standard practice would translate into racers of today like Gary Carlton, Fritz Leesmann, Billy Musgrave, Brandon Jarsocrak, Jake Craig, or Louie Pagano all taking to the high-banks of Daytona, the tricky corkscrew at Laguna Seca, or 'Thunder Valley' of Mid-Ohio.
Many of our sport's current road race events are promoted by non-profit clubs, run by volunteers who dedicate a majority of their time for the benefit of the racers. These people are the backbone of the clubs like WKC, SKC, PKA, PSRRA, and NCK – they are keeping the excitement of road racing alive and kicking.
Costs to go racing are simple. There are the standard entry fee and pit pass costs, along with the travel expenses (hotel, hauler fuel, food). Once you get to the track, there are no added costs aside from race fuel and tires. Just get in it and go. No need to have the latest and greatest chassis or engine, etc. Races can be won with new stuff or 20-year old equipment. It depends on what the driver can get out of the kart, the engine, and his or herself.
To kickoff the 2016 road racing season, EKN has assembled a review of the different road racing programs around the country, as well as the publishing of their schedules. It is strongly encouraged that if you have not tried road racing, you should check out one of the programs near you to see what it's all about, and to take the opportunity to reach the high speeds on one of the favorite race tracks that you have dreamed about racing on.
---
2016 WKA Dunlop/Xeramic National Road Racing Series
Since its inception in 1971, road racing has always been part of the World Karting Association. Hundreds and hundreds of racers have been part of the National Road Racing Series program at one point during its 45-year history, at numerous prestigious facilities. The 2016 schedule began with the annual Daytona KartWeek event at Daytona International Speedway this December. The NRRS is working with two clubs to provide three of its five races this season. A visit to the Savannah area with the Southern Kart Club (SKC) at Roebling Road in March is followed by two events with the Woodbridge Kart Club (WKC). Summit Point is a fast and technical course, and the race is set for June (no Friday practice), followed by a visit to the new Dominion Raceway in Virginia. The historic Virginia International Raceway was scheduled for July, however, the facility announced a paving project for that month, shutting down all events. The new facility in Thornburg is a 2-mile course, constructed around a paved oval and drag strip. New to the NRRS is the Atlanta Motorsports Park. The new course located outside the Atlanta area has up to 100 feet in aggressive elevation changes, and will be designated as this year's Grand National, where winners take home the coveted WKA Eagle trophy for each win. worldkarting.com
December 28-30, 2015: Daytona International Speedway – Daytona Beach, Florida
March 11-13: Roebling Road Raceway – Bloomingdale, Georgia
June 4-5: Summit Point Motorsports Park – Summit Point, West Virginia
July 29-31: Dominion Raceway – Thornburg, Virginia
September 16-18: Atlanta Motorsports Park (Grand Nationals) – Dawsonville, Georgia
---
American Kart Racing Association
The AKRA Road Race program launched in 2015, running four events that were hosted by the Dart Kart Club (DKC) and the Michigan Kart Club (MKC). This season, the series is expanded by one, with five weekends scheduled for 2016. The opener will be hosted by the AKRA itself, teamed with a sprint series event at the Kershaw dual facility. MKC hosts two races, one in May and one in September, at the MIS circuit. Dart Kart Club will host the Mid-Ohio race in June, with the Championship Enduro Series working as a partner with AKRA in 2016 and hosting a July race at Grattan. americankarting.us
March 18-20: Carolina Motorsports Park – Kershaw, South Carolina
May 21-22: Michigan International Speedway – Brooklyn, Michigan
June 17-19: Mid-Ohio Sports Car Course – Lexington, Ohio
July 9-10: Grattan Raceway – Belding, Michigan
September 24-25: Michigan International Speedway – Brooklyn, Michigan
---
Championship Enduro Series
The CES program can trace its roots dating back to the 1990s, and is now into its third decade of promoting races with Dave Larson at the helm. The series scaled down to just two days recently, eliminating the practice day on Friday to help save costs for racers. This move, and its focus on grassroots-level racers and classes, has helped numbers grow over the last few years. The CES schedule has expanded to six races in 2016, returning to Gateway Motorsports Park for the first time in a number of years as the series opener. Blackhawk Farms is always a popular stop, with dates in June and August, once again. Mid-Ohio is the other addition to the series, with a joint event with Dart Kart Club and the AKRA. Both will join the CES-hosted event at Grattan in July. Gingerman Raceway, which was repaved last year, closes out the year in mid-September. championshipenduro.com
May 7-8: Gateway Motorsports Park – Madison, Illinois
June 4-5: Blackhawk Farms Raceway – South Beloit, Illinois
June 17-19: Mid-Ohio Sports Car Course (with AKRA) – Mansfield, Ohio
July 9-10: Grattan Raceway (with AKRA) – Belding, Michigan
August 6-7: Blackhawk Farms Raceway – South Beloit, Illinois
September 10-11: Gingerman Raceway – South Haven, Michigan
---
KART/Mid-America Road Racing Series
The Karters of America Racing Triad was formed in 1994 and began sanctioning races in 1995. For the first decade, the organization hosted races at the sprint, oval, and road racing levels. During this last decade, road racing has become the sole focus and continues to keep the organization dedicated to making it a grassroots level racing series. Staying with the grassroots theme are the two circuits the series visits twice on the year, Lake Afton and Lake Garnett. These courses are located in parks, which close down their roads for the weekend to allow the racing events to take place. Add in the Motorsports Park Hastings purpose-built circuit in eastern Nebraska and two stops at the historic Hallett Motor Racing Circuit facility and the calendar runs from April to October with one event each month. The finale at Hallett is the KART Nationals, where the prestigious Triad trophy is presented to the class winners. kart.org
April 23-24: Lake Afton Park – Goddard, Kansas
May 14-15: Lake Garnett – Lake Garnett, Kansas
June 4-5: Hallett Motor Racing Circuit – Jennings, Oklahoma
July 9-10: Motorsport Park Hastings – Hastings, Nebraska
August 13-14: Lake Garnett – Lake Garnett, Kansas (DATE CHANGED – 1/20)
September 10-11: Lake Afton Park – Goddard, Kansas
October 7-9: Hallett Motor Racing Circuit (Nationals) – Jennings, Oklahoma
---
IKF Gold Cup Road Race
Pacific Northwest has a long history of road racing, and it continues through the efforts of the Portland Karting Association and Puget Sound Road Racing Association. The two groups combine to offer up the IKF Region 6 Gold Cup Road Race Series, with each hosting two events in 2016. Excitement has grown thanks to newer facilities, such as The Ridge in Shelton, WA and Oregon Raceway Park in Grass Valley, OR. The season will begin in California, however, as the racers will travel south to join the Northern California Karters in April at Thunderhill. Three of the four remaining events have practice days, as all races are completed in just one day. Shifterkarts and TaG continue to help feed new racers into the program, and more are expected to join in 2016. portlandkarting.com
April 16: Thunderhill Raceway Park (w/Northern California Karters) – Willows, California
June 3-4: The Ridge Motorsports Park (PSRRA) – Shelton, Washington
June 25: Portland International Raceway (PKA) – Portland, Oregon
July 29-30: Oregon Raceway Park (PKA) – Grass Valley, Oregon
Sept. 30-Oct. 1: The Ridge Motorsports Park (PSRRA) – Shelton, Washington
---
Northern California Karters
NCK is the lone karting club dedicated to road racing in the state of California. For many years, since karting began in the 1950s, road racing was the norm, and many karters from the 60s, 70s and 80s made their way to famous circuits for a chance at winning the coveted IKF Duffy. In the last few years, the IKF Road Race Grand Nationals has been extinct, however, the NCK continues to support the passion of road racing for those in the Golden State. Much like the Pacific Northwest, NCK is seeing an influx of shifterkart and TaG drivers making their way over from the sprint tracks to enjoy a day of 100mph racing on the big tracks. The 2016 season began in November with their annual Western States Road Race Classic, held each year during Thanksgiving weekend. A recent race at the famed Laguna Seca hosted the second event of the season, and there are now five races left on the year before the 'Turkey Weekend special returns to Sonoma. nckroadracing.com
November 28, 2015: Sonoma Raceway (Western States Road Race Classic) – Sonoma, California
January 9: Laguna Seca – Salinas, California
April 16: Thunderhill Raceway Park (w/Gold Cup) – Willows, California
June 27: Thunderhill Raceway Park – Willows, California
August 6: Thunderhill Raceway Park – Willows, California
September 10: Thunderhill Raceway Park – Willows, California
October 29-30: Thunderhill Raceway Park (2 Days, 2 Ways) – Willows, California
November 26: Sonoma Raceway (2017 Points Race) – Sonoma, California
---
Woodbridge Kart Club
The Woodbridge Kart Club is among the oldest in the United States, dating back to 1960. WKC was the first to host events at the historic VIR circuit and began calling the Summit Point Motorsports Park home back in 1970. The club has continued to overcome economic and industry changes to maintain a strong membership base that regularly competes during the summer months. The club's promotions throughout the years continue to bring in new racers to the sport, through buddy programs and simple promotion in local media outlets, including print, video and digital. WKC is hosting two WKA Nationals as part of its five-event schedule for 2016. woodbridgekartclub.com
May 7-8: Shenandoah Circuit – Summit Point, West Virginia
June 4-5: Summit Point Motorsports Park – Summit Point, West Virginia
July 29-31: Dominion Raceway – Thornburg, Virginia
August 27-28: Summit Point Motorsports Park – Summit Point, West Virginia
October 8-9: Summit Point Motorsports Park – Summit Point, West Virginia
---
Southern Kart Club
Serving the southeast states, the Southern Kart Club calls the Roebling Road Raceway home. The club hosts 2-3 events a season, with two on the docket in 2016. The first in March is the second WKA NRRS event of 2016, and they also have an October date to complete this year's schedule. southernkartclub.com
March 11-13: Roebling Road Raceway (WKA National)- Bloomingdale, Georgia
October 1-2: Roebling Road Raceway – Bloomingdale, Georgia
---
Southwest Karters
Those karters in the desert region of Arizona, New Mexico and western Texas have an option to road race as well with the Southwest Karters. This group of racers competes under the ProAutoSports Association (PASA) sanctioning body. The Southwest Karters events are held in conjunction with car events, giving the sport great exposure to mainstream racers and limiting the costs for the karters thanks to the shared track time. Southwest Karters Facebook Page
January 17: Wild Horse Pass Motorsports Park (West) – Chandler, Arizona
February 21: Wild Horse Pass Motorsports Park (East) – Chandler, Arizona
April 17: Wild Horse Pass Motorsports Park (Main) – Chandler, Arizona
May 7: Arizona Motorsports Park (Track Day) – Litchfield Park, Arizona
May 28-29: Inde Motorsports Ranch – Willcox, Arizona
September 3-4: Inde Motorsports Ranch – Willcox, Arizona
October 2: Wild Horse Pass Motorsports Park (East) – Chandler, Arizona
October 15: Arizona Motorsports Park (Track Day) – Litchfield Park, Arizona
November 6: Wild Horse Pass Motorsports Park (West) – Chandler, Arizona
November 27: Wild Horse Pass Motorsports Park (Main) – Chandler, Arizona
December 17: Arizona Motorsports Park (Track Day) – Litchfield Park, Arizona