Margay Racing Leaves Daytona KartWeek with 10 Podium Finishes
Big wins and multiple podium finishes highlight Margay's 27 driver program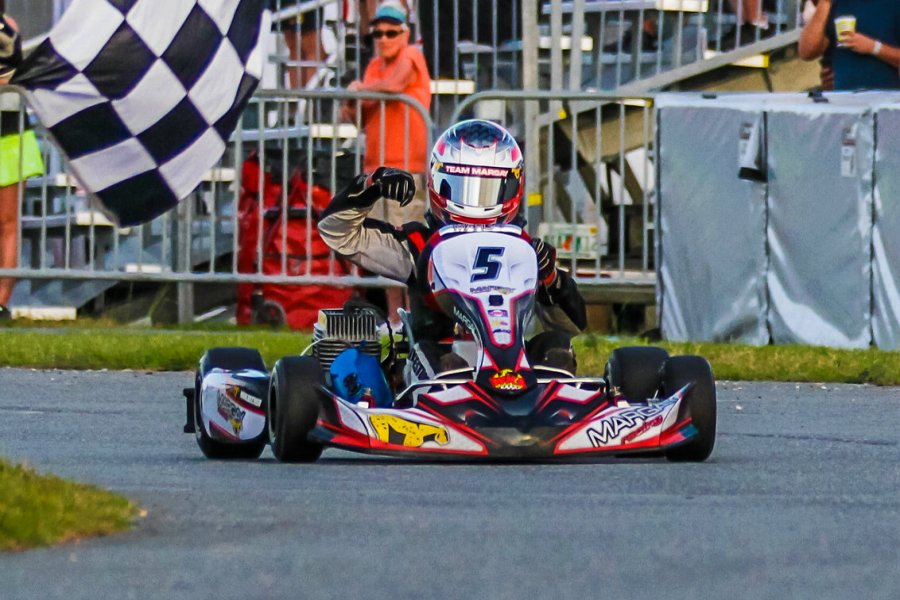 Spike Kohlbecker crosses the finish line with a fist pump and the Yamaha Junior victory
As the calendar year draws to a close, a new racing season begins at the WKA KartWeek at Daytona International Speedway.  This year's event saw a surge in both entry numbers and competition level, in part from the addition of the Briggs LO206 Junior and Senior categories.  Margay Racing brought a lineup of 27 drivers competing in multiple categories, all looking to etch their name on a trophy from the 'World Center of Speed'.
The Briggs Junior category put 20 of the best 12-15 year old LO206 drivers in the country on track to duke it out for the podium.  Evan Stamer led the group in qualifying, setting the second fastest time in the 6 lap session in his first national race.  Hunter Fox would recover from his 9th place qualifying to claim the runner up spot in the final, followed by teammate Nash Duyn to put 2 Margay's on the podium.  Hunter would do one better on day two, claiming the top step of the podium after a brilliant drive in his 2016 Brava 4.15.  Stamer finished in 6th, Duyn in 9th and Seth Gentry in 10th – putting 4 Margay's in the top 10.
RLV's David Vasquez, Hannah Grisham and Margay Canada's Charlotte Lalonde led the red and black in a stacked Briggs Senior field, capturing 3rd, 4th and 7th respectively in the first final.  Grisham and Vasquez would pilot their Ignite K3's to a near repeat performance on day two, giving Margay 3 podium finishes in the stout 40 kart field.
Trouble in the heats kept Spike Kohlbecker from the finish he deserved in the first final for Yamaha Junior, but fast lap time honors in final one gave him the momentum going into day two.  After qualifying second and picking up a heat race win, he cruised to victory in the final on his 2016 Brava 1.15ck and picked up his first national win in the junior category.
Preveil Perkins led the Margay team in Kid Kart on day one, picking up the fast time award in qualifying, followed closely by teammate Ava Dutton in fifth.  Dutton would go on to round out the podium on day one, while Preveil would have to settle for 6th.  Similar to day one, Dutton and Perkins positioned themselves well after qualifying second and fifth respectively.  That is where they would finish in the finals as well, with Ava missing the win by a mere 0.089 seconds.
Congratulations to all of the Margay drivers and crew members on a successful trip to Daytona KartWeek that saw several drivers on the podium and even more improving their times from race to race.
For results from the event, follow us on Facebook at http://www.facebook.com/MargayRacing and Instagram at https://www.instagram.com/margayracing/.  For information on 2016 Arrive & Drive opportunities or team karts, please contact Margay directly at info@margay.com.
Based in Saint Louis, MO, Margay Racing is the most successful sprint kart manufacturer in the United States, supporting drivers in all divisions of karting and producing winning karts for countless local, regional, and national champions.  Now in its 51st year, Margay is owned by third-generation family member, Keith Freber.  For more information about Margay, please see www.margay.com
Please follow and like us: