EKN Driver Diary: Kyle Kalish – WKA Daytona KartWeek 2015
Winter break for college student puts him back behind the wheel of a Franklin Motorsports / Merlin machine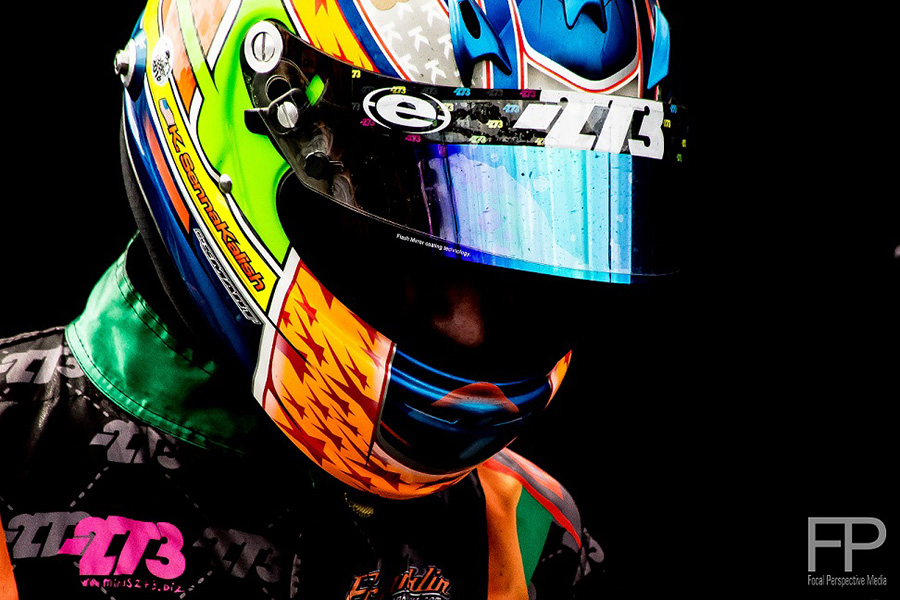 This year, Franklin Motorsports / Merlin driver Kyle Kalish is taking on a new category. The inaugural United States Pro Kart Series Leopard Pro champion is moving from one gear to six, taking on the challenge that is shifterkart racing. The 18-year-old from Wauconda, Illinois began racing when he was five, and has earned championships from club, regional and national. Throughout 2015, eKartingNews.com will give readers an inside look into the adjustments of going from a single-speed background to racing a Stock Moto at the national level, along with providing the great father/son relationship Kyle and his father Scott enjoy racing together.
For the last installment of his inaugural Stock Moto season, read his experience at the SKUSA SuperNationals XIX in Las Vegas by clicking HERE. This edition makes it a full circle, coming back to the event that started it all – WKA Daytona KartWeek. With no shifter category offered for the start of the 2016 season, Kalish jumped back aboard an X30-powered Merlin machine inside the Daytona International Speedway for the Margay Sprint Nationals.
Relaxation:
After a long and stressful first semester at the University of North Carolina-Charlotte, it was nice to get a few days of pure relaxation in Orlando before we headed off to Daytona for some racing. My sister, along with my Dad and I got to spend a few days in Orlando checking out Disney Springs as well as some of the other "free" spots that Orlando has to offer. We didn't get to hit up any of the Disney parks which was a bummer because if you know me, you know how big of a Disney fan I am. But after seeing how crowded Orlando was, I don't even want to think about how crowded the parks had to be.
Move In Day:
After dropping my sister off at the airport, my Dad and I headed to Daytona to help with set up for Franklin Motorsports. Once we got the team set up all finished, we were able to get to work on the remaining bits and pieces of putting our kart together. Luckily, we came prepared and there wasn't much left to get done. It was without a doubt going to be interesting and challenging weekend returning to TaG racing after a year of shifters. Racing in the TaG classes can be fast and exciting, but also crazy and stupid, so it was really up to the 47 kart field on how the racing was going to go this weekend.
It was going to be interesting to hit the track in the TaG because I really didn't have much experience in the TaG here. When we raced here last here, it was the beginning of the journey in Stock Honda. The shifter is an extremely different driving style, especially at a track like Daytona, so it was going to be a big adjustment for myself once I hit the track.
Of course it was great to be back at the Daytona International Speedway for many reasons. I've had a lot of history and memories here, both good and bad, but will always have a soft spot in my heart for this race. I still remember like it happened yesterday when all the 2009 WKA National Champions, which included myself, got to take their hardware into Victory Lane and they shot off the confetti and it spilled over Victory Lane just like in the 500. Such a surreal moment, probably my favorite memory of all my years racing.
Transition Day: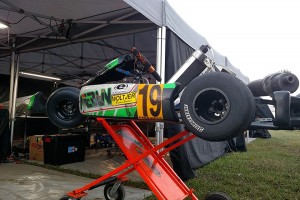 We hit the track for the first time on Monday, what most considered 'Friday practice' and I quickly realized I was missing front brakes and a few gears. Other than the RoboPong 200 earlier this year, I really was never in a TaG kart, so it was a weird transition. For good or bad, the TaG kart was different than my usual shifter. For the most part, I felt that I transitioned back into the TaG fairly quick and it was pretty much just fine tuning my driving and the kart for the remainder of the day.
Pretty much all day, it was my driving that was holding us back. I wasn't driving horrible, but I wasn't driving to the best of my ability. That was one-part not being in the seat for a while, one-part not being in a TaG in a while, and one-part just me driving poorly. By the end of the day, we were about 3-4 tenths of where we needed to be to challenge for the win. Not where we wanted to be, but it was about progress.
Today also gave us the first time utilizing the new Bridgestone YLM tires. A much needed replacement for the YLB tires, I thought they were a nice tire for the TaG classes and for WKA. Compared to the YLB, they were excellent. Compared to the MG Yellow, they still needed work. But let's be honest here, there isn't much better than an MG Yellow.
Race Day 1: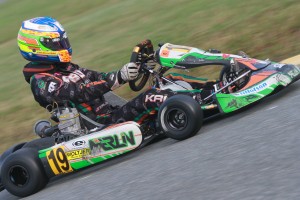 After a decent morning warm up, qualifying didn't go as well as it should have. We missed the set up a tad and I ruined it from there with my driving, putting us in the P18 spot for the first heat. This was obviously not where we wanted to start the heat races, but it was all about moving forward. TaG racing is all about survival, so that was all we were able to do until we got into a more race able position.
Now I don't want to talk too much about what happened in the first heat because I'll end up saying things I shouldn't say. All I will say is that we were given a pre-race disqualification and were forced to start from dead last for the first heat after a newly enforced rule (Editor Note: Kalish was penalized . I stayed out of the carnage and went from P47 to P24. That's all that needs to be said about that race.
With the same mindset heading into the second heat, I just needed to salvage any finish I could. Once again, I stayed out of all the wrecks and made some good passes, and went from P24 to P10. It still wasn't the finishes that we needed in order to contend for the win, but it put us in a P13 starting position for the main event. With the field being as tight as it was, it would be tough to battle for the win, but a podium wasn't out of question.
For the most part, the main event was uneventful. The usual carnage at the first turn, but we survived with just some cuts and bruises and fought on. I slowly worked my way up the field and settled into P7 and that was where I stayed for the finish. I wish it could have been more exciting, but sadly it wasn't. A fairly straightforward race, once again just about survival. I recorded the fast lap of the race, and felt that if we could've started in the rightful starting position, the day would have gone completely different. P47 to P7 wasn't horrible, and that's just racing sometimes.
We capped off the day with watching the Dirt races, a first for me. We got there in time for the $10,000 to Win Pro Clone race and wow, those guys are crazy. I guess when there is $10,000 on the line, I'd take some risks too! An epic battle for the win and a hell of a race to watch that left me asking "why am I not racing this?"
Race Day 2: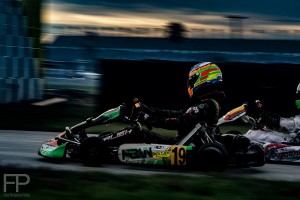 With the field being as tight as it was, every last hundredth was going to make a difference come qualifying time. After morning warm up, we felt we had a good kart heading into qualifying. By the end of qualifying, we were only 2 tenths off a pole, a fairly small margin. Even with that, we found ourselves starting in P9. Overall, I believe it was the top 22 that were all within a half a second of each other.
In the case of both heat races, they were all pretty uneventful for myself. I was able to stay out of any crashes at the start and then just tried to move forward as much as I could. I felt that we had a strong kart, consistently putting up some of the fastest times, but it was all so close. All the drivers in the top-10 were putting up times within a tenth of each other, so it was hard to make big progressions in the race once you started. Based on my heat races finishes, I would start the final P8 and on the dreaded outside line. Like every race, it would be about surviving the first lap and then trying to move forward.
Sadly, the final didn't go as hoped. Contact on the first lap put us to the tail of the field. Even with the race being cut short due to a red flag, I still broke back into the top-30. Honestly, I'm not really sure where I ended up finishing. Somewhere around P25 (Editor Note: Yes Kyle, 25th) but I lost count after about 15. It was just one of those races. I put myself in a bad position at the start and it bite me hard. In TaG, it doesn't take much to ruin a race, and I put myself in that situation. Even with working through traffic, I once again had one of the fastest karts on track (Editor Note: sixth quickest lap time of the race).
Back to Reality:
It wasn't the weekend we were hoping for by any means. We had the speed, but could just never put it together. A lot of that blame has to be put on me and my driving, and I can admit that.
Still, I would like to thank my Dad and family for letting me race and to Jamie at Franklin Motorsports for giving me a strong kart. As always, the Merlin flexed its muscles in all classes it raced in. Also, thank you to Woltjer Racing Engines for a putting a solid power plant behind me. And as always, a big thank you to EMCO Chemical Distributors, Minus 273, GO Designs, and ONE Race Gear for their support and helping me get on track!
I will be putting out a press release on my future plans in the coming weeks, but I would like to thank eKartingsNews.com for once again giving me the opportunity to do these Driver Diaries! I have a blast writing them so I hope everyone enjoys reading them.
Until next time,
Kyle Kalish
www.kylekalish.com
Facebook: KalishRacing
Twitter: @KyleKalish19
Instagram: @Kyle_Kalish