Manitoba Karting Association Honors Drivers and Sponsors at Year End Banquet 2015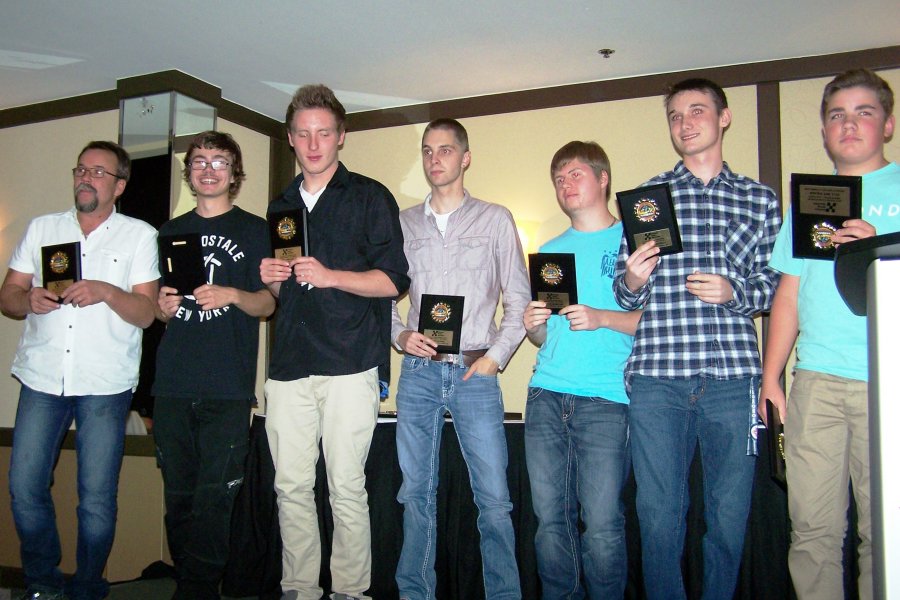 The Canad Inns in Winnipeg, Man. was the site of the Manitoba Karting Associations 2015 Awards Banquet. Friends and families showed up to celebrate our champions, special award winners and sponsors. In addition to great food, there were lots of silent auction prizes to be won.
Guy Budel gave the address thanking the volunteers and MKA's generous sponsors. Once again the sponsors were so generous they bought trophies for all the competitors.
Ethan Clace was awarded the Junior 1 Briggs title. The Junior 2 Briggs championship went to Bianca Bovino. The Senior Briggs top honor went to John Buzza. The Rotax Micro Max crown was given to Brad Bachalo. The Rotax Mini Max title was awarded to Curtis Veselinovich. Victoria Stutsky took home the Junior Rotax title. The top honor in Senior Rotax was earned by Garrett Gulenchyn. The Rotax DD2 championship went to Jordan Brown and Rob Stutsky won the DD2 Masters class.
The Rookie of the Year award winners were Josh Gill Junior 1 Briggs, Dan Hohm Senior Briggs, Silas Gershman Rotax Micro Max, Dallas Korell Senior Rotax and Richard Paetkau Rotax DD2.
Brad Bachalo was named the MKA Driver of the Year.
The Spirit of Karting Award was presented to The Schellekens Family.
For more information, please visit http://www.manitobakarting.ca/
Please follow and like us: