Paddock Insider: WKA Manufacturers Cup – Daytona Kartweek
Rob Howden's notes and info from the DIS pit area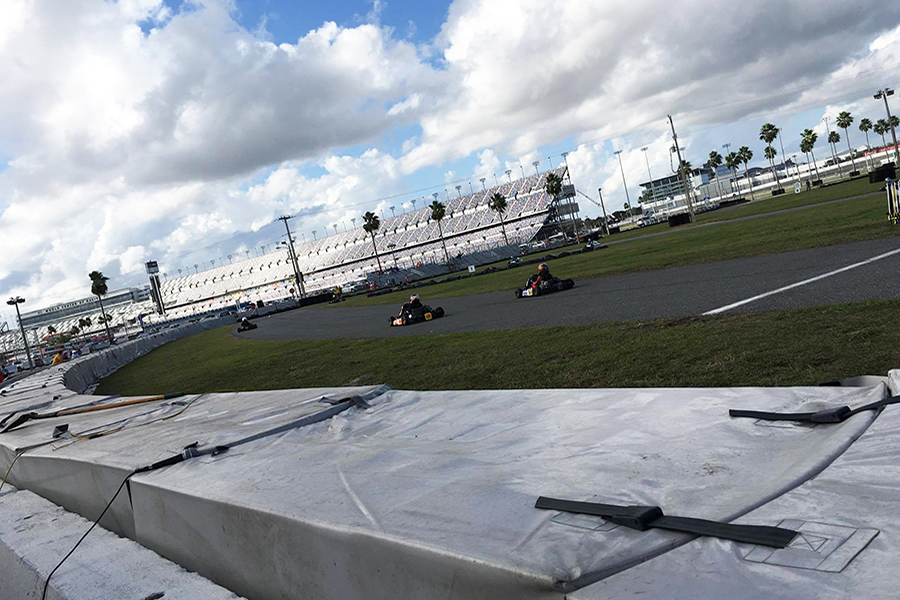 The grandstands at Daytona International Speedway offer an incredible turn one backdrop for the opening round of the 2016 WKA Manufacturers Cup
EKN's Paddock Insider is a new Trackside coverage addition, bringing you notes, updates and breaking news, as it happens. The article will be a timeline of events as they happen during the WKA Manufacturers Cup opener at the Daytona International Speedway.  Get all the coverage through the EKN Event Page. Please feel free to comment and discuss our coverage and today's action in the EKN Global Members Discussion area below:
Track Begins To Take Rubber
The kart track layout here at Daytona is used only a few times a year, by the WKA during Kartweek and the occasional arrive-and-drive endurance karting event. During major NASCAR events, and other racing outings, the track becomes a series of access roads and is used for RV and tent camping. As a result, the track remains a little bumpy, but it's also held up well through the abuse. Drivers I spoke with confirmed that the track was a little rough, but no rougher than it's been in the past. The rubber was starting to get laid down as the practice day wrapped up, and most drivers expect the grip to continue to develop.
Expected Contenders for Pro IAME Senior Wins
One of the talking points in the paddock today has been the exciting explosion of support for the Pro IAME Senior class. A grid of 47 drivers will head into qualifying tomorrow morning, and as we scroll through the entry list, there are some big names that we expect will challenge for the race wins. While it's tough to determine who was truly fast as drivers jumped to new tires during different practice sessions, the same names were mentioned by virtually everyone I asked in the paddock. In terms of 'veteran' senior drivers, Brandon Jarsocrak will be one to watch, having moved to the Praga chassis with Kartsport North America this weekend. Other quick Praga pilots include Andrick Zeen and Jake Donald. Newly-announced factory iKart driver AJ Myers is always a factor and was among the top-five all day, and PCR pilot Andrew Bujdoso was also on pace. Jonathan Kotyk (Top Kart) bolted on new rubber for the final session and topped many stopwatches, so he's in the hunt. I also spoke with Merlin driver Kyle Kalish after the day wrapped up and he's pleased with where he sits in terms of pace, and I would expect that his teammate and Junior graduate Brandon Lemke could play a role as he moves to Senior completely and fully in 2016. This is a solid field of IAME Seniors.
WKA Sets Equality Formula for LO206 Classes
The Briggs LO206 is certainly pressing the 'reset button' on grassroots karting in North America, but this comes in slightly different looks. While the focus remains on running the official 'Briggs Rule Set' for engine rules, the four-cycle karting community is most certainly split between the full-body laydown style karts and the sit-up CIK formula. While both chassis approach versions have been welcomed into class for Kartweek in Daytona, they will run under unique specs with the primary rule delineations being rear track width and wheel width. The CIK karts are being allowed to run a max rear track width of 55" with standard wheels for the spec Bridgestone YLC tires, while the 'laydown' karts have a max track width of 50" but can run wider wheels. I've been told 6" rims on the fronts and 8.75" rears are the norm. It will be extremely interesting to see which formula prevails this week.
Margay Returns to Man Cup with New Hauler and a Packed Tent
Over the past couple of years, Margay Racing has focused a percentage of its efforts on rebuilding their local karting scene by supporting the launch of a new karting facility at Gateway International Raceway. This new venue has also been a key launching pad for their Ignite program, the spec chassis package that utilizes the Briggs LO206 powerplant. The program at Gateway is growing, as is the LO206 wave of momentum, and Margay's focus on resetting their club level karting support is paying off with new drivers who are interested in spreading their wings and challenging themselves by testing the waters at higher levels of competition. Like we all say, when you grow the base, everything else will be fed by this strength, Margay needed to buy a new stacker trailer to support the interest they were able to fuel for WKA Kartweek, thanks to the addition of both Junior and Senior LO206 classes for the Daytona event. With drivers in TaG Junior, Yamaha and Pro Swift, a number of competitors from the Gateway Ignite program are also under the tent with Margay this week, pushing the total of pilots to 25 for the event. Margay will look to maintain their factory support of the Man Cup, and will also be part of the Rock Island Grand Prix with the Ignite Shootout, once again.
Strong Numbers Indicate Rebound for WKA's National Sprint Program
A focus on a tight and clean class structure and a solid race schedule has helped the WKA launch with its best numbers in recent years. A total of 256 entries have been entered into the timing computer for this year's Manufacturers Cup opener in Daytona. The class entry numbers are detailed below, but the highlights include a massive grid for the Pro IAME Senior category and a stellar showing of support for the inclusion of the LO206 class at this year's Kartweek. IAME Senior is the largest class at 47, which must be a huge sense of accomplishment for the WKA. The continued growth of the Briggs LO206 program has attracted 40 drivers to the class, which enjoys a mix of sit-up CIK-style karts and laydown seat packages utilizing the big nosecone. We'll discuss this program more later as we kick off our Paddock Insider segment.
Kid Kart – 16
LO206 Junior – 19
LO206 Senior – 40
Mini Swift – 18
Pro Swift Sportsman – 28
Yamaha Sportsman – 28
Yamaha Junior – 27
Yamaha Senior – 14
Pro IAME Junior – 19
Pro IAME Senior – 47