Celebration of the CIK-FIA Champions in Paris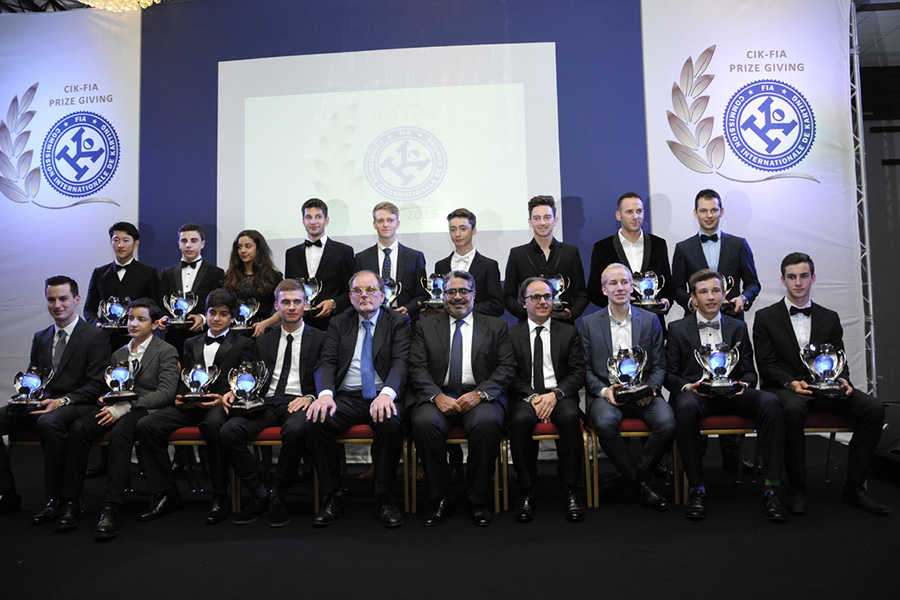 The annual gala event closed in Paris the 2015 CIK-FIA kart racing season. During the ceremony, which took place last Saturday 19th December, all the 2015 Champions were welcomed by the FIA President Jean Todt, the CIK-FIA President Abdulla bin Isa Al Khalifa and the Vice President Kees van de Grint. The WSK President and CIK-FIA promoter Luca De Donno, who was the host of the official gala, drawn up a balance sheet of the past season. Once again, the organisation had to deal with a demanding task, but the goal was finally achieved thanks to the common purpose to make progress in the world of Karting.
The world of Karting keeps on growing
In his speech, President Todt praised the job done during the past season and expressed the hope for a further development of this discipline of Motorsport. However, karting has proved to be growing fast: next season there will be the introduction of the new OK engines, brand new power units which will give a boost to the 2016 competitions.
All the Champions on the podium of Paris
Then, the 2015 Champions grabbed centre stage, beginning with the Spanish teenager Marta Garcia Lopez, who was given the Women in Motorsport Commission prize and the trophy for her victory in the CIK-FIA Karting Academy Trophy. She won ahead of two other Spaniards: Xavier Lloveras Brunet and Alejandro Lahoz Lopez. The prizes were handed over by President  Todt, President Al Khalifa and Vice President Van de Grint, besides the Secretary-General Kay Oberheide and all the CIK-FIA members present at the ceremony in Paris. All the Champions of all the categories had their share of celebration: the Polish Karol Basz, winner in Muro Leccese of the KF World Championship ahead of Jordon Lennox-Lamb and Nicklas Nielsen, together with the American Logan Sargeant, World Champion in KFJ ahead of Clément Novalak and Caio Collet. Then the KZ World Champion, the Dutch Jorrit Pex, who won in Le Mans ahead of Paolo De Conto and Arnaud Kozlinski, together with the winner of the KZ2 Super Cup, the French Thomas Laurent.
A parade of Champions
In Paris, also all the European Champions were awarded: Joel Johansson (KZ2), Christian Lundgaard (KFJ), Ben Hanley (KF) and Flavio Camponeschi (KZ). Then the Asian-Pacifiic Champions: Haruyuki Takahashi (KF) and Lorenzo Camplese (KZ), together with the European Superkart Champion Adam Kout.
Special Prizes
A special award went to Birel, in honour of the Italian manufacturer's long and outstanding contribution to kart racing. The prize for the best 2015 event was given to the organisers of the PF International Circuit in England, while the French Frederic Billet won the prize for best photographer.