Anthony Willis Racing: The Year in Review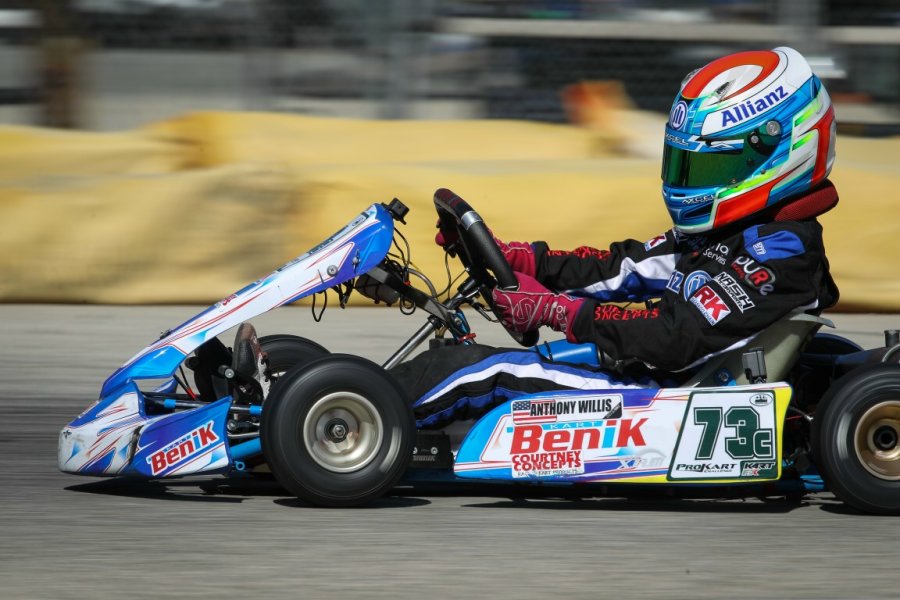 Anthony WIllis (Photo: DromoPhotos.com)
The 2015 racing season started for Anthony Willis with the SuperkartsUSA! California ProKart Challenge Tag Cadet Class, racing the brand new IAME USA Mini Swift.  The first race of  the ProKart Challenge, held at Buttonwillow International Raceway,  was a good indication of what was to come in the upcoming year for the young  Arizona karting pilot.  The conditions were treacherous, with pouring rain and a slippery mud-covered surface.   As he kept expanding his lead during the race, he was being waved by his crew to slow down, as many of the competitors were sliding off track.  But, The Benik Kart Missile was hooked up and rolling.   Anthony would win the race by 2 seconds .  Willis never relinquish his championship lead throughout the entire 6 race series.  Anthony would lead the points race wire to wire, eventually being named the 2015 SKUSA ProKart Challenge Tag Cadet Champion.
The SKUSA! Pro Tour would also start out fairly well for Anthony Willis.
At the first event in Phoenix, AZ he would be the only driver to make it to the podium both days.  However, in Newcastle, Indiana's SummerNationals, Willis would miss the podium by one position, after nearly winning the WKA Man Cup the previous weekend.
The SuperKarts USA! ProTour would wrap up in Las Vegas at the SuperNationals.  This year the event would be held at the Las Vegas Convention Center.   The track configuration was tight and technical, a perfect layout for the Tag Cadet class.  This was the Tag Cadet Class's showing thus far, with 91 registered drivers.  Anthony would show immediate speed, consistently laying down lap times in the top five throughout the practice sessions.   However, qualifying would not fair as well for Willis with such a crowded grid.  He finished the session with the 16th fastest lap out of the 81 drivers qualifying.  But, he would show his race craft and speed come race time.   He would drive forward in each of the three heats, resulting in  6th, 4th, and 10th  place finishes.  These results would have Willis starting in the 10th position for the main event.  After trading places between 3rd & 5th place and a hard fought battle with the world's best cadet drivers, Anthony would finish the main event, securing his podium spot in 4th place and locking in his Protour points championship in 4th as well.
When the 12 year old was asked what led to his success this year, he said, "This year was different.  This year I was hungry.  I really wanted to show everyone that I was as good as anyone out there.  I think that I  did that this year.   My Benik Kart was absolutely perfect thanks to Nick Mitchell , Ben Cruttenden and Phil Carlson.   Seth Nash of Nash Motorsportz helped us early on find our baseline that we did not stray very far from.  Without his help, the year may have been much different.  Our engine program was also top notch.  But, I think most of all we had no failures all year. "  When asked  to expand on this thought Stewart Willis, team principle said, " This year we had partnerships with the best companies on the planet.  We ran exclusively an RK Chain/ X.A.M.  drive system set.  This resulted in only one thrown chain and DNF all season in ALL races that we attended. …And that only happened because we were hit so hard from the side in Newcastle that the axle slid.   Besides the drive system, we also paid close attention to our engine hours with  Oppama  hour meters  that  allowed us to  graph engine performance over time.   Quite honestly, if you want to see the best way to stop failures and ensure that you wont break down, visit the Courtney Concepts website and demand those products  from your kart shop.  Don't let them talk you into less expensive, inferior products.  There is a huge difference."
Plans for 2016:  Anthony Willis racing will be racing all next year as a 12 year old in his final season as a cadet.  He will be defending his championship at The California ProKart Challenge and challenging for the SKUSA! ProTour Championship.  He has hopes of making it to the Florida Winter Tour Rok Cup and USPKS events.
But, this will take some help.
If interested in creating marketing partnerships or entertaining sponsorship ideas, the team is open to discussions.  Anthony Willis Racing will only partner with top quality products, companies, and ideas.  For more info, please contact Stewart Willis, team principle at Stewartawillis@hotmail.com