SKUSA Pro Tour Title Highlights Brandon Lemke's Five-Championship Season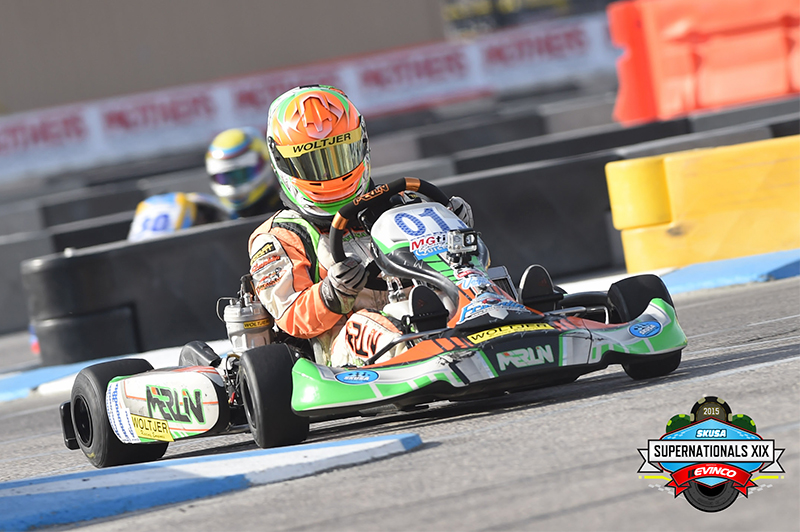 Lemke in action at the 2015 SKUSA SuperNationals in Las Vegas (Photo: On Track Promotions - otp.ca)
Brandon Lemke accomplished his best racing season in 2015, earning five championships in a year that saw his Eagle, Wisconsin-based team compete nearly every weekend at national and regional karting events across the United States and the IAME International Final in October in Le Mans, France.
Lemke's travels were rewarded, as the 2013 WKA Triple Crown champion raced to four national championships this year plus a regional title in the Florida Pro Kart Series.
No championship was bigger than Lemke's TaG Junior triumph in the SKUSA Pro Tour, which wrapped up its 2015 series in November with the prestigious SuperNationals XIX in Las Vegas.  The three-event series kicked off with the SpringNationals at the Phoenix Kart Racing Association in Glendale, Ariz., a track Brandon had never competed. Lemke was quick to learn the challenging circuit, and a win in Sunday's TaG Junior final cemented his status as a serious challenger to unseat David Malukas as the Pro Tour TaG Junior champion.
Round two of the Pro Tour saw Lemke again flex his muscle at the SKUSA SummerNationals at a track with which he's very familiar, New Castle Motorsports Park in Indiana. Lemke used his experience and skill at the one-mile New Castle circuit to post a second-place result to longtime rival Zach Holden in Saturday's final. Not to be denied Sunday, Lemke returned with his Franklin Motorsports Merlin No. 01J to score his second TaG Junior win of the season and take over the class's point lead with only the SuperNationals remaining on the schedule.
Lemke battled all weekend at Las Vegas to post a 12th-place finish in the 40-kart TaG Junior final. The result was enough to hold off Malukas in the final standings by just a single point.
"The SKUSA championship means a lot," Lemke commented in the midst of about a month break before returning to action at WKA Daytona KartWeek December 28-30. "The competition in SKUSA is top notch, and I'd never been to the Phoenix track, so to come away with a win there was special. This was the first year we've run the entire Pro Tour schedule, and we're really happy to win the championship in our first try."
While Lemke points to his SKUSA championship as his most important of 2015, it's hard to argue his most impressive campaign came in the United States Pro Kart Series (USPKS), regarded as the most competitive 2-cycle karting series east of the Mississippi. In an incredible year, Lemke won seven of eight finals in Leopard 125 Junior and six of eight finals in Yamaha 100 Junior on his way to both class championships.
"To win all but a few races in USPKS isn't something we expected, but I think we knew we had a shot at something special after we won three of four (finals) to start the year at GoPro in the April," Brandon said. "Jason Birdsell and my dad had the Merlin karts working flawless at each event throughout the year. The Woltjer engines were strong, as always, and that combination makes it a real pleasure to drive. The USPKS has the best racers on the east coast, so to have such a dominant year in the series, we couldn't have predicted it, but we're really proud of it."
Lemke kicked off the year with the TaG Junior championship in the Florida Pro Kart Series and added another WKA Manufacturers Cup Series national championship in his resume, this time in the Pro IAME Junior division.
On a regional level, Brandon competed in four of the five Route 66 Sprint Series events in the Yamaha Senior category and won four finals in eight starts. He added a couple of runner-up finishes, as well, and ended up second in the final points while missing an event to compete in another series running the same weekend.
Lemke also competed in Leopard Senior in the second round of Route 66 at Shawano, Wis., and came away with a second-place finish and a win in his first try in the senior TaG category.
For the second consecutive year Lemke traveled to Le Mans, France, for the IAME International Final. Accompanied by his father, Bill, head tuner Jason Birdsell and engine builder Daniel Woltjer, Lemke competed against the world's best junior drivers in the X30 Junior category. Starting ninth in the final, Brandon battled his way into the top three before getting shuffled back several positions late in the race. Brandon held on for a ninth-place result, his best finish to date at the celebrated European event.
Looking ahead to 2016, Lemke is unsure of his plans but says his team will likely run the full SKUSA Pro Tour and USPKS campaigns. He'll compete in TaG Senior in SKUSA and Yamaha Senior and Pro Leopard Senior in USPKS.
The team will kick off the 2016 season in just a few short weeks at Daytona KartWeek, where he'll run in the Yamaha Senior and IAME Senior divisions.
"I just want to thank my parents and family for the help and support throughout the great year we had, Jason Birdsell for getting these karts as close to perfect as possible, Woltjer Racing Engines, Franklin Motorsports, Merlin Chassis, QPS Employment Group, Quickswim, Grand Products and Race Ready Engineering. It's a team effort and we're looking forward to 2016."
Brandon Lemke is a 15-year-old national champion kart racer from Eagle, Wisconsin. Lemke is an 11-time national champion, 13-time regional champion and the last driver to win four national WKA championships in a single season, which netted him the prestigious Triple Crown award in 2013.
Lemke races his family-owned Franklin Motorsports-backed Merlin chassis in the most competitive sprint series in the country. He's proud to be sponsored by Quickswim, QPS Employment Group, Woltjer Racing Engines and Race Ready Engineering.
To learn more about Brandon, visit BrandonLemke.com and "Like" his Facebook page at "Brandon Lemke Fan Page."