14-Year-Old Joseph Lamberth Closes Karting Career and Moves to Legend Cars
Karts to Cars for Joseph Lamberth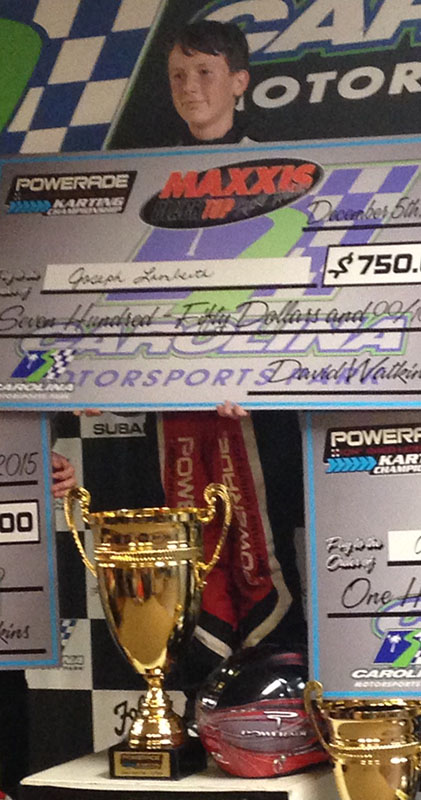 Joseph Lamberth finishes his final year of karting and will shift focus to 2016 Legend Car program
(Photo: Brandy Lamberth)
Joseph Lamberth started racing competitive karts just four short years ago at the age of ten,at the Carolina Motorsports Park (CMP) in Kershaw, South Carolina. What started as a hobby for him and his Pawpaw, quickly turned into a way of life for Joseph as he lives, eats, and breathes racing. Once Joseph entered his first race, he quickly learned that he was racing against kids that had been in the seat for three years already and that he had a lot of learning to do.
In his first year, he entered the Rotax Mini Max division; he fought with all he had, but was only able to claim a couple of third place podium results. He went to his first National race at Michiana Raceway Park in South Bend, Indiana and finished 27th while going up against the best in the country. While he was in South Bend, his love for racing not only blossomed, but a new love was born. Joseph developed a love for racing in the rain. Who knew racing an inch off the ground going 50mph in the pouring rain could be so much fun? By the end of the first season, Joseph found himself without a championship or race wins, but with a lot of new knowledge that he would carry into his second season.
With one year under his belt and again in the Mini Max class, with a desire to try and win just one race, Joseph entered his second year behind the wheel. As the season progressed, Lamberth would score eight first place finishes, and seven second place results. He would find himself racing not only at Carolina Motorsports Park, but also at the GoPro Motorplex in Mooresville, North Carolina and at the Ocala Gran Prix facility in Ocala, Florida. He would race in his second United States Rotax Max Challenge Grand Nationals event in Mooresville and he had a hope for a top-twenty result. Lamberth was able to not only do that, but he was awarded 15th. Year two was full of a lot of wonderful and exciting things. But when Joseph won his ticket to the Rotax Max Challenge Grand Finals for the Micro and Mini Invitational that were being held in New Orleans, Louisiana, he was so proud of himself. Traveling to New Orleans with a hope to just finish the race, he knew this was going to be one of the hardest races he had ever entered. In true "Joe" fashion, he went out and did what he does best, and drove; finishing in 18th at the elusive Grand Finals, with only two years of racing under his belt. This second year of competition also brought Joseph his first Championship at Carolina Motorsports Park, and a second place finish in the GoPro Motorplex Championship chase, both in the Rotax Mini Max class.
Joseph entered into his third year of the Rotax Mini Max class, knowing that it was his last run in this division because based on his age he would have to move up into the Junior class next year. Joseph found himself running between South Carolina and Florida for most of the 2014 season. This season he was able to manage nine victories, with two second place finishes. He would also try his luck in his third National race, now hoping for a top-ten finish. He would travel to Utah for this race and run at Miller Motorsports Park. He would qualify 15th, finish the heat race in tenth, and after a little shuffling around he finished the weekend's main event in a solid 12th. Joseph was able to clinch his second championship early at CMP, with two races remaining in the season so Joseph and his Pawpaw decided they would compete in the Rotax Junior class to try and get some experience. In his first event with the Juniors he finished fourth. This race consisted of people he first started to race with three years ago, and with twice his experience.
This season, season number four behind the wheel of a race kart, would not really allow much travel due to scheduling conflicts, but Joseph was on the track every chance he got. Joseph would enter his first full year in the Rotax Junior division as a two time Rotax Mini Max Champion and a want for a championship in Juniors.
The first race of the season, Joseph sat down in his kart, an inch off the ground with the desire to go 70mph. As family and supporters all stood beside the fence waiting on the race to start, hearts were pounding and nerves were a mess, they took off. During the warm up lap, a parent of one of the other drivers was overheard giving a friend of theirs the rundown of the lineup. This statement will always stick with me, "That 248 is Joseph Lamberth, he just moved up to Juniors from Mini Max. We don't expect him to do anything this year." And at that very moment, I knew that Joseph had to prove him wrong. And that is exactly what Joseph did. In his very first "real" Junior race where points counted, Joseph beat them all and topped the podium.
Later that season, the Rotax Grand Nationals would run at Joseph's home facility, the Carolina Motorsports Park. With the goal of running at the front of the pack in the aggressive junior class, Joseph was pushed around, spun around, ran over, beaten, battered and abused all weekend. At one point Joseph spun himself out, in turn one, accidently taking out another driver in the process. In the heat race Joseph was taken out and finished dead last meaning he would start the final in Nationals at his home track on the last row. In what we call "Joe fashion" he said, "It's okay, because I have a plan." His plans usually always work out. He went out for the final in last and drove his way into a ninth place finish, his best finish at a National event. All the blood, sweat and tears were worth it. Joseph went on to have four wins during the year and four second place finishes followed by one third place result. Joseph not only proved his doubters wrong by winning a race or two, but he won his third Championship in a row, as a rookie in the very strong and competitive Junior division.
In all of the excitement of another excellent year, Joseph and his Pawpaw decided that this would be his last year racing competitive karts. They wanted to move onto a new adventure. This adventure is going to help bring him closer to his dream of racing in NASCAR one day. Joseph is going to "retire" at the young age of 14 from karts and move into racing Legends cars. This will put him in a circuit of racing oval tracks and a couple of road courses. He is very excited to give this a shot, but a little nervous because this is going to be a whole new world for him.
So, in four short years, Joseph has raced on seven total different tracks all over the country, raced in 73 races, had 25 poles, won 25 heat races, had 22 total wins and a total of 40 podiums.
None of this would be possible if it were not for his grandparents that have supported him and been his sponsors. Not only have they sponsored him, but his Pawpaw has been his coach, tuner, mechanic and motor coach driver, as well as at times when they are away from home, the guy to make sure all Joseph's homework gets done. Joseph has a talent for driving in the rain, it is amazing to watch, but if his Pawpaw had not stood out in the pouring rain on numerous occasions to help him learn and practice driving in the rain, they would not have had the success that they have had in rain races. I have been told on numerous occasions that Joseph is a "beast" in the rain. We also thank Joseph's school, Southview Christian School, for working with him and allowing him to travel during the school year, his dad for being the mechanic when his Pawpaw could not be at a race and for Haase for building him an amazing chassis to drive the last three years, as well as CMP for a great track and all of Joseph's fans and family that have supported him by means of social media or traveling to watch him over the last four years.
If you would like to follow Joseph on social media please check him out on Facebook (Joseph Lamberth Racing), Instagram (JosephLamberthRacing) and on the web at www.josephlamberth.com