NF Sports/ Italkart Heads to FWT After an Outstanding Debut at SKUSA SuperNats
Team aims to repeat performance at Homestead in January 2016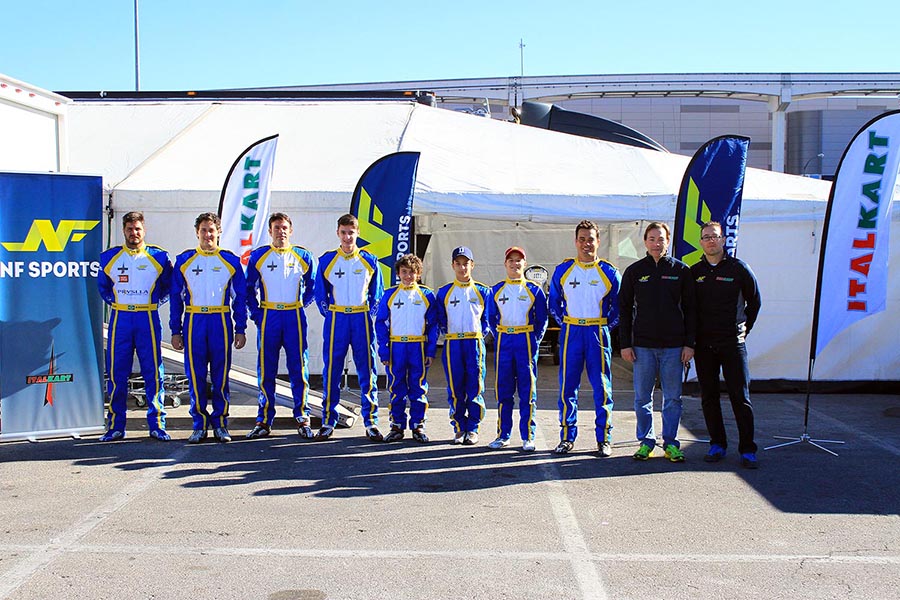 (Photo: Flavio Quick)
The year of 2015 is yet to finish but the newest North American based team NF Sports/ Italkart already announced its 2016 racing calendar. Team owner and multi champion Andre Nicastro released yesterday a tentative schedule of events for the incoming year. According to him NF Sports intends to be on main events in North America but demand for races will give the final direction. The team's promise is to offer drivers an "Arrive and Drive" program supported by extremely competitive equipment that will make a difference at the track.
NF Sports/ Italkart made its debut at SKUSA Supernationals last month in Las Vegas. In spite of being its first race the proven experience of those in charge of the team and the infrastructure offered to drivers didn't make it a big challenge. Moreover the full support given by Italian manufacturer Italkart and race team manager Michael Valiante made it even easier. NF Sports is now Italkart's representative for the Midwest and the East Coast.
The team lined up in Las Vegas with 12 drivers and since the very beginning of the event it made an impression. Their drivers led many practices, won heat races and qualified as pole sitter for the Sunday Final. They were represented in 5 different classes: TAG Cadet, TAG Junior, TAG Senior and TAG Master in addition to S4- Master Stock Moto.
Commenting on NF Sports/ Italkart performance Nicastro stated: "We had a tremendous first race. We gave our drivers the best possible to allow them to shine, starting with the supporting infrastructure to a very fast chassis and engine. This is our commitment with each one of the drivers joining our program. We were very confident on our potential since the very beginning and our results in Las Vegas were just a confirmation of the right decisions we made when select choosing our partners. Our close relationship to each one of them is something that differentiates our work. I can guarantee that results such as the one we had at Skusa Supernats will soon be repeated."
NF Sports/ Italkart tentative schedule for 2016 is based on its intention to participate in main racing events in North America and to current demand for the team's "Arrive and Drive" program. Such schedule is subject to refinement based on potential new demand and to event's change of dates. Other events on the East/ Midwest region may be included.
NF Sports events schedule:
Florida Winter Tour: Rok Cup and Rotax Max Challenge
Jan 14-17 and 21-24 (Homestead)
Feb 11-14 and 18-21 (Ocala)
Mar 10-13 and 17-20 (Palm Beach)
SKUSA Pro Tour
Apr 29- May1 (Spring Nationals at Glendale, AZ)
Jul 22-24 (Summer Nationals at New Castle, IN)
Nov 16-20 (Super Nationals Las Vegas, NV)
Access our website and get all information about "Arrive and Drive" program – www.nfsportsusa.com
Please follow and like us: