Checkered Motorsports Earns Vice-Championship and Podium Finish at SuperNats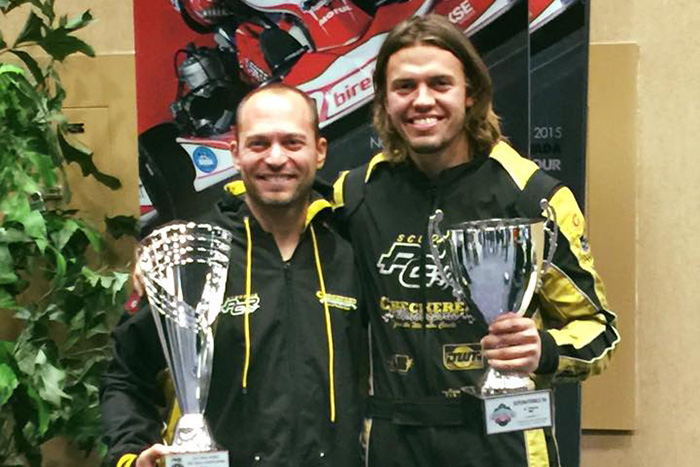 As the SuperNationals XIX has finally come to an end, Checkered Motorsports demonstrated their dominance across the board.  Securing a podium finish, a heat victory, and a vice-championship, the SKUSA SuperNationals was a success for the Girard, Ohio based operation.
With a stout 56 competitors in the S2 field, Checkered Motorsports was able to land a spot on the podium come Super Sunday along with a heat victory.  An experienced group of pilots represented the PCR brand consisting of Kyle Knecht, Kyle Smith, Andrew Bujdoso, and older sibling Robert Bujdoso.  Kyle Knecht and Kyle Smith last competed in the SuperNationals in 2011; however, that was no excuse for the two veterans to show off the capabilities of the PCR Mxk8 125 chassis.  Smith secured top finishes among all of his heats along with a victory in heat 3 to give him fourth place starting position for the main event.  Knecht could not get luck to turn his way, and found himself in the LCQ.  The 23 year old Ohio pilot showcased his best performance in the LCQ passing nine karts, but came two spots short from the transfer spot to finish in eighth.  Andrew Bujdoso had his best performance in the first heat where finishing 10th.  Unfortunately, the following heats Andrew found himself to be collected on incidents on track which led to a 31st starting spot for SuperSunday. Robert Bujdoso, displayed consistency among all three heats which secured him a respectable sixth place starting position for the main event.  On SuperSunday, Smith starting in fourth would fall back to sixth in the opening laps with teammate Robert right behind him.  Smith took no time to maneuver his way to fourth and soon found himself trailing the leaders with 10 laps to go.  However, a faulty coil would end Smiths opportunity for a victory forcing him to retire which advanced R. Bujdoso to fourth.  As the 20 lap final came to an end, R. Bujdoso earned himself a spot on the podium with a fourth place finish and Andrew Bujdoso advanced to a solid 20th spot.
With Chris Giumarra eyes set on the championship title in Tag Masters, he came one spot short from the Fikse Wheels SKUSA Pro Tour championship and was rewarded with the vice-champion position.  Bad luck struck the New Jersey pilot, where a pair of DNF's and a 21st place finish in heat 2 gave him a 36th starting position for SuperSunday.  Giumarra's experience and talent was seen in the brutal 20 lap main event.  Giumarra and his BBS powered X30 passed an impressive 26 karts to finish in 10th.
Arguably one of the most competitive classes in the SKUSA SuperNationals was the Tag Cadet field.  Among the 85 competitors, Annie Rhule was set to tackle the Las Vegas Convention Center circuit with her PCR cadet chassis.  Making consistent progress throughout the weekend, Rhule was set to demonstrate her pace in the three heats.  However, bad luck struck the young 10 year old where on track incidents prohibited her opportunity to showcase her speed and left the streets of Las Vegas with more experience and a better preparation for the 2016 season.
Checkered Motorsports will be supporting the United States Pro Kart Series, GearUp F-Series, WKA, SKUSA, in addition to Pittsburgh International Race Complex.  Transportation, arrive and drive opportunities, driver coaching and tech support is available.  For questions and dealer inquires on GreyHound Seats and the PCR product line contact Csaba Bujdoso:
Checkeredmotorsports@yahoo.com
330-518-6652
Please follow and like us: