Smart-Revolutions Announces Availability of Pin-It Sprocket Hub and Peg-Weight
Innovative Ingenuity Designed for Kart Racing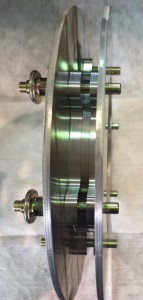 Smart-Revolutions announced immediate availability of Pin-It Sprocket Hub and Peg-Weight, enabling owners of any previous technology to immediately upgrade to the latest release.
"The passion for racing karts from the age of four, has promoted my interest in making this sport the best it can be in all fashions," said Greg Lacoste Jr., OWNER/Designer at Smart-Revolutions.
Pin-It Sprocket Hub utilizes quick release positive locking ball pins that are machine fit through two joists of the hub. Forget about the hassles of stripped or dropped nuts, bolts, and wrenches; No tools required. No special sprockets are needed as our product bolts directly to ANY metric or American wheel hub any size measuring 40mm or smaller. True float technology is incorporated so that the hub floats horizontally .040" as well as oscillates. It now only takes 30 seconds or less to change a rear sprocket without any wrenches and is equipped with a chain guard. That's right! No more DNF's caused by chain throwing caused by loose bolts!
Peg-Weight is a quick connect multi-weight distribution system designed for racing karts. Advantages to this type of system include:
Quick and easy addition-subtraction of weight without hassle of safety wire, drilling numerous holes in the seat or clamping weights to race frame.
Capabilities open up for racing multiple weight classes or having multiple drivers for the same kart.
Fully adjustable center of gravity left to right/high to low.
Quick weight chassis adjustment abilities.
Improves overall efficiency of time used at the track on race day.
Helps acceleration/braking.
Achieve to be closest to weight minimums (power to weight ratio).
Add/subtract grip capability.
Weights are stackable.
Pin-It Sprocket Hub and Peg-Weight Availability
Pin-It Sprocket Hub and Peg-Weight is an update driven by racer's feedback and is part of Smart-Revolutions' commitment to deliver the latest product updates in one convenient purchase. Pin-it sprocket hubs are available for order via PR contact below. They come complete with quick release pins, chain guard and hub. Peg-Weight is sold as strip with bolting/weight hardware. Weights are sold separately in 1-5 LB increments. You may use your own weights, however, if there is limited space between brake caliper, chassis and seat you may run into problems. These are also available for immediate ordering.
Founded in 2014, Smart-Revolutions, is a company designed to increase to possibilities and technology of the sport of kart racing is that offers products and services designed to do just that.
Smart-Revolutions, Pin-It Sprocket Hub and Peg-Weight (Utility & Design PATENT PENDING). are either registered trademarks or trademarks of Smart-Revolutions in the United States and/or other countries.
The names of actual companies and products mentioned herein may be the trademarks of their respective owners.
For more information:
Greg Lacoste Jr.
985-774-8430
Smartrevolution.sales@gmail.com
For more information on Pin-It Sprocket Hub and Peg-Weight:
www.smart-revolutions.com
Please follow and like us: