Mach1 Kart Ends Up on Winners' Podium in Las Vegas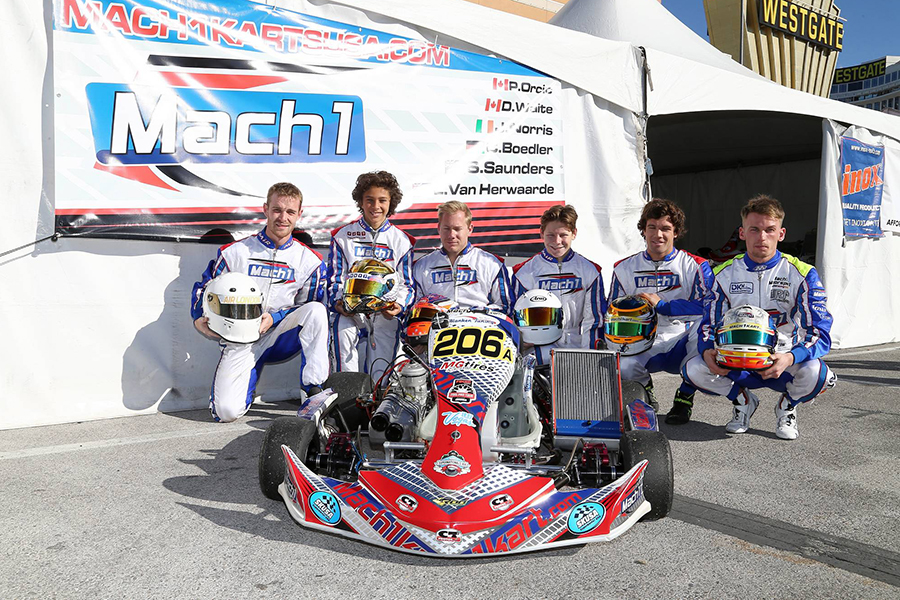 From November 16th-21st the 19th edition of the SKUSA Super Nationals took place in American Las Vegas. German kart manufacturer Mach1 Kart started at the world's biggest kart race for the first time and immediately drove among the front. In the end there was reason to rejoice due to the strong third place at the shifterkarts.
It's the racing spectacle of the year. In the Nevada desert, the SKUSA Super Nationals took place for the 19th time. More than 500 drivers started at the gambler's paradise Las Vegas. The organizers built a 0.89miles long race track in front of the exhibition center. German kart manufacturer Mach1 Kart started for the first time. Three drivers from the official factory team started: Phillip Orcic, John Norris and Cameron Boedler. Additionally, Mach1 Kart-USA sent Scott Saunders, Luke von Herwaarde and Dave Waite.
German-Brazilian Cameron Boedler was the youngest driver of the team and competed against 71 drivers at the TaG Junior. It was already obvious after qualifying that he had no reason to hide. On 31st place, he had a good starting position for the heats and succeeded at the last one by coming in 5th. Despite a falling out he qualified directly for the big finale on Super Sunday. During the 20 laps of the race he fought his way forward skillfully and came in 15th.
Both KZ2-drivers John Norris and Phillip Orcic gave lots of reasons to rejoice. Both of them were among the top favorites from the beginning. John Norris drove to pole position during qualifying and finished the first two heats on third and sixth places. Unfortunately a collision during the last heat cost him some ground. Therefore he only qualified for the big finale on 13th place. Canadian Orcic took a place in the first starting row. Two fourth places and a second place secured him second starting position for the final race. He knew how to use this too. Until the 17th lap he led the international, strongly manned field. Towards the end of the race he had to let two opponents pass him by after a thrilling fight though and finally came in on the outstanding third place. John Norris showed a strong performance as well – he fought his way forward to seventh place. "I'm very happy about our drivers' and materials' performances. The competition was very strong, especially in the KZ2 category. But we've once again proven that we're able to drive among the front", team leader Martin Hetschel summed up.
Things didn't go as smoothly for Mach1 Kart-USA though: Only Scott Saunders from Australia managed to qualify for the final race of the TaG Seniors – despite problems with his ribs he came in 27th. His TaG Senior team mate Luke von Herwaarde and S2-driver Dave Waite had to travel home before that.
After their return to Germany Mach1 Kart is now taking a short winter break, before the preparations for the new season are going to start as early as January. Interested drives are very welcome to assure themselves of the competitiveness of a Mach1 kart during test drives. Information can be collected at www.mach1kart.de
Please follow and like us: