EKN Driver Diary: Kyle Kalish – SKUSA SuperNationals XIX
Franklin Motorsports / Merlin driver takes on stack S2 Stock Moto division in Las Vegas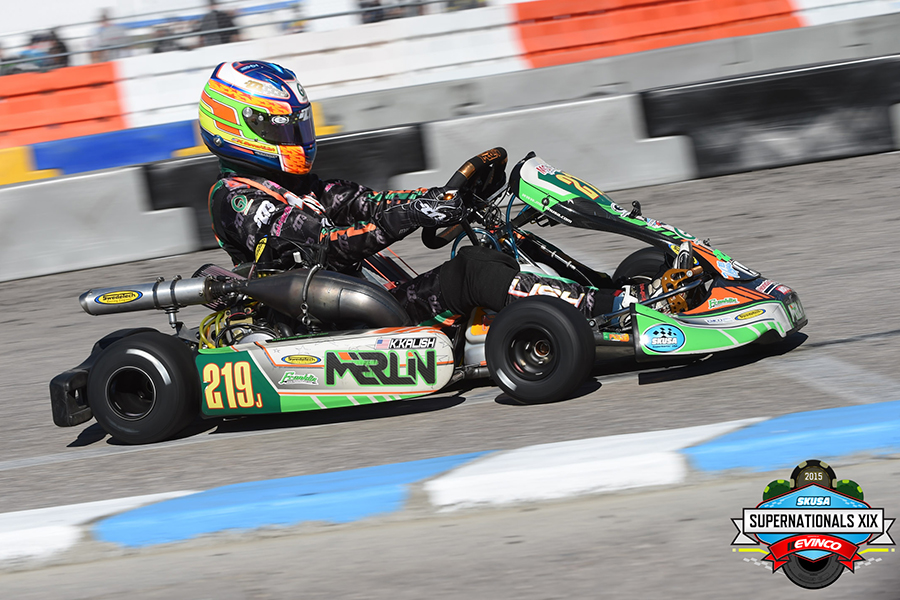 (Photo: On Track Promotions - www.otp.ca)
This year, Franklin Motorsports / Merlin driver Kyle Kalish is taking on a new category. The inaugural United States Pro Kart Series Leopard Pro champion is moving from one gear to six, taking on the challenge that is shifterkart racing. The 18-year-old from Wauconda, Illinois began racing when he was five, and has earned championships from club, regional and national. Throughout 2015, eKartingNews.com will give readers an inside look into the adjustments of going from a single-speed background to racing a Stock Moto at the national level, along with providing the great father/son relationship Kyle and his father Scott enjoy racing together.
For the last installment of the Kyle Kalish Driver Diary, which featured him returning to the seat of a TaG machine and partnering up with Franklin Motorsports / Merlin USA czar Jamie Sieracki for the 2015 RoboPong 200, click HERE. This edition is the final event of the 2015 season, the Superkarts! USA SuperNationals XIX in Las Vegas.
The SKUSA SuperNationals is without a doubt the ultimate race in North America, and quite honestly the world. There is a certain vibe and culture that is experienced when you're in Las Vegas competing at this event. With this being my second trip to the event, I'm coming in with so much more experience than I had in 2013 when competing in the TaG Senior division. I've matured a lot as a driver and as an individual, something that cost me huge last time I was there. Having gained so much knowledge over these past couple of seasons, I feel I'm ready to finally fight for the elusive SuperNationals win.
"Testing"
I put the term testing in quotations because it's hard to truly say I was able to prepare for the event as much as I would have wanted to. Now I'm not making any excuses, there is no time for that, so when we're on track, I will be at 110%. As many of you know, I'm currently in my first semester at the University of North Carolina at Charlotte studying to get my Mechanical Engineering degree. Being a plane ride away from my home and family makes it a little hard to do testing for a race like this. Since I left for school, I've been in a kart three times: the RoboPong 200, Fall Break, and Formula SAE tryouts.
I got a decent amount of laps in at the RoboPong 200, going nearly 150 laps with my teammate and mentor Jamie Sieracki as we went on to finish fifth place. A few weeks later, I went home for a few days to enjoy our fall recess after midterms and was able to get a day of bangin' gears in my trusty Merlin/SwedeTech machine in preparation for the SuperNationals. My last time in a kart was actually November 11, even though it was the most traditional test session. The Formula SAE program at UNCC was holding tryouts at the GoPro Motorplex in Mooresville to try and find their drivers for this upcoming season, so we threw down in the rental karts. While it wasn't optimal, it was still time in a kart. Other than that, it has been all focus and concentration on school up until my flight to Las Vegas. Getting an Engineering degree requires a lot of hard work and dedication, but I am loving every minute of it. If anyone is looking at attending UNCC, I highly recommend it.
First Taste of SuperNats XIX
Good or bad, S2 was in the morning session. It was nice cause we were done by noon, but it wasn't too great being on track so early in the morning. First session out wasn't too fantastic. Within about 3 laps, I had already found the barriers. A 100% driver error, a put it in the outside barrier coming off of the grandstand double rights. Bent up a decent amount of parts on the front end, and we were chasing from that point on. It took about two of the fours sessions to fix the kart back to the way it should have been and by that point, we were already behind the 8-ball. When the times practice came around, the speed wasn't there (33rd overall) and we found ourselves in the slow group for Thursday practice and qualifying . Have to take the blame for my mistakes and learn from them.
Since it is Las Vegas, we had to make the trip to the Strip. For some dumb reason, Brandon Lemke, Zach Holden, Alex Bertagnoli and I thought it'd be a great idea to walk there. While we enjoyed the Strip, walking there may have not been the best idea. Lesson learned.
Decision Thursday
Today was fairly straight forward as it was just a few rounds of practice and then qualifying. Throughout the practice sessions, we were just off pace plain and simple. There was something missing and we couldn't figure out if it was motor, kart, driver, or a combination of those. Going into qualifying, we did some work all around the kart to try and get it more balanced. Our focus was mainly around the rear of the kart. We changed axles and played with rear width, also tweaking the front alignment to keep the kart balanced with the changes we made. We felt like we were finally in a position to have a good session.
Sadly, qualifying did not go so well for anybody in our group. A few minutes into the session, another driver went into the barrier hard and it ended up taking out barriers which brought out the double yellow to slow the field down. What was disappointing is that it was without a doubt going to be my hot lap. While my times leading up to that point were decent, I felt I still have 3-4 tenths left in the kart that would have been extremely beneficial for the qualifying result and starting position for the heat races. For the first time all weekend, I felt like we had a strong package, but things didn't go our way. Ended up qualifying 28th overall, giving me a row seven starting position for the three heat races.
Survival Friday
After a quick morning warm up, two heat races on the day followed. For both of the heat races today, I found myself starting in the 14th position, right on the outside and in the middle of the pack, oh joy. It was a major concern with the more narrow straightaway compared to SuperNationals layout in the past. We played with the gearing during the day to tray and make the kart more raceable to be able to move up in the order.
The start of the first heat was one that I still don't understand how it happened. Before we began the starting sequence, the driver in 10th place stalled and hopped out of his kart. Instead of moving the kart off the track, the officials felt it was best to leave it sitting in the middle of the track. So once the lights dropped, we had to avoid the abandoned kart, which caused many of us to lose a lot of positions. It was just a game of survival after that, avoiding crashes and making sure not to be collected in them. Luckily we did and settled into a 10th place finish. When we asked the race director why they left the kart in the middle, he responded with "safety". I guess we all have a different definition of safety.
The second heat was a little less uneventful, but I still had to keep out of trouble. Because of where I was, it was pretty hard to charge forward as there were a decent amount of wrecks to avoid. It was no TAG Senior race, but we still had our occasional crash. By the end of it all, I finished 12th.
Situation Saturday
Today was a pretty easy day as long as you had a good day on Friday. If you weren't in the Last Chance Qualifier, there was only a morning warm up and one final heat. We had a decent morning warm up and got prepped for our final heat.
Like every other heat so far, it was just a game of survival. Moved forward when I could, but it was a lot of just avoiding wrecks and keeping my nose clean. Luckily I did and finished 11th. Based on that, I had 10-11-12 results from the heat races. While it wasn't what I had hoped for or wanted, we survived the heats and did not have to worry about the Last Chance Qualifier. Based on my heat races, I earned the 16th spot on the grid for the Main Event on SuperSunday. Once again, right in the middle of the carnage.
SuperSunday
We made it. It was not the greatest weekend, but we reached SuperSunday without any major damage and still in the hunt for a top-10 finish. We got through the morning warm up and the opening ceremony and waited for our main event to start. For gearing, we went the opposite way in hopes to be able to get out of the hairpins much better, with the base of the kart pretty much the way we've had it since after qualifying.
Lining up 16th for the race, I focused on surviving the start and progressing from there. I got a little bottled up in turn 1, but made it through. From there on out, it was just trying to move up as much as I could. In the opening few laps, I managed to reach the 13th position but overdrove the tires and it was hard to recover from there. It was my own mistake, and it made it pretty difficult to get the power down coming out of the corners. Because of this, it was hard to make clean passes, which made it hard to move forward. We had the speed, but lacked the race pace due to the overheated tires. At the end of it all, it was a 15th place finish for the main event. It was pretty disappointing mostly due to my driving error at the beginning of the race and at the start of the weekend which put us behind from the beginning. If I would have been more patient in the beginning of the Final, I think it would have been a completely different story.
With my finish at SuperNationals, it secured my top-five finish in the championship. For the season that we had, I was pretty happy with that result. I made a lot of mistakes but also had some moments of excellence, and they seemed to even each other out. I would have loved to get a win at SummerNationals, but it just wasn't meant to be. At the end of the day, it's pretty hard for me to be upset when I look at the stats. Not only is this my first year in shifters, I've still only done four race weekends in the kart plus a few test sessions. Compared to my competitors, I was rarely in the kart. Looking onto next season, I'm going to be pushing hard to secure the National Championship one more time in my career.
In regards to Team FMS, it was awesome to watch. Alex Bertagnoli put on a great performance to get a TaG Junior podium on his first trip to Las Vegas. Brandon Lemke struggled in Las Vegas, but was able to salvage as much as he could and still secured the championship by one point. He has been unstoppable all season and been a pleasure to watch and work with.
With the season coming to a close, I look onto next season with optimism. While we haven't finalized anything for next season, I'm looking forward to what it will entail. I will be back with Franklin Motorsports/Merlin once again, and I don't see that ever changing.
Thank you to all my sponsors and partners who have helped my racing career happen. A big thank you to GO Designs, Minus 273, ONE Race Gear and EMCO Chemical Distributors for all their support this season.
Lastly, I would like to thank eKartingNews.com for giving me the opportunity to do this Driver Diary all season. And thank you to everybody who took time to read my diaries and I hope you had as much reading them as I did writing them!
See you all next season,
Kyle Kalish
www.kylekalish.com
Facebook: KalishRacing
Twitter: @KyleKalish19
Instagram: @Kyle_Kalish