Industry Insider: HPD's Jeff Barrow
Motorsports powerhouse excited to continue karting connection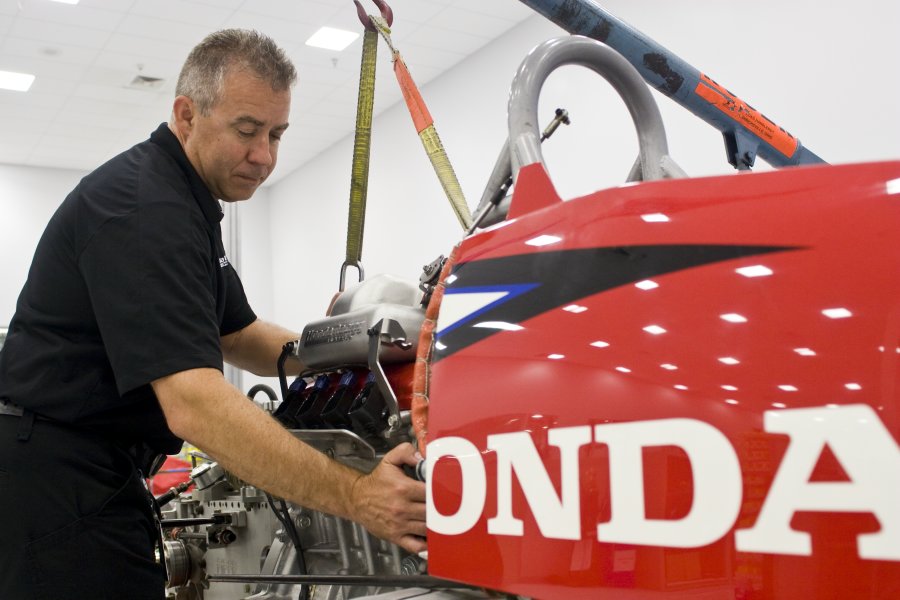 Jeff Barrow of HPD
As the sport of karting rolls into its sixth decade, one of the key components for future growth and exposure may just be our evolving partnerships with companies from outside the inner karting circle.  Honda Performance Development (HPD) has grown its connection with karting, and particularly Superkarts! USA, over the last several years and the Stock Moto movement has now fully embraced the Honda CR125 spec equation from coast-to-coast.  Among Honda's grassroots efforts, which also include categories like touring car, rally, midget, and the new Formula F, shifter kart racing connects the company with a young demographic of racing and automobile enthusiasts.  With the 19th running of the Superkarts! USA SuperNationals this week, HPD will show its continued backing by being on-site in Las Vegas to help support what will likely be 200+ Stock Moto competitors.  We had a chance for a quick chat with HPD's Jeff Barrow ahead of karting's biggest event.
eKartingNews.com: Jeff, thank you for taking the time to chat with us ahead of the biggest race of the year – the SKUSA SuperNationals XIX.  This is obviously a major event for Honda Racing and HPD, with the entire Stock Honda ladder system front-and-center at such an internationally prestigious event.  You guys have been stepping up your presence over the years, so what are HPD's plans for this year's SuperNationals?
Jeff Barrow: We do plan to have a major presence at the event. We will be bringing some new toys to display, and of course, technical support for our competitors. We'll also be part of the Fikse Wheels Pro Tour prize celebrations, presenting the top-three drivers in all four shifter categories with $9000 in contingency money.  We're also presenting a brand new CR125 engine to the champion in the S2 Semi-Pro Stock Moto class.
EKN: It's great to see companies providing our racers with prizes and cash for their efforts, so thank you for that. HPD's partnership with Superkarts! USA has positioned the Stock Honda program as the top rung of organized sprint karting in the United States, and has put the Honda brand in the spotlight within the community and, of course, through the SKUSA Fikse Wheels Pro Tour coverage on the CBS Sports Network as well.  What is the primary goal of this deep connection to the sport of karting?
JB: Racing is part of the culture of Honda. We love any exposure we can get to feature our Honda Racing Line karters. Karting starts the brand relationship building at an early age and we want to show strong support right from the first Honda kart they jump in.
EKN:  Honda has made big strides in recent years in support grassroots racing, outside its deep connection with the Verizon IndyCar Series, and HPD has several options for karters who are focused on professional driving careers.  There is an impressive contingency program in the SCCA Club Racing program, and the most recent move has been into the open wheel formula car landscape with the continuing move to the Honda Fit engine in the Formula 1600 or Formula F category.  The Formula Lites package also debuted this year, and now Honda has partnered with SCCA Pro Racing with the new US F4 program.  The open wheel landscape is getting filled up with Honda power.  There is obviously a quick connection between national level karting and the US F4 platform, as it will be directly marketed to karters.  What was HPD's motivation for becoming part of this new car and series?

JB: You're right, we certainly feel that the drivers in S1 and S2, based on their ability and age, can jump right into a F4 or even Formula Lites car. The skills developed in shifter karts compliment what they will need when moving into cars. The launch of the F4 car filled the last hole we had in Honda's rung of step-up performance; you now have an entry-level car that is first and foremost, affordable at $51K. It's a modern car with paddle shift, a sequential gearbox, and most importantly, it is FIA-compliant, with a carbon monocoque and safety seat. We are currently in discussions with SKUSA, SCCA Pro Racing and our partners to come up with an incentive to promote champions from the SKUSA Pro Tour.
EKN: Again, it's great to see exciting programs in the works that continue to strengthen the ladder system that begins in karting.  Thanks, Jeff.  We look forward to seeing you and the HPD staff at the SuperNationals.  It should be an incredible week.