2015 Skip Barber Karts to Cars Scholarship Shootout Winners Announced
Aussie driver Mickler takes top prize, Americans Robb and Castro round out podium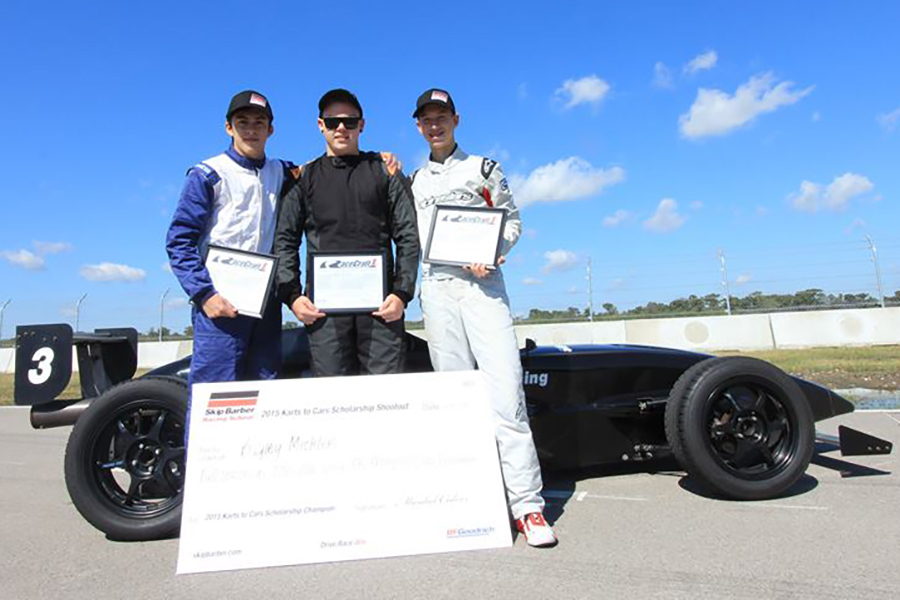 Castro, Mickler and Robb take top prizes at Skip Barber Karts to Cars Scholarship Shootout
Skip Barber Racing School is thrilled to reveal the winners of the 19th Annual Karts to Cars Scholarship Shootout. The top karters from around the world competed this week in NOLA Motorsports Park in tough conditions to pursue more than $65,000 in Scholarship Prizes. An international karter from Western Australia, Bayley Mickler, came out on top and garnered the acclaimed prize of a full season in the Skip Barber Race Series.
The winners for 2015 Karts to Cars Scholarship Shootout are as follows:
Bayley Mickler: First place earning a full season in the 2015-2016 Skip Barber Winter or Championship Race Series valued at $40,000 credits.
Sting Ray Robb: Second Place earning a $15,000 Scholarship for use in the Skip Barber Race Series
Andre Castro: Third Place earning a $10,000 Scholarship for use in the Skip Barber Race Series
The 2015 Karts to Cars Scholarship Shootout also marked the first to showcase the recently launched talent management business of Skip Barber Driver Development. Jonathan Hadaya, who is managing this new initiative remarked that "I was impressed with the level of talent in the field of athletes, as well as the operation of the event. SBRS provides a level playing field for these drivers to showcase their skills and ability. There is nothing quite like this in MotorSports today"
Fourteen-year old Sting Ray Robb from Ontario, OR also garnered the Bryan Herta Career Enhancement Scholarship. Herta launched his scholarship in 2014 with an award to Dakota Dickerson, who came in 2nd place in the Karts to Cars Scholarship Shootout. Dickerson is currently enrolled in the Skip Barber Racing School Summer Series and was a finalist in this year's Team USA Scholarship Competition alongside another Skip Barber Racing School alumnus Michai Stephens. Sting Ray Robb will receive a scholarship award in the amount of $15,000 in racing credits to be applied to the Skip Barber Race Series.
"This year's field of karters continued to showcase a level of camaraderie, drive and talent that the event always attracts," said Director, Competition Casey Carden. "This group joins an illustrious group of past participants and will have the opportunity to develop their skills in our time-tested Race Series. This is why we are here – supporting racers as they pursue their motorsports dreams and this event was a testament to that."
In addition to being able to compete in the Skip Barber Race Series, the winners also earned additional prizes from third party sponsors. Mickler was awarded the RACER Magazine "Top Gun Award" and will be featured in a future issue of the publication.
All three racers also won scholarships from RaceCraft1 for a comprehensive evaluation. RaceCraft1 specializes in formal instruction and driver development for professional racers and engineers, developing-youth drivers, and motorsports enthusiasts through a professional training program.