EKN Driver Diary: Andrick Zeen – CIK/FIA KF World Championship
California driver joins Praga factory team in Italy to take on the world's best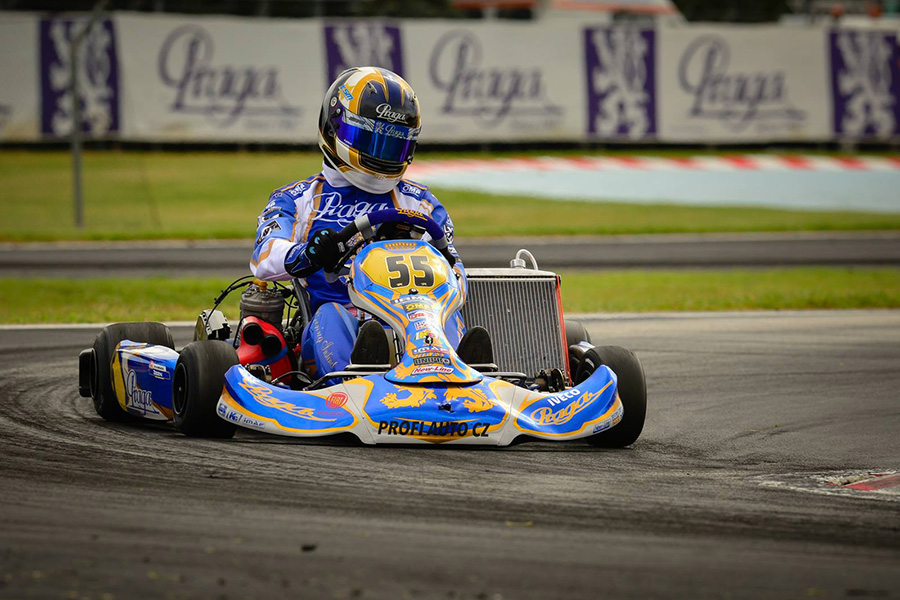 Andrick Zeen on-track at the La Conca circuit for the 2015 CIK/FIA World Karting Championships (Photo: Praga)
The CIK/FIA World Championship is the most prestigious karting event in the world. Since 1964, only 33 drivers have been able to claim, beating out the very best from around the globe. The 2015 edition took place at the historic La Conca International Circuit facility in Muro Leccese, Italy. Among the best were a handful of Americans in both the KF and KFJ divisions. California driver Andrick Zeen made the long trek to compete in this year's event. The 23-year-old is currently a student at Cal State Fullerton, studying Business Management, racing karts since 2004.
Zeen is no stranger to European competition. For a number of years, Zeen drove for the Sodi Kart factory team. After a handful of events in 2008 and 2009, Andrick moved to France for 10 months. He became the first American driver to podium in the French national series, and was the highest finishing American in the CIK U18 championship. Taking time away from full-time driving, Andrick returned in 2014 and later signed with Praga North America. Zeen nearly earned the #3 SKUSA plate in the SKUSA Fikse Wheels Pro Tour. 2015 has been up and down, finishing the United States Pro Kart Series with a double-win weekend in mid-August at New Castle Motorsports Park. Zeen joined the factory Praga operation in Italy for this year's World Karting Championships.
Hello EKN readers! My name is Andrick Zeen, and this is my driver diary from the 2015 CIK/FIA KF World Championship in La Conca, Italy. I hope that you enjoy reading about my experience and are able to learn a little bit about what it's like to race in an international event. To begin, I want to sincerely thank Blake Wankowski and Petr Ptacek from Praga North America and Praga/IPK respectively. Without their trust and support I would have never had this opportunity. THANK YOU SO MUCH!
With that being said, let me give some background information. The 2015 CIK/FIA World Championship for the KF and KFJ categories was hosted over a single race weekend in La Conca, Italy, from September 24-27. The event was structured as follows:
Thursday: 5 free practice sessions
Friday: 3 free practice sessions, and Qualifying Practice (Aka Qualifying)
Saturday: Qualifying heat races
Sunday: Last Chance Qualifier, Pre-Final, and Final.
Thursday: Waiting for the Rain to Stop
This was the worst day. Needless to say, everyone in the paddock wanted to get on track and start driving. This is the WORLD CHAMPIONSHIP after all! But, the weather didn't want to cooperate; the weather wanted to rain. This wouldn't normally be an issue, but for this race the CIK decided that each driver was allowed only two chassis and two engines. If you break one (or both) of either you're sort of out of luck. You can try to appeal to the stewards and have new equipment approved, but it isn't likely to happen. This means: don't bend a chassis, don't seize an engine. (It should also be noted that the CIK limited the number of practice and race tires available for use. Three sets of VEGA white practice tires, and two sets of VEGA white race tires.) Driving in the rain was a risk few wanted to take. So while it rained, the teams sat around and waited. I cannot tell you how hard it is to sit and wait at a race. It feels like torture to me. But, it did dry up eventually, and we were able to squeeze in the last two rounds of practice on a dry track. This was good. What wasn't good was that in the middle of the second session one of my rear tires delaminated and basically blew up. Nothing super dramatic happened. I was able to pull safely off the track, but it cut my session short, wasting valuable test laps. The CIK was kind enough to replace the tire with a new one, but there was no way to get the laps back. So I was already sort of 'behind' my competitors in terms of laps, which isn't great when you're racing against the best in the world.
Friday: Qualifying Madness
A new day had arrived! I was ready to get started, easily putting the tire issue of the prior day behind me. The first session of the day was ok, nothing crazy happened, but I did notice that my chassis seemed to have a ton of grip. I was regularly entering corners on two wheels. This was not a huge deal, but I was a little concerned, considering the track would only get rubbered up more as the day went on. I voiced my concerns to Cash Van Belle, our technical director, who wanted to make some changes to my Praga Tacho chassis for the next session before changing over to my second chassis, the Praga Dragon Evo.
I followed Cash's advice, and made the changes for session two. The second session was more or less a repeat of the first, except I was spending more time on two wheels than four. I was starting to get worried. My mechanic and I ended our session early so that we could get my second chassis ready and on track for session three.
We had the Dragon Evo ready, and I was feeling good about the change. However, those feelings were misguided, as I knew something was wrong as soon as I hit the track. I had maybe slightly less grip, but it wasn't the difference I was looking for. I used the 20-minute session to make a pit stop and change the set up, which did help a little bit. However, qualifying was now upon us, which meant that the track was about to get gripped up.
Qualifying deserves its own section. It was a beast. Probably one of the most chaotic sessions I've ever spent in a go kart. The session was only 8 minutes long, and of course, everyone waited for a few minutes before going out.  I decided to wait with everyone else, hoping to follow another driver and catch a draft on my best lap. I figured that I needed all of the help that I could get, and a draft, as well as following someone, would help.
I was wrong.
The track was so grippy, and my chassis so bound up, that I couldn't really hang with anyone. What I should have done was gone out right at the start while the track was cold. Live and learn.
So what happened was this: I was either constantly being passed or passing others, as quicker drivers would come up on me, pass, set a lap, and then slow down and pull off. I never had a clear lap! Now, there were a lot of drivers that were way quicker in practice than qualifying, and it was due to the same reason. A former world champion, who looked good in practice and suffered in qualifying, was just ahead of me on track, and I could see him getting caught in similarly bad situations as myself.
Either way, this resulted in a terrible qualifying for me, and I think I was last or nearly last (Editor Note: 60th out of 63). Pretty disappointing, but the races were still ahead of us, and a bad performance in qualifying meant nothing if I had good heat races. I kept this in mind and tried to relax a little that evening. I knew Saturday was going to be important.
Saturday: Wheel-to-Wheel Time
I had four heat races scheduled for Saturday. The top 28 classified drivers after the heat races on Saturday would be transferred directly into the Pre-Final. The rest of the drivers would be relegated to the Last Chance Qualifier. Clearly, my goal was to be in the first 28. However, that didn't quite happen. I had four heat races that passed without incident, and I was able to gain places, but I just didn't have the speed to gain the amount of places that I needed in order to make the cut for the Pre-Final. So after a difficult day on Saturday, I knew I would be in the Last Chance Qualifier.
For qualifying and the heats we chose to use the Dragon Evo. While it wasn't much better than the Tacho out of the box, the team felt that they would be able to adjust it better for the situation than the Tacho. Plus, we had already tested with the Tacho and felt like we really couldn't get any more grip out of it, which made the Dragon Evo a better choice. Also, the Dragon Evo is all 30, where the Tacho has a 32 cross bar behind the seat, so we were hoping the softer frame would be easier to work with as more rubber went down. I actually think the major issue wasn't the chassis but the tire. The sidewalls are so stiff that chassis feels really weird, it kind of slides and then hooks up hard on the stiff sidewall, which would throw me onto two wheels. I think if we had a different tire we wouldn't have struggled so much.
Basically, we threw the kitchen sink at it. We were changing everything. I tried every IPK axle, mag hubs (front and rear) of all lengths, multiple different front bars, ride heights, camber and caster adjustments, widths, and three types of DWT wheels. The issue was simply having too much grip overall.
I do want to take a second to discuss the new front bumper mounting system that the CIK has implemented. This system has been the subject of great debate, and many teams/drivers have voiced their dislike of the system. For those unfamiliar with this, imagine if your front bumper had clamps that held it slightly out ahead of the metal crash bars. If the bumper is subjected to hard contact, either direct, or on one side, the bumper is forced back towards the metal crash bars and hangs loosely on its mounts. If the bumper is hanging at the end of the race, the driver receives a 10 second penalty. This system is designed specifically to prevent hard contact between drivers and reduce the amount of 'dirty' or rough driving incidents. I will admit that I was quite skeptical of the system, and had heard many more bad things about it than good. But after using it for four brutal heat races, and having a fair amount of contact, I have to say that I was quite impressed with the system. It allows for contact, but not at an excessive level. The starts were especially good, with way less contact than I am normally used to. Personally, I support this new bumper system!
Sunday: World Champions are Crowned
Sunday was a tough, but mercifully short, day for me. There was a warm-up in the morning, followed by the Last Chance Qualifier. Having tested what felt like everything throughout the practice, qualifying, and heat races, I was still struggling with massive amounts of grip. To give an example, the first corner at La Conca is a ~100 degree flat-out right hand corner. I was on two wheels all the way through the corner. Kinda fun, kinda scary; not very fast. Staying focused on keeping my chassis on the ground made it difficult to race and put together consistent laps. The Last Chance Qualifier was tough, and contact ended my race early; absolutely not the ideal way to end my time at the World Championships (Editor Note: One position ahead of 2009 World Karting Champion Arnaud Kozlinski). I knew how much work and effort I had put into the race, and the same for the team. All of the mechanics and team members had put out a ton of effort and were absolutely dedicated to helping me and the other drivers on Praga go fast. For that, I need to say thank you. This was not an easy race, but it was an experience I would not trade. I was certainly able to learn, and I'm confident that this experience made me better as a driver.
Since my time as a competitor at the race was over, I took the time to relax and enjoy the Pre-Finals and Finals for both KF and KFJ. I can say that the teams and drivers at this event were all world class, and they all deserved their place in the finals. It was particularly cool to see American Logan Sargeant bring a World Championship back to the USA for the first time since 1978. Logan absolutely dominated the event, and I'm glad I was at the race to see him achieve this accomplishment. In KF, Juan Correa had a solid drive through the pack in the Prefinal, so Americans were serious contenders. I will never forget this experience and am glad to have been a part of it. Thank you again to all involved, and thank you for reading this!
See you at the track
Andrick Zeen
Please follow and like us: