SSM Super One Series Round 10: PF International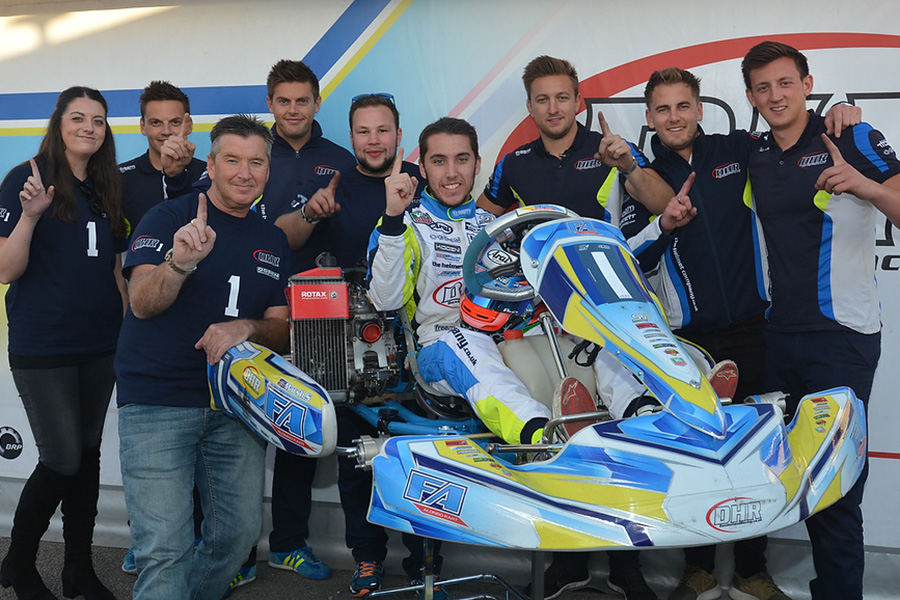 Sam Marsh (Photo: Kartpix.net)
Nine classes came together for a grand final three day event in the 2015 Stevenage Sheet Metals supported Super One Series at the spectacular PF International circuit in Lincolnshire. Apart from some early fog on Sunday morning delaying the start, the weather was good and the racing was hard especially when top championship places were at stake.
MSA British Cadet Championship
Dexter Patterson was crowned the 2015 MSA Cadet champion prior to the start of the meeting after his appeal from exclusion at the Larkhall round was upheld by the National Court, meaning he only had to tour round safely at the back during the event.  Although second and third in the series for the IAME Gazelle engine were also secured by Jonny Edgar and Harry Thompson the battles at the front were no less intense.  In the first final Taylor Barnard and Edgar broke away at the front and despite Edgar's best efforts took the win after a brief trade of the lead on the last lap.  Thompson got off the grid in sixth place but soon leapfrogged into third.  He endured a hard challenge from Clayton Ravenscroft and Joseph Taylor but regained third for the chequer. Taylor and Brandon Martland came off at the second hairpin and Ravenscroft also lost many places on the final lap. That scrum put Georgi Dimitrov, Maxwell Dodds and Own Marlow behind Thompson. Barnard and Edgar once again broke clear in the second final, and whilst Edgar had momentarily led between the two hairpins, Barnard regained the upper hand into the chicane.  Edgar fought back round the Mike Wilson complex, edging ahead and holding on for the win.  Martland conquered the third place battle only to be excluded for a non-compliance elevating Thompson, Georgi Dimitrov and Lorcan Hanafin who had been third for much of the race.
Final 1: 1 Taylor Barnard (Zip); 2 Jonny Edgar (Synergy); 3 Harry Thompson (Synergy); 4 Georgi Dimitrov (Synergy); 5 Maxwell Dodds (Synergy)
Final 2: 1 Edgar; 2 Barnard; 3 Thompson; 4 Dimitrov; 5 Lorcan Hanafin (Synergy)
Provisional Final Championship Standings: 1 Dexter Patterson 1129; 2 Jonny Edgar 1119; 3 Harry Thompson 1079
ABkC Honda Cadet National Championship
Nicholas Reeve was well on form claiming pole for the first final from Oliver Clarke but the first start was aborted due to a crash.  Once restarted Reeve shot into the lead and with Clarke in tow put five seconds on the rest of their rivals.  Harry Thompson vaulted to third only to find Dragan Pinsent taking the place having charged up from thirteenth on the grid. But Pinsent came off on the penultimate lap leaving Thompson and Guy Cunnington in third and fourth with a gap to Ben Fayers in fifth.  Reeve and Thompson shared time at the front of the second final, each shuffled to the back of the five kart train in turn but recovering.  Behind this lot Wesley Mason and Pinsent made contact exiting the chicane, Mason spinning.  Reeve, Fayers and Clarke made a break with Clarke snatching second through the final corners and clinching the 2015 title.  "It's been a very hard year, Harry has been working hard and been very quick.  Next year I will be going into Junior X30," said Clarke.
Final 1: 1 Nicholas Reeve (Zip); 2 Oliver Clarke (BRK); 3 Harry Thompson (Project One); 4 Guy Cunnington (BRK); 5 Ben Fayers (Project One).
Final 2: 1 Reeve; 2 Clarke; 3 Fayers; 4 Thompson; 5 Cunnington
Provisional Final Championship Standings: 1 Oliver Clarke 1093; 2 Harry Thompson 1068; 3 Guy Cunnington 1004
ABkC MiniMax National Championship
Although Kiern Jewiss had clinched the title at the previous round that didn't stop him getting stuck in amongst the leading group.  Mark Kimber had earned pole for the first final and pulled a gap immediately but that was soon reeled in by William Pettitt, Kimber falling to ninth.  The action got hotter when Jordan Collard hit Jewiss in the first hairpin and spun, not delaying Jewiss who took the lead for a couple of laps.  Joe Turney was next to star up front, throwing off a challenge by the recovered Kimber and pulling a gap for the win over Jewiss, Owen Byatt and Kimber.  Kimber hit the front once more in the second final but lost to first Jewiss and then Turney out on this own with Kimber tracking him.  Byatt and Pettitt collided in the chicane then again at turn one this time bringing out the red flag for a premature end.  Meanwhile Jewiss had sliced past Chris Lulham for third.  Axel Charpentier was keeping out of trouble for runner up in the standings whilst Fin Kenneally narrowly pipped Pettitt for third.
Final 1: 1 Joe Turney (Tonykart); 2 Kiern Jewiss (Tonykart); 3 Owen Byatt (Kosmic); 4 Mark Kimber (Alonso); 5 William Pettitt (Tonykart)
Final 2: 1 Turney; 2 Kimber; 3 Jewiss; 4 Chris Lulham (Tonykart); 5 Alex McDade (Tonykart)
Provisional Final Championship Standings: 1 Kiern Jewiss 1117; 2 Axel Charpentier 1064; 3 Fin Kenneally 1012
ABkC Junior Max National Championship
Jack McCarthy had more or less sewn up the championship title and played safe throughout the finals after a brace of fourth places in timed qualifying and the two heats.  Tom Gamble and Dean MacDonald lined up on the front row for the first final but it was Jonathan Hoggard's good start that catapulted him into the lead.  It was short lived when MacDonald got into his stride until Thomas Turner took over.  Harrison Thomas, now second, nudged Turner at the first hairpin allowing Gamble to bypass both for the win, Thomas hanging on for second over Turner, Scott Snell and MacDonald.  Thomas was speedily demoted from first to sixth on the opening lap of the second final in favour of Gamble.  All eyes were on the fight for the championship runner-up slot between Zak Fulk and MacDonald as it swayed back and forward during the race especially when MacDonald fell to fourteenth at the beginning.  Gamble and Turner were trading the lead until Fulk replaced them.  Gamble recovered first and left the pack behind by 5s, whilst Thomas demoted Fulk to third.  Meanwhile MacDonald had steadily moved up the order to an eventual sixth, holding onto runner-up position in the standings.  Fulk was later penalised by five places promoting Turner and Hoggard.
Final 1: 1 Tom Gamble (Tonykart); 2 Harrison Thomas (Tonykart); 3 Thomas Turner (Tonykart); 4 Scott Snell (Tonykart); 5 Dean MacDonald (Kosmic)
Final 2: 1 Gamble; 2 Thomas; 3 Turner; 4 Jonathan Hoggard (Tonykart); 5 Snell.
Provisional Final Championship Standings: 1 Jack McCarthy 1071; 2 Dean MacDonald 1045; 3 Harrison Thomas 1036
ABkC Senior Max National Championship
Sam Marsh fought all the way for the wins despite having put the title to bed at the last round.  Scott Mackrell topped the timed qualifying but a one lap penalty in the first heat set him back on the grid for the first final, fronted by Marsh and Luke Knott.  Marsh was soon caught by Knott after he had taken Josh Collings, the trio having a fine battle until Collings stopped by the bridge.  Marsh and Knott continued to trade the lead, Marsh just getting the verdict.  Danny Russell was a lonely third after Connor Hall and Gary Donnelly seemed to have a small altercation and both fell behind the recovering Mackrell.  Marsh's tenure of the lead in the second final was short-lived, usurped by Knott, but he soon worked his way back to the front.  Donnelly wanted a bit of the action as well but in the end it was Hall who broke clear for the win over Knott and Donnelly with Marsh relegated to a more distant fourth.
Final 1: 1 Sam Marsh (Alonso); 2 Luke Knott (Tonykart); 3 Danny Russell (Tonykart); 4 Scott Mackrell (Tonykart); 5 Connor Hall (Tonykart)
Final 2: 1 Hall; 2 Knott; 3 Gary Donnelly (Tonykart); 4 Marsh; 5 Josh Collings (Kosmic)
Provisional Final Championship Standings: 1 Sam Marsh 1124; 2 Luke Knott 1097; 3 Connor Hall 1065
ABkC Junior TKM National Championship
Matthew Graham was in the driving seat as far as the championship title was concerned, his to lose, and pole for the first final was a measure of his competitiveness.  He was trailed off the line by Jack Davidson and Ryan Edwards, having a great start from sixth, whilst front row man Christopher Whitton had to leapfrog Suzanne Gutzold for fourth.  Abi Pulling failed to appear, a pinched fuel pipe the problem. Whitton was soon put back by Lee Whittingham but regained fourth on the last lap.  Graham and Davidson pulled clear of Edwards by the chequer and Gutzold was excluded for driving standards.  Graham and Whitton went clear of the third place battle in the second final and remained like that until the premature end.  Matthew Taylor lost many places in the chicane leaving Jack Davidson, Edwards and Sam Fowler fighting for third and finishing in that order. Kristian Brierley and Pulling tried to go through the first two corners side by side after a failed passing attempt on Joseph Reeves-Smith, Brierley slamming into the barriers and bringing out an immediate red flag.  Athough taken to hospital for a check up he was released albeit rather sore and stiff thankfully.  Whitton beat Taylor to the title runner-up position.  "I won't be doing Juniors next year but other than that I have no idea," said new champion Matthew Graham.
Final 1: 1 Matthew Graham (Jade); 2 Jack Davidson (Tonykart); 3 Ryan Edwards (Tonykart); 4 Christopher Whitton (Tal-Ko); 5 Sam Fowler (Jade)
Final 2: 1 Graham; 2 Whitton; 3 Davidson; 4 Edwards; 5 Fowler
Provisional Final Championship Standings: 1 Matthew Graham 1078; 2 Christopher Whitton 1061; 3 Matthew Taylor 1043
ABkC TKM Extreme National Championship
Al Paterson went clear of the pack as James Ogden came off in the first hairpin in the first final, delaying those behind.  Simon Vercoe and Owain Rosser traded second place, Vercoe eventually driving round the outside of Rosser at the second hairpin on the last lap to seal second.  Matt England, champion elect, reached fourth but was docked five places for gaining an unfair advantage.  Despite the small entry there was plenty of action in the second final, Paterson fighting off a strong challenge from Rosser but eventually eking out a 2s cushion.  Vercoe, Ogden, Kyle Sproat were joined by the recovering England for a massive third place battle, Vercoe prevailing over Ogden.  Paterson's wins took him to second in the points standings, whilst new champion Matt England said: "I think my mentality has changed this year and we made some good adjustments to the kart."
Final 1: 1 Al Paterson (Tonykart); 2 Simon Vercoe (Tal-Ko); 3 Owain Rosser (Jade)
Final 2: 1 Paterson; 2 Rosser; 3 Vercoe
Provisional Final Championship Standings: 1 Matt England 1120; 2 Al Paterson 1102; 3 James Ogden 1100
Junior X30 International Qualifier
Ayrton Simmons was quickly shuffled from first to third in favour of Hugo Bentley-Ellis at the start of the first final.  Then Harry Platten took over at the front, with a decent gap although quickly closed by Simmons once more to the front.  Simmons and Bentley-Ellis traded the lead on the final laps Bentley-Ellis just prevailing with Philip Hanson beating Platten to third.  Bentley-Ellis spent most but not all of the second final in front, Simmons enjoying some brief periods in front, but Bentley-Ellis always had enough in hand to come back.  Platten had a big fight with Simmons for second until he spun round at the first hairpin and fell to ninth.  Thomas Pegram was another who plummeted from third to eighth.  So with these two good results an Platten's spin, Hanson is the one going to represent the Super One at the X30 IAME International Final.
Final 1: 1 Hugo Bentley-Ellis (Tonykart); 2 Ayrton Simmons (Tonykart); 3 Phillip Hanson (Tonykart); 4 Harry Platten (BRK); 5 Bradley Pennell (Kosmic)
Final 2: 1 Bentley-Ellis; 2 Hanson; 3 Simmons; 4 Ross Woodford (Alonso); 5 5 Morgan Porter (Tonykart)
Provisional Final Championship Standings: 1 Philip Hanson 563; 2 Harry Platten 546; 3 Ethan Pitt 532
Senior X30 International Qualifier
Matt Davies took the first final pole but was struggling slightly after his prime chassis had been found cracked.  Josh Collings leapfrogged both Davies and Jamie Flynn to steadily pull away, 6s to the good by the flag, whilst Davies had fallen to fifth.  Connor Jupp broke away from the third place battle but could make no inroads on the leader whilst Dean Hale vaulted into third in the closing stages.  Collings once more disappeared from the sight of the remainder of the pack in the second final leaving Jupp and Euan Wilson to contest second once Hale had been leapfrogged.  Jupp left Hale behind, Hale was taken by Wilson over the bridge with Davies fifth.  Collings topped the points standings and will go to the International Finals.
Final 1: 1 Josh Collings (Kosmic); 2 Connor Jupp (Alonso); 3 Dean Hale (Gold); 4 Euan Wilson (Alonso); 5 Matt Davies (Tonykart)
Final 2: 1 Collings; 2 Jupp; 3 Wilson; 4 Hale; 5 Davies
Provisional Final Championship Standings: 1 Josh Collings 566; 2 Dean Hale 558; Jamie Flynn 546