Zach Holden Joins Team Koene USA for SKUSA SuperNationals XIX
Multi-time champion to receive support from Comet Kart Sales under Team Koene USA banner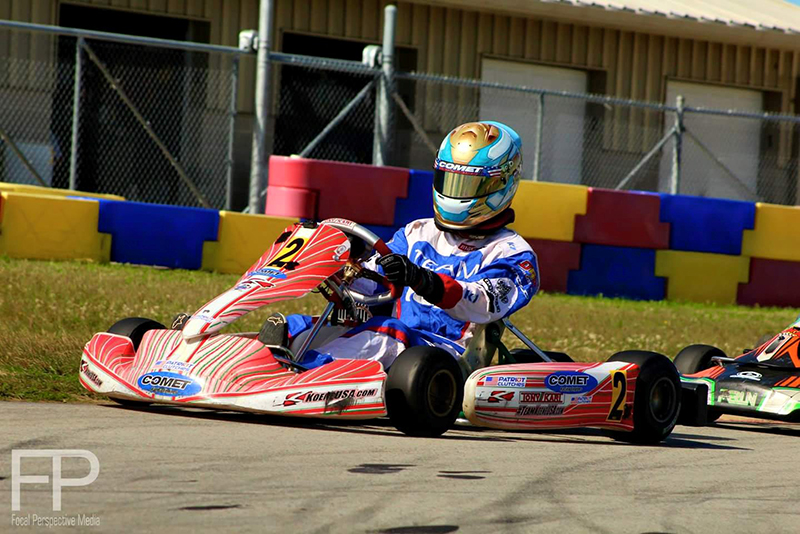 Zach Holden joins Team Koene USA for the SKUSA SuperNationals with support from Comet Kart Sales. (Photo: Focal Perspective Media)
With the switch to the Tony Kart brand in the middle of July and winning aboard the OTK brand in his first event, the Superkarts! USA (SKUSA) SummerNationals, Zach Holden will head to the SKUSA SuperNationals as a member of Team Koene USA. Sitting fourth in the Fikse Wheels Pro Tour TaG Junior championship chase, Holden will utilize a Comet Kart Sales powered Tony Kart under the Team Koene USA banner.
"We are happy to welcome Zach to Team Koene USA and will do our best to help him succeed," explained Team Koene USA Team Principal Mike Maurini. "Zach is always a driver that we have on the watch at each and every event as he always finds his way to the front of the field. I think he will be a great fit in our program."
Though Holden will join Team Koene USA, he will still receive engine and tuning support from Comet Kart Sales as well as from Koene USA.
"I am really happy with the Tony Kart and can't thank all the people who have helped make the switch easy," explained Holden. "An extra special thank you to Comet Kart Sales for their continued support. I can't wait to help Comet and Koene USA continue to build their resume of results."
Comet Kart Sales and the Dismore Family are close to the heart of Holden as he started karting at only five years of age at the Mark Dismore owned New Castle Motorsports Park facility. Utilizing the world-class track as a training ground to hone his skills, Holden has gone on to secure several regional and national championships throughout the years.
Switching to Tony Kart and Team Koene USA, Holden comes with a colorful resume that includes a pair of United States Pro Kart Series championships in 2013 and 2014 and a World Karting Association Manufacturers Cup title in 2012, all in the Yamaha ranks. Showing his true diversity and running in the faster TaG classes as well, Holden claimed a Vice-Championship in TaG Junior at the 2014 Florida Winter Tour in TaG Junior. Most recently, the young Indiana resident claimed a fourth place result at the annual Robopong 200 as he teamed with Ashley Rogero in a Comet powered Tony Kart.
Maurini continued, "Though Zach is scheduled to race with us at the SuperNationals, we are working together on a potential national level program for the entire 2016 karting season that may include Rotax and ROK events across North America."
For more information on Koene USA and their online store, please visit www.TeamKoeneUSA.com or contact company representatives at 317.270.8723 or via e-mail to Info@KoeneUSA.com. Team Koene USA is also very active in social media and can be found on Twitter at @KoeneUSA or on Facebook at www.Facebook.com/KoeneUSA.