Physics of Karting Piques Interest of 14-year-old Driver of the Week, Luke Wallace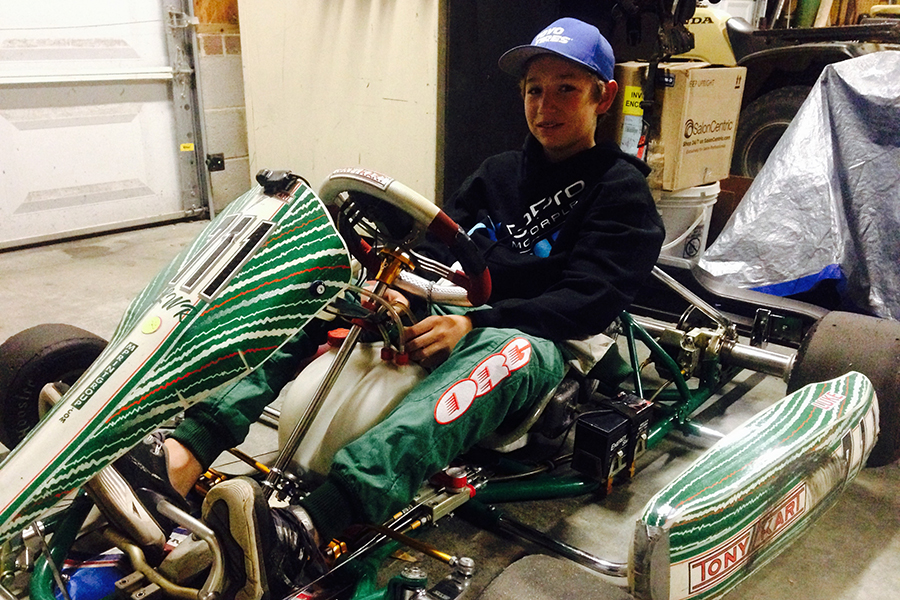 Luke Wallace
Most young drivers, especially those brand new to karting love the adrenaline rush of competition at high speeds. However, 14-year-old Luke Wallace takes it a step further. He may love driving fast, but what has truly piqued his interest in karting has been the understanding and physics behind what makes him go fast.
"I love being involved with the setup of the kart," said Wallace. "I really love to see how things work. I like learning about how the motor works and I am really interested in how electronics work too, especially if I want to be an engineer when I grow up."
Wallace is currently competing in his first season in the Karting Challenge Presented by Hoosier Racing Tire Yamaha Junior division. Even in his first season, Wallace has already achieved some impressive results as a rookie. He has two wins and is currently ranked third in the Yamaha Junior Championship Points Standings with just two rounds remaining in the season.
Wallace credits his early success to his ability to give productive feedback about how the kart is handling to his father and crew chief, Pat Wallace.
"I think it really helps that I have an understanding of how the kart works so that I can tell my dad what the kart is doing and he can make adjustments," said Wallace. "After I make a practice run, he's pretty good at getting it tuned to where the kart feels good to me for the race. Probably the coolest thing I have learned about so far is how the chassis flexes in different corners and how to use that to my advantage when I'm racing."
As his first year in karting nears completion, Wallace hopes to hold on to his podium spot in the championship as well as continue to achieve a better understanding of the kart and the technical aspects of karting, something he says he has learned solely from his dad.
"I've really learned everything from my dad," said Wallace. "He's the one who gets the kart setup right every week. My dad likes to have a hobby and something to always be working on. It has definitely brought us closer together. It's something that only he and I do together."
The father-son team travel a total of three hours one way from Angier, NC to race at GoPro Motorplex and although Wallace is fully involved in learning about the kart, he says his dad ensures that ultimately the only thing he's responsible for at the track is to just drive.
"What really helps me is not having any pressure on me," said Wallace. "I don't have to worry about achieving something. My dad just tells me to do my best and go out there and have fun."
A great reminder to us all of what karting is truly about.
Learn more about our Round Nine Driver of the Week, Luke Wallace, as we sat down to ask him a few questions:
Fast Facts:
Age: 14
Hometown: Angier, NC
School: Harnett Central High School
Grade: Freshman
Favorite Subject: World History
Favorite Food: Tacos
Pets: 3 dogs
Hobbies: Soccer, plays goalie
Biggest Fear: Not being able to succeed
Favorite Track: GoPro Motorplex & Carolina Motorsports Park
Years Racing: First season karting
Chassis: Tony Kart
Q&A:
Q: So how did karting start for you?
A: Basically it all started with rental karting. Rush Hour Karting in Raleigh, NC is where I started racing their leagues. I also had a dirt bike and raced that around my house a lot. I had been doing really well in the rental leagues and a guy mentioned GoPro Motorplex to us. Last year, we went up to your track to watch one of the Karting Challenge races. We met Dan Breuer while we were there and by the next Karting Challenge race, I had my very own kart! Dan definitely played a big role in getting us started in all of this.
Q: Do you remember your first lap in a racing kart?
A: Yes, it was in one of Dan Breuer's karts. I wasn't really as much nervous as I was curious. I came to practice before I raced. My lap wasn't the greatest! (laughs)
Q: How did you decide to start in the Yamaha Junior division?
A: It was a really good class to start in and not as expensive as some of the other classes.

Q: What do your friends think when you tell them about your karting?
A: Some of my close friends know what I do and what karting is. Most of my friends, I don't really tell them about it because they just think of it as rental karting.
Q: What do you want to be when you grow up?
A: Either a NASCAR driver or F1 driver or anything in that range if I ever get that far. Otherwise, a marine biologist or an engineer.
Q: What do you like most about GoPro Motorplex?
A: I would probably say the people at the facility. It's all kind of just like one big family. If you don't have a part, people will help you out. I have made lots of friends there.
Q: What is your favorite corner?
A: Definitely the hairpin.
Q: What is your biggest accomplishment in karting so far?
A: Probably being third in the points standings right now.
Q: Do you think you can hold on to your spot on the podium in the last two rounds?
A: I'm definitely going to try!

Q: What's next?
A: My dad and I are thinking about moving up to the TaG Junior Division. I'm not totally sure I am ready, but I am definitely excited to move up a division.
NEXT UP: See Luke in Action in Round 9, Oct. 3:
Round 9 of our 10-round club series will be on Saturday, Oct. 3. The series features 10 divisions for kart owners as well as the Rental Kart Light and Heavy division. Each segment of the Karting Challenge Presented by Hoosier Racing Tire consists of two practice sessions, qualifying and two finals per division. The race day starts at 8:30 a.m. and spectator admission is free! Competitors can pre-register in advance at a discounted rate on MotorsportReg.com. For more information on the Karting Challenge series, CLICK HERE>> (http://www.gopromotorplex.com/race-events/kart-owner-events/gopro-motorplex-karting-challenge/)
2015 Driver of the Week Program:
The Driver of the Week program is new for the 2015 Karting Challenge Presented by Hoosier Racing Tire. The goal of this program is to spotlight our club series karters each week leading up to a Karting Challenge race. To learn more, CLICK HERE>>( http://www.gopromotorplex.com/race-events/kart-owner-events/gopro-motorplex-karting-challenge/)