Basz and American Sargeant Win CIK-FIA World Championships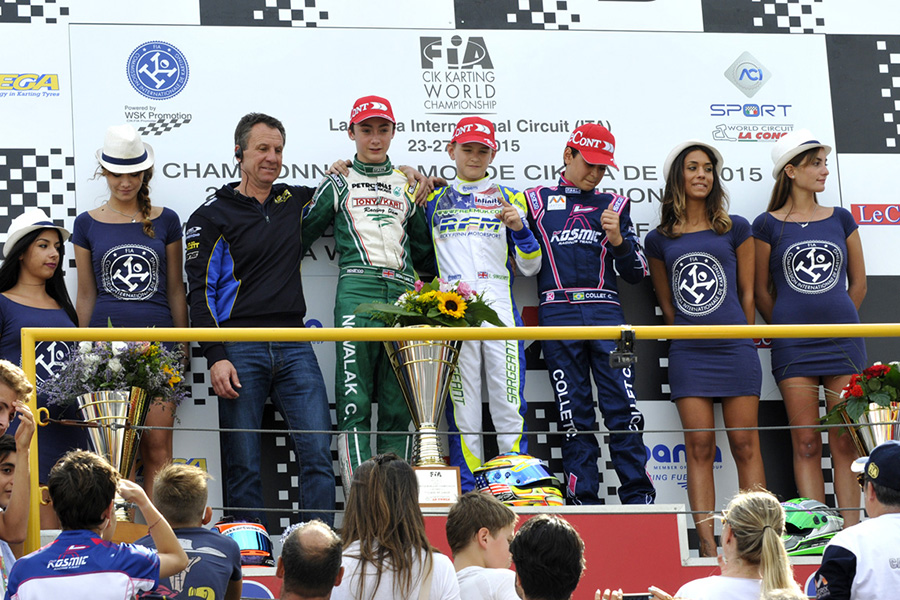 American Logan Sargeant on top of the KFJ podium (Photo: Press.net Images)
The CIK-FIA World Championship can be regarded as a sort of university for motorsport and, today, it was time for drivers to get their deserved degrees at the World Circuit La Conca. The new World Champion for the KF category is the Polish Karol Basz (Kosmic-Vortex-Vega), while in KFJ the title went to the American Logan Sargeant (FA Kart-Vortex-Le Cont). The crowd on the stand of the circuit in Muro Leccese (Italy) saluted the new champions with a standing ovation. Both Basz and Sargeant won their Finals deservedly. The CIK-FIA single round Championship was particularly appealing this year: 162 drivers coming from 36 different countries and from 5 continents reached Apulia, in southern Italy, to take part in the Championship. It was a great celebration of motorsport, with spectacular and thrilling races throughout the whole weekend.
Karol Basz is the KF Word Champion.
The KF title was won by Karol Basz. The battle in the first stage of the race was tough, but Basz managed to keep his opponents at bay and to gain ground in the final phase. The Polish driver had a good start from the pole-position, followed by the Danish Nicklas Nielsen (Tony Kart-Vortex-Vega), who tried to keep the leader's pace. Nielsen was then reached by the three British drivers Ben Hanley (Croc-TM-Vega), Tom Joyner (Zanardi-TM-Vega) and  Jordon Lennox-Lamb (Birel Art-Parilla-Vega). Joyner even managed to get past Basz and to keep the leadership for a whole lap before getting overtaken by the Polish. It was then that Basz started to gain ground, taking advantage of the battle for the second position which was going on behind him. The positions defined only on the last laps and, eventually, Basz crossed the finishing line first, followed by Lennox-Lamb and Nielsen, with Joyner and  Hanley fourth and fifth.
Logan Sargeant wins in KFJ.
Despite their young age, the KFJ drivers proved to be motivated and  able to keep the cool even in such a heated Final. The race was dominated by a trio: Logan Sargeant, the French Clement Novalak (Tony Kart-Vortex-LeCont) and the Brazilian Caio Collet (Kosmic-Vortex-LeCont). Sargeant, who gained the head of the race starting from the pole position, managed to pull away after an initial battle with Collet an Novalk, who fought for the second position until the end. Eventually, Sargeant won the race and the title, while the the runner-up was Novalak with Collet in third position. The English Sami Worship placed fourth – after a recovery from the 11th position on the starting grid – followed by the Venezuelan Sebastian Fernandez (both on FA Kart-Vortex-LeCont).