Manitoba Karting Association – Race # 9 Report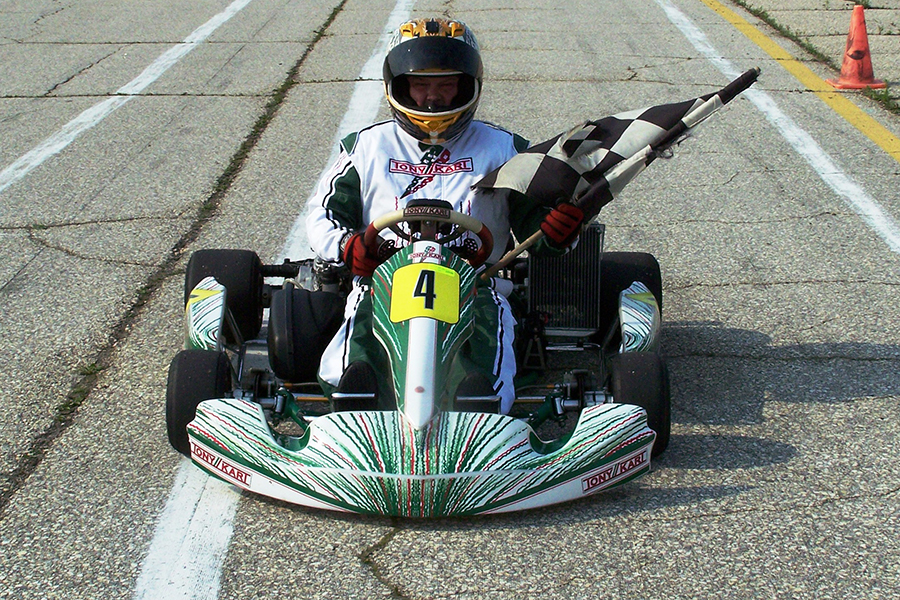 Dale George
The weather was very hot and sunny for Race 9 of the Manitoba Karting Championship at Gimli Motorsport Park. The sponsor for Race 9 was RBC Dominion Securities.
Highlights of Race # 9
Senior Briggs class had John Buzza on pole position.  John took off and lead start to finish. The excitement in the Senior Briggs class was a pack of karts in P2 – P6 fighting for the runner-up spot. At the finish John won with Garrett Gulenchyn 2nd and Jeff Fulham 3rd.
Bianca Bovino had P1 for the start of Junior 2 Briggs class but Max Jarry got by on lap 1 and held off a last lap challenge to win with Bianca 2nd and Jaedin Wright 3rd. Josh Gill won the J1 Brigg class.
Micro Max had Brad Bachalo on pole and he led start to finish. Brad won with Mandy Veselinovich 2nd and Tiana Bovino 3rd.
In Mini Max Curtis Veseliniovich had pole position and he led start to finish, Rylan Despins finished 2nd and Logan McDonald 3rd.
Junior Rotax had Victoria Stutsky starting at P1 and had one of the closest races all day. At the chequered flag it was Victoria 1st and Bryson McDonald 2nd.
Senior Rotax had John Buzza on pole position. John lead start to finish with Garrett Gulenchyn 2nd and Morgan McDonald 3rd.
The DD2 Rotax class had Jordan Brown on pole position and Jordan took off to win by over 12 seconds. At the finish Jordan 1st with Mark Sawatsky 2nd and Alexis Budel 3rd. In the DD2 Masters Dale George won with Rob Stutsky 2nd.
For more information on the MKA, visit http://www.manitobakarting.ca
Race # 9 Results:
Junior 1 Briggs
1st           # 4 Josh Gill
Junior 2 Briggs
1st           # 11 Max Jarry
2nd          #20 Bianca Bovino
Senior Briggs
1st           # 715 John Buzza
2nd          # 743 Garrett Gulenchyn
3rd           # 631 Jeff Fulham
Micro Max
1st           # 87 Brad Bachalo
2nd          # 77 Mandy Veselinovich
3rd           # 17 Tiana Bovino
Mini Max
1st           # 99 Curtis Veselinovich
2nd          # 181 Rylan Despins
3rd           # 114 Logan McDonald
Junior Rotax
1st           # 288 Victoria Stutsky
2nd          # 218 Bryson McDonald
Senior Rotax
1st           # 381 John Buzza
2nd          # 343 Garrett Gulenchyn
3rd           # 331 Jeff Fulham
DD2 Rotax
1st           # 25 Jordan Brown
2nd          # 66 Mark Sawatsky
3rd           # 439 Alexis Budel
DD2 Masters
1st           # 4 Dale George
2nd          # 83 Rob Stutsky