La Conca Hosting CIK-FIA KF and KFJ World Championship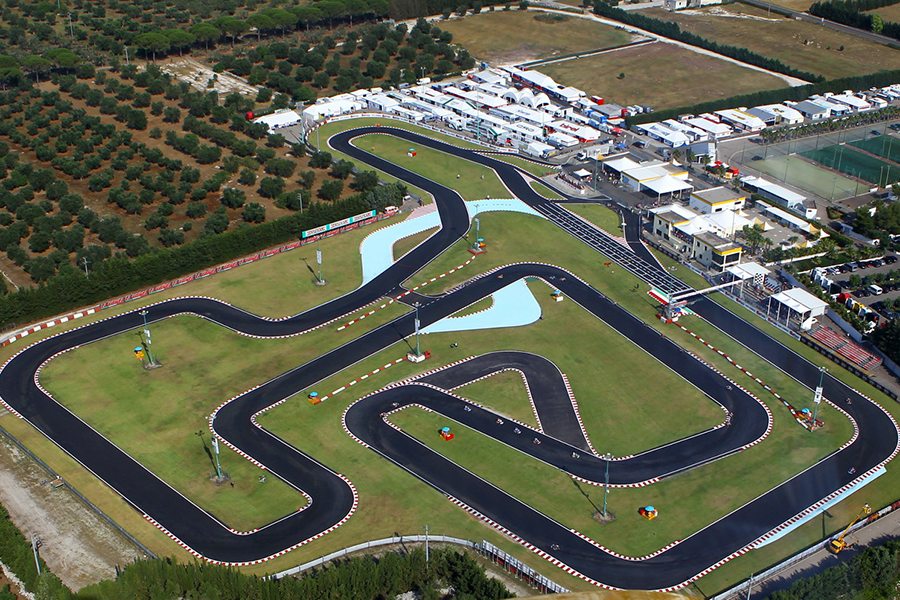 The activity of drivers and teams was already in full swing in the paddock last week for the tests, but now there is growing expectation for the beginning of the world CIK-FIA championship for the KF and KFJ categories. The World Circuit La Conca of Muro Leccese is going to welcome 167 entrants who, from tomorrow, will challenge each other in their race towards the World titles, which are going to be awarded on Sunday 27th. The KF and KFJ Champions will join the Dutch Jorrit Pex, the KZ World Champion. Free practice is scheduled on Thursday 24th; then qualifying on Friday 25th and the heats on Saturday 26th. Grand finale on Sunday 27th with the Final Phase . The media coverage, as usual, will be guaranteed by WSK Promotion: images of the event  will be available live in streaming on cikfiachampionship.com and cikfia.tv on Sunday 27th, starting with the drivers' parade. The event will be available also on TV on from 05.40pm to 19.10pm on Sunday 27th.
Kart Champions eager to put on a spectacular show
They tried to find the right setting of their karts during the three-day test session and they are now ready to race on the 1250 metres of the most eastern circuit in Italy. There are 66 entrants to the KF category, led by the British Ben Hanley (Croc-TM-Vega), the new European Champion, and by the French Arnaud Kozlinki (Sodi-TM-Vega), who won the Super KF Championship in 2009. The latter, only ten days ago, scored the third position at the World KZ Championship. Other World Champions have been lured by the  importance of the Championship: the three-time World Champion Davide Forè (CRG-Parilla-Vega), besides the English  Tom Joyner (Zanardi-TM-Vega). On the other hand, there are drivers seeking their first big achievement: they are the 101 entrants to the KF Junior. Among them the Danish Christian Lundgaard (Energy-Vortex-LeCont), who won the European title and is now eager to confirm to be in great shape. The Indonesian Presley Martono (Tony Kart-Vortex-LeCont), the European runner-up, is looking for payback, while the Spanish Marta Garcia Lopez  (FA-TM-LeCont) has already achieved great results winning the CIK-FIA Karting Academy Trophy. Also in KFJ there are all the ingredients for a great show.