Sprint Car Star Brody Roa Joins So Cal Oval Karters for Last 2015 Race at Perris Raceway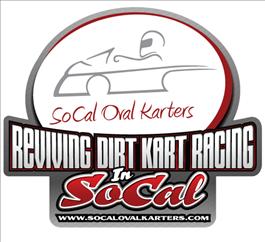 The So Cal Oval Karters will visit the place where they opened the season back in March, the Perris Raceway Flat Track, this Saturday night, September 26, for the final time in 2015.  All five SCOK classes will be on hand and the club will host its popular "Arrive and Drive" programs for prospective new racers.  Gates will open at 2:00 PM with racing at 6:00.
With a day off from his busy sprint car racing schedule, Garden Grove's Brody Roa will be joining the SCOK Karters for a rare appearance on Saturday.  In past SCOK races earlier this year, the 24-year-old racing star has bagged a pair of KT100 wins.  His first triumph of the season came in May at Wheel2Wheel Raceway in Victorville and his last was at Perris Auto Speedway four weeks ago.  Roa is currently sixth in the USAC/CRA Sprint Car point standings and recently out qualified a start studded field on the big half-mile at Calistoga Speedway in Northern California.  Last Saturday he finished fifth in the USAC/CRA main event at Perris Auto Speedway.
Taking on the KT100's, Roa will jump into a hornet's nest as the top drivers in the SCOK are fighting for the championship.  Cherry Valley's Troy Patton only leads Oxnard's Rob Marion by 27-points heading into Saturday's race.  Patton and Marion have each won three KT100 main events in 2015.  Patton won the last time the SCOK visited Perris Raceway on August 8th and won the class' last race two weeks ago at Wheel2Wheel.  Marion's victories came all in a row during torrid 5-week stretch in the middle of the season.  San Pedro's Rev Parker, who won the season opener at Perris Raceway, is third in points and is 52-points out of the top spot.  Tyler Wilson of Long Beach, who is only 24-points behind Parker, and Randy Truax of San Diego round out the top five in the KT100's.
Lake Elsinore's Troy McIntosh has a 90-point lead over Banning's Scott Gaynor as the F200's hit their last three races of 2015.  Like Patton in the KT100's, McIntosh has parlayed four wins into his lofty spot on top of the championship chase.  Riverside regular Justin Garcia is third in the standings, with Steve Juillerat of Whittier, who won both of his heats two weeks ago, in fourth.  Long Beach karter Matt Drotz, who won the season opener six-months ago this weekend at Perris, is fifth.
All classes combined, Matt Martis of Bonita leads everyone in the SCOK with six wins in 2015.  All six of those victories have come in the Senior 4 Cycle Class.  However, his point lead over Lake Elsinore's Jason Voss, who has three wins, is only 30-points heading into Saturday's race.  Martis won the last race two weeks ago at Wheel2Wheel while Voss got his last win at Perris Auto Speedway in August.  Garret Schill, a 15-year-old from Riverside, is third in the standings followed by Aubrey Oppelt of Lake Elsinore and Banning's Desiree Gaynor.
In the Open Class, San Diego State student Cody Nigh has a 45-point lead over Cherry Valley resident Steve Patton.  Nigh has four wins this year and Patton has two.  Nigh won the last race at Perris in early August.  Lakeside's Chad Griggs, Norm Ferguson of San Marcos and Chris Gibb of Long Beach round out the top five.
The final class in action on Saturday will be the JrJr Class.  Starting with some kids as young as 5, the JrJr Class is for kids to just come out and cut a bunch of laps without having to worry about where they finish a race.
During intermission on Saturday, potential new drivers can jump in a kart built by the So Cal Oval Karters and cut some laps.  The cost is $25.00 for 10 laps (there is also a $10.00 admission fee to the facility).  The "Arrive and Drive" is designed for kids age 8 and up and for adults as well.  Drivers have to wear tennis shoes, a long sleeve jacket and jeans.  If they have a helmet, it is recommended they bring that as well, but for those who do not have one, some helmets will be available.  Gloves and racing collars will be supplied by the SCOK.
Space in the "Arrive and Drive" is limited to four or six drivers this Saturday and club President Mike Nigh would like prospective karters to call or E-mail in advance for information or reservations.  Anyone interested can call him at (805) 857-2595 or click on the following E-mail link mailto:scokart@gmail.com.
Gates will open at 2:00 with racing at 6:00.  Perris Raceway is located at 1205 Barton Road in the city of Perris.
The So Cal Oval Karters would like to thank the following sponsors who help make the series possible.  Burris Racing, Cory Kruseman Sprint Car Driving School, Hubcapmike.com, Perris Auto Speedway, Professional Announcer Chappy, R&J Motorsports, THC Home Medical Services, T-MAC Racing and Yoa Racing Engines.  If you would like to become a part of the So Cal Oval Karters 2015 season, please call or E-mail Mike Nigh at (805) 857-2595 or mailto:scokart@gmail.com.
So Cal Oval Karters Point Standings
KT100
1. Troy Patton – Cherry Valley – 1331
2. Rob Marion – Oxnard – 1304
3. Rev Parker – San Pedro – 1278
4. Tyler Wilson – Long Beach – 1254
5. Randy Truax – San Diego – 1191
F200
1. Troy McIntosh – Lake Elsinore – 1395
2. Scott Gaynor – Banning – 1305
3. Justin Garcia – Riverside – 1105
4. Steve Juillerat – Whittier – 960
5. Matt Drottz – Long Beach – 835
SR4 Cycle
1. Matt Martis – Bonita – 1400
2. Jason Voss – Lake Elsinore – 1370
3. Garret Schill – Riverside – 1300
4. Aubrey Oppelt – Lake Elsinore – 1227
5. Desiree Gaynor – Banning – 1081
Open
1. Cody Nigh – Camarillo – 1395
2. Steve Patton – Cherry Valley – 1350
3. Chad Griggs – Lakeside – 830
4. Norm Reynolds – San Marcos – 790
5. Chris Gibb – Long Beach – 520 *
* = Non Member
2015 So Cal Oval Karters Winners
KT100: 3/21 Perris Raceway Rev Parker, 4/11 Wheel2Wheel Raceway Troy Patton, 5/16 Wheel2Wheel Raceway Brody Roa, 5-30 Perris Auto Speedway Road Course Rob Marion, 6-20 Perris Auto Speedway Rob Marion, 7/4 Wheel2Wheel Raceway Rob Marion, 7-25 Industry Chris Gibb, 8-8 Perris Raceway Troy Patton, 8-22 Perris Auto Speedway Brody Roa, 9-12 Wheel2Wheel Troy Patton
F200: 3/21 Perris Raceway Matt Drottz, 4/11 Wheel2WheelRaceway Jason Morheiser, 5/16 Wheel2Wheel Raceway Troy McIntosh, 6-20 Perris Auto Speedway Troy McIntosh, 7/4 Wheel2Wheel Raceway Jason Morheiser, 7-25 Industry Troy McIntosh, 8-8 Perris Raceway Troy McIntosh, 8-22 Don Amigliore, 9-12 Wheel2Wheel Don Amigliore
SR 4 Cycle: 3/21 Perris Raceway Matt Martis, 4/11 Wheel2Wheel Raceway Matt Martis, 5/16 Wheel2Wheel Raceway Jason Voss, 5/30 Perris Auto Speedway (road course) Matt Martis, 6-20 Perris Auto Speedway Jason Voss, 7/4 Wheel2Wheel Raceway Matt Martis, 7-25 Industry Matt Martis, 8-8 Perris Raceway Danny Morheiser, 8-22 Perris Auto Speedway Jason Voss, 9-12 Wheel2Wheel Matt Martis
Open: 3/21 Perris Raceway Darren Elliott, 4/11 Wheel2Wheel Raceway Chris Gibb, 5/16 Wheel2Wheel Raceway Cody Nigh, 5-30 Perris Auto Speedway (road course) Mike Collins, 6-20 Perris Auto Speedway Cody Nigh, 7/4 Wheel2Wheel Raceway Steve Patton, 7-25 Industry Steve Patton, 8-8 Perris Raceway Cody Nigh, 8-22 Perris Auto Speedway Chris Gibb, 9-12 Wheel2Wheel Cody Nigh