EKN Trackside: 12th Annual RoboPong 200 – Preview
Exciting 200-lap endurance race set for New Castle Motorsports Park this weekend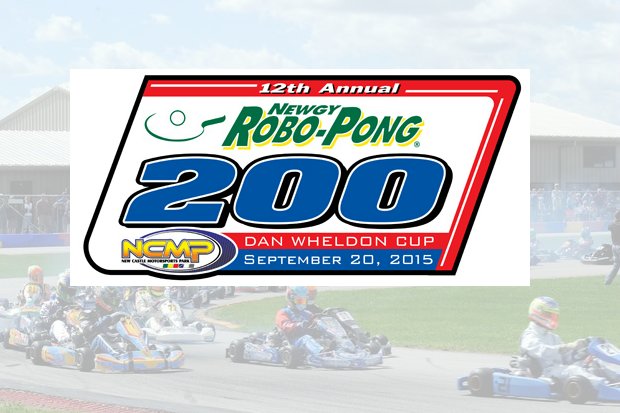 The annual RoboPong 200 is an event to test the strength of man and machine. Competitors are gathering at the New Castle Motorsports Park for the 12th annual 200-lap endurance event. Teams will take on the 1-mile circuit in central Indiana, all vying for a chance to place their name onto the prestigious Dan Wheldon Cup.
This year's cash prize package has grown to nearly $45,000 for the weekend, including a $10,000 payday for the winning team of the RoboPong 200 event. Another $10,000 will be doled out to the remaining top-six finishing entries ($5,000 – 2nd / $2,5000 – 3rd / $1,250 – 4th / $1,000 – 5th / $250 / 6th).
A chunk of the cash prize package is toward the four support categories competing as well. Three Yamaha divisions along with a new IAME Mini Swift class are schedule to compete in a 15-lap Prefinal and 30-lap Final over Saturday and Sunday, with $2,500 going to each class winner. Twenty-five sets of Bridgestone tires also make up a portion of the prize package, with finishers from sixth to 10th earning a brand new set in all five classes, adding another $5,500 to the total prize package.
| Year | Winners |
| --- | --- |
| 2014 | Jimmy Simpson / Brandon Newey |
| 2013 | Mark Dismore Jr. / Josef Newgarden |
| 2012 | Sam Beasley / Jacob Donald |
| 2011 | Mark Dismore Sr. / Josef Newgarden |
| 2010 | Bill McLaughlin Jr. / Jay Howard |
| 2009 | Ed Carpenter / Nathan O'Rourke |
| 2008 | Billy Lewis / Jeremy Warren |
| 2007 | Chris Larson / Tony Loniewski |
| 2006 | Paulie Harraka / Ricky Rudd |
| 2005 | Dan Wheldon / Mark Dismore Jr. |
| 2004 | Adam Rovanzzini / Mark Dismore Jr. |
Last year's winning team of Jimmy Simpson and Brandon Newey took the victory after a race full of attrition. Simpson, a longtime competitor of the event, ran three of the four stints, taking over the lead with 10 laps remaining after the Bujdoso brothers entry had a mechanical issue to place them on the sidelines. Simpson and Newey each took their first ever RoboPong victory, partnering up the Thursday before the event. The combination of Colton Ramsey / Kyle Kalish piloted the Franklin Motorsports/Mark Coats Racing entry to a runner-up finish, 12 seconds back. Contact on lap 172 took their nose cone off, forcing them to make an extra stop for a replacement. They returned back in the second position before the Bujdoso entry broke, but was passed by Simpson with 20 laps remaining. They held on with a large hole in the seat for the second half of the race. Placing third were two Junior drivers, Ryan Norberg and Sasha Brun-Wibaux, aboard a second Checkered Motorsports/PCR USA entry.
The defending team will not defend its crown, leaving a number of drivers and combinations a chance to earn their first RoboPong 200 victory. Among the top teams registered for this year's event is the two entries once again from Checkered Motorsports/PCR USA. With support from Adrenaline Fix Karting, the operation is fielding a return effort for Robert and Andrew Bujdoso. Former podium finisher Jacob Knueven and Kyle Smith are piloting the second entry, looking to match or better the third place finish by the younger drivers last year.
Half of the runner-up team is returning, with Ramsey out due to injuries from a wreck at New Castle for the Route 66 Sprint Series event. Kalish opted for his mentuor and team owner Jamie Siercki of Franklin Motorsports. They will pilot a Merlin in their effort to earn the RoboPong victory. Mark Boos finished fourth alongside Steven Barros aboard an iKart entry. This year, Boos is partnering up with the eKartingNews.com TaG Driver Rankings #1 driver Brandon Jarsocrak. The east coast duo will pilot a Tony Kart powered by an IAME X30 engine. Junior drivers Zach Holden and David Malukas piloted a Tony Kart to the fifth position in last year's race, and now both find themselves racing different chassis brands in 2015. Holden has called upon Florida native Ashley Rogero to join him for this year's edition, with Rogero holding a solid resume at the New Castle facility.
The event always features a number of drivers from the IndyCar series, taking a chance to get back to their roots. Two-time 2015 IndyCar winner Josef Newgarden matched his RoboPong victory total this year during his day job, as the Nashville native partnered up with Mark Dismore Sr. in 2011 and Mark Dismore Jr. in 2013 to win the 200-lap event. Newgarden is back with CometKartSales.com, piloting a FA Kart once again. It is rumored that newly-crowned IndyCar Series champion Scott Dixon will partner with Newgarden this year, which we will confirm once trackside. Ed Carpenter won the RoboPong back in 2009, and is back with longtime teammate Nathan O'Rourke.
Jay Howard is another former winner, earning the victory in 2010. This year, Howard is leading a three-driver entry. In the 11-year history, no team featuring more than two drivers has won the event. Howard has called upon local driver Billy Lewis, a winner in 2008, and Florida driver Daniel Roeper. IndyCar rookie Sage Karam started the RoboPong from pole position in 2013. This year, the 2013 IndyLights champion is gearing up to take on the 200 laps solo as an Ironman entry aboard the same iKart chassis.
2014 IndyCar Series champion Will Power is returning for another stab at the RoboPong, paired with the KartSport North America operation and driver Roger Ralston Jr. Rounding out the IndyCar participation is newly crowned IndyLights champion Spencer Pigot, teaming up with fellow Mazda Road to Indy driver Neil Alberico, the vice-champion in the Pro Mazda Championship this season. The Rising Star Racing drivers are looking to build off their 18th place finish last year.
Among the top teams year after year is KartSport North America. They have finished numerous times on the podium and earned victory in 2012. Aside from the Power/Ralston entry, Brandon Jones and 2012 co-winner Jacob Donald are teaming up to give KSNA two bullets in the running. Derek Dignan ran runner-up with KSNA owner Eric Jones in 2013. This year, Dignan is partnering up with Senior rookie Braden Eves. The Ohio driver won the Yamaha Junior support race two straight years, and is making his RoboPong 200 debut.
Other entries to watch include the new team of Brandon Lemke and TJ Koyen. Lemke has performed as the top Junior driver in 2015, winning both USPKS titles this season and leading the SKUSA Fikse Wheels Pro Tour championship. Lemke made his RoboPong debut with Neil Verhagen, placing seventh. This year, he's called for veteran Koyen, as the two will pilot the very successful Merlin LM29 chassis. USPKS Leopard Pro champion Elliot Finlayson is partnering up with Michael Geringer for a second straight year, as the two hope to improve on their 12th place result aboard a Tony Kart. Among the most experienced tandem in the entry list includes Brandon Adkins and Mike Giessen. Both are multi-time WKA champions, and have decades of experience between the two and should be among the quick and consistent teams.
The 'Ironman' title was added a few years ago, allowing one driver the chance to compete in the 200-lap endurance event. In 2013, Jim Russell Jr. of Russell Karting Specialties placed 11th in the event, completing 191 laps. Last year, Rex Norris III finished in the 15th position as highest 'Ironman' entry, but completed more laps than Russell with 195 circuits. Thus far, two drivers are entered as solo competitors. Karam along with his iKart teammate Jesus Rios Jr. Rios performed at his best at the recent Superkarts! USA SummerNationals in July, winning both TaG Senior victories aboard the Indianapolis-based iKart chassis. Rios is sure to challenge for the best 'Ironman' result, and possible the overall victory.
The support categories has grown to four, with three Yamaha divisions and a new IAME Mini Swift class added to the schedule. A mix of local and regional drivers make up the Yamaha Senior field, with veteran Eric Jones coming in as the spoiler. The veteran who heads up the KartSport North America operation is jumping back behind the wheel, vying for the $2,500 payday. Brandon Lemke is the favorite among the 21 drivers currently entered in the Yamaha Junior division. The Franklin Motorsports / Merlin USA driver will be doing double duty, racing the RoboPong and Yamaha Junior division. Yamaha Cadet is nearing the 30-driver mark, with a number of top drivers from the region along with some graduating Yamaha Rookie pilots. Jason Welage (Top Kart) is among the top Cadet drivers in the country, and enters as the favorite for the victory. Welage could double up in the win column, among the 10 drivers set to compete in the IAME Cadet category.
Saturday will host the third annual Dan Wheldon Memorial Pro-Am Karting Challenge. Dan's widow Susie Wheldon has put together a star-studded lineup of friends and family, including a number of IndyCar drivers, media members, and series supporters to help raise money for the Dan Wheldon Foundation, Alzheimer's Association, and now the Wilson Children's Fund for the late Justin Wilson.