SSM Super One Series Round 9: Shenington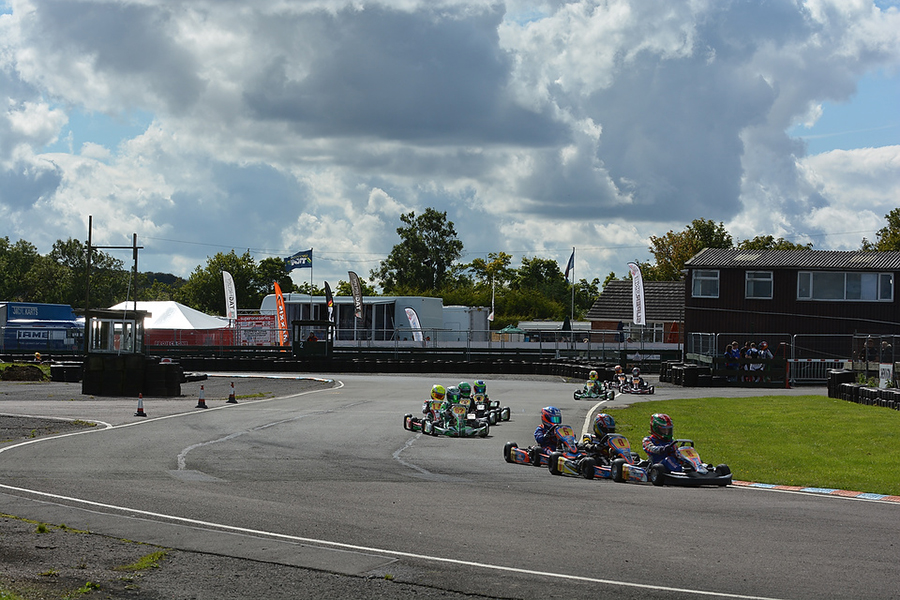 (Photo: kartpix.net)
The penultimate weekend for most, the last one for KZ1, offered some amazing racing punctuated by some crazy crashes at the Midlands circuit. Henry Easthope retained his MSA British title in a dramatic second final, whilst in the MSA Cadet class Dexter Patterson headed a three way fight for both wins.
MSA British Kart Championship KZ1
The two main title protagonists battled all weekend, with Sam Webster just edging his rival Henry Easthope in timed qualifying but having a technical problem in the first heat leaving honours to Easthope.  Scott Allen's title hopes vanished when he slid out of control into Bobby Game and had an exclusion.  Game's day got worse in the second heat with a broken chain whilst Hannah Lang's engine seized.  From pole in the first final Easthope made a poor start, falling to fifth as Dan Kelly was quickly past Adam Glear for the lead.  Webster reached second until Easthope sped into the lead and immediately pulled a gap as Kelly and Glear were momentarily ahead of Webster.  Easthope lost all his advantage just clinging onto the lead over the last lap as Webster and Kelly closed on him.  Webster and Kelly made better starts in the second final but Easthope quickly took Kelly and tailed his rival.  Whoever won would take the title!  Suddenly Webster's engine failed on the exit of the last hairpin with Easthope spinning.  "I think Sam broke down and I caught his front wheel and spun," explained the defending champion. That put Kelly into the lead until he resisted a pass at Café corner from Scott Allen, Kelly delayed and Allen in the barriers but restarting, gifting the win to Adam Glear from Ben Blick.  Kelly was excluded for the incident and it left Easthope with a one point advantage over Webster.  "I would rather have won the title through racing, it was a difficult year, much harder than last," said Easthope.
Final 1: 1 Henry Easthope (Sodi/TM); 2 Sam Webster (Birel ART/TM); 3 Dan Kelly (Sodi/TM); 4 Adam Glear (CRG/Maxter); 5 Scott Allen (Gold/IAME)
Final 2: 1 Glear; 2 Ben Blick (Sodi/TM); 3 Hannah Lang (Tonykart/Vortex); 4 Tom Pyttlik (Alonso/Vortex); 5 Bobby Game (Ricciardo/Vortex).
Final Provisional Championship Standings: 1 Henry Easthope 931; 2 Sam Webster 930; 3 Adam Glear 926; 4 Scott Allen 907; 5 Dan Kelly 867
MSA British IAME Cadet Championship
Although Brandon Martland topped TQ, he didn't really figure again until making sixth in the second final.  With penalty sheets flying about like confetti through all the races Dexter Patterson commenced an unbroken winning streak through the heats and finals in this tightly fought series.  Zak O'Sullivan unsuccessfully appealed his heat exclusion.  In both finals, Patterson, Jonny Edgar and Owen Marlow broke away from the chasing pack. For the first one Edgar was content to slot into third after leading off the start until halfway through he leapfrogged Marlow and Patterson but could not hang onto the lead.  He took Marlow for second on the last lap as Harry Thompson and Finlay Bunce joined in the fight for the win.  In the second final the trio stayed clear of Taylor Barnard, who took Harry Thompson on the last lap for fourth.  Again Edgar jumped up to the lead but again could not hold the place and fell to second as Patterson held his nerve through the chicane on the penultimate lap.  The outcome of appeals to the National Court could yet affect the championship standings before the last round in two weeks.
Final 1: 1 Dexter Patterson (Zip); 2 Jonny Edgar (Synergy); 3 Owen Marlow (Zip); 4 Harry Thompson (Synergy); 5 Finlay Bunce (Zip).
Final 2: 1 Patterson; 2 Edgar; 3 Marlow; 4 Taylor Barnard (Zip); 5 Thompson.
ABkC Honda Cadet National Championship
Dragan Pinsent was fastest in the time trials in what was again the largest class, but had to share the heat wins with Nicholas Reeve, the second one curtailed by a red flag.  In the first final Reeve went ahead of pretty quickly but couldn't break out of the six kart train. Ben Fayers then took second but plunged several places as Harry Thompson, Pinsent and Reeve broke clear.  Meanwhile the O Plated Wesley Mason had a spin.  On the last corner Thompson seemed to slide into Pinsent, allowing Oliver Bearman to snatch the win, Pinsent second then Reeve, Fayers and Oliver Clarke.  For the second final Pinsent spent almost all the race in the lead, just momentarily giving it up to Bearman but slithering back through at the chicane on the last lap.  The move left Pinsent a second clear of Bearman, Reeve and Clarke.
Final 1: 1 Oliver Bearman (Zip); 2 Dragan Pinsent (Project One); 3 Nicholas Reeve (Zip); 4 Ben Fayers (Project One); 5 Oliver Clarke (BRK).
Final 2: 1 Pinsent; 2 Bearman; 3 Reeve; 4 Clarke; 5 Fayers.
ABkC Junior TKM National Championship
Other than the first heat which was won by Ryan Edwards, Matthew Taylor conquered all, starting with timed qualifying where he pipped Susanne Gutzold.  So as Taylor and Ryan Edwards pulled clear of Gutzold, Matthew Graham and Christopher Whitty in the first final a big gap appeared.  Gutzold and Graham had lost a few places and been replaced by Jack Davidson and Abbi Pulling, with the lady driver snatching third by the flag.  Taylor hung on for the win over Edwards.  In the second final Taylor took a big advantage on the opening lap as Graham unsuccessfully resisted challenges from Edwards whilst Whitty fell to the back and Gutzold spun.  With Davidson now in second, Taylor was gobbled up and fell to fourth while Davidson was hassled by Graham.  The latter briefly led but all this played into Taylor's hands as he regained the lead.  Again Graham took the lead but was hung out to dry by the pack led now by Pulling.  Taylor sliced back to the lead to win from Pulling, Davidson, Edwards and Graham whilst Joseph Reeves-Smith lost his sixth place with an off on the penultimate lap.
Final 1: 1 Matthew Taylor (Tonykart); 2 Ryan Edwards (Tonykart); 3 Abbi Pulling (Tal-Ko); 4 Jack Davidson (Tonykart); 5 Matthew Graham (Jade).
Final 2: 1 Taylor; 2 Pulling; 3 Davidson; 4 Edwards; 5 Graham.
ABkC TKM Extreme National Championship
There might not have been that many left in the class this year but the lead battles were amazing.  Matt England had pipped James Ogden by a hundredth in the qualifying but Ogden won both heats.  England stormed to the front of the first final from fourth and immediately started trading the lead with Ogden, multiple times.  Eventually it stuck as Ogden was passed by Al Paterson and fell to sixth.  Paterson went forward to take up the lead, then relieved by Kyle Sproat before England surged to the front for the win over Sproat and Paterson as Grant Edgeley crashed out causing a red flag stoppage.  Ogden made it up to fourth.  The second final was just as frantic but lost England at the start as Sproat got a very good start but slid into him at Café corner.  Sproat stormed back from last and was soon approaching the lead battle between Ogden and Owain Rosser.  The latter had a collision in the chicane which lost him a few places and allowed Sproat to challenge Ogden for the win, with Paterson and Rosser third and fourth.  The incident means that England will have to race for the title at the last round now.
Final 1: 1 Matt England (Tal-Ko); 2 Kyle Sproat (Tonykart); 3 Al Paterson (Tonykart); 4 James Ogden (ARC); 5 Andrew Ferguson (Intrepid).
Final 2: 1 Sproat; 2 Ogden; 3 Paterson; 4 Owain Rosser (Jade); 5 Ferguson.
Junior X30 International Qualifier
Philip Hanson had been showing exceptional pace winning both heats after topping timed qualifying from Arran Mills.  Angus Fender chased him for the early laps in the first final but soon dropped away and was swallowed by the next bunch.  From there Harry Platten pulled clear to make inroads on Hanson whilst Fender came third on the last lap shuffle, Ethan Pitt having a quick off.  The second final was more of a challenge for Hanson as Platten leapfrogged Fender at the start and then relieved Hanson of the lead.  Fender came back at them at the first hairpin, but his lead was brief as Platten was back ahead.  The trading continued, Fender back in front but when it counted for the chequer it was Hanson ahead by a fraction over Platten, Thomas Pegram and Pitt.  Fender had crashed at Café corner trying to hold off Harry Dyson.
Final 1: 1 Philip Hanson (Tonykart); 2 Harry Platten (Tonykart); 3 Angus Fender (Gold); 4 Oliver Greetham (Alonso); 5 Thomas Pegram (Tonykart).
Final 2: 1 Hanson; 2 Platten; 3 Pegram; 4 Ethan Pitt (Gold); 5 Greetham.
Senior X30 International Qualifier
There was even more fantastic racing as the drivers battled for a place in the X30 IAME International finals.  Dean Hale was ahead of Matt Davies and Josh Collings in the timed qualifying then Hale and Davies shared the heat wins.  Collings was quick to vault over both Davies and Hale on the opening laps of the first final but was then shuffled back at the first hairpin.  Euan Wilson joined in the quartet fighting for the win, as Davies was next to be shuffled back then Wilson snatched the lead in the chicane. On the penultimate lap Collings and Davies fought like tigers, but on the last lap Collings had the better exit from the chicane to pass Davies for the win, with Hale third.  Collings and Hale were joined by Davies when Lewis Malin retired from third with a broken throttle cable.  Davies was briefly ahead at the midway stage, then on the penultimate lap he sliced into the lead at the last hairpin and held off Collings to the flag.  Hale had fallen away from the lead battle but took third over Wilson and Jamie Flynn, the latter shuffled back from third.
Final 1: 1 Josh Collings (Kosmic); 2 Matt Davies (Tonykart); 3 Dean Hale (Gold); 4 Euan Wilson (Alonso); 5 Lewis Malin (Kosmic).
Final 2: 1 Davies; 2 Collings; 3 Hale; 4 Wilson; 5 Jamie Flynn (Alonso)