Le Mans Salutes Pex as New World KZ Champion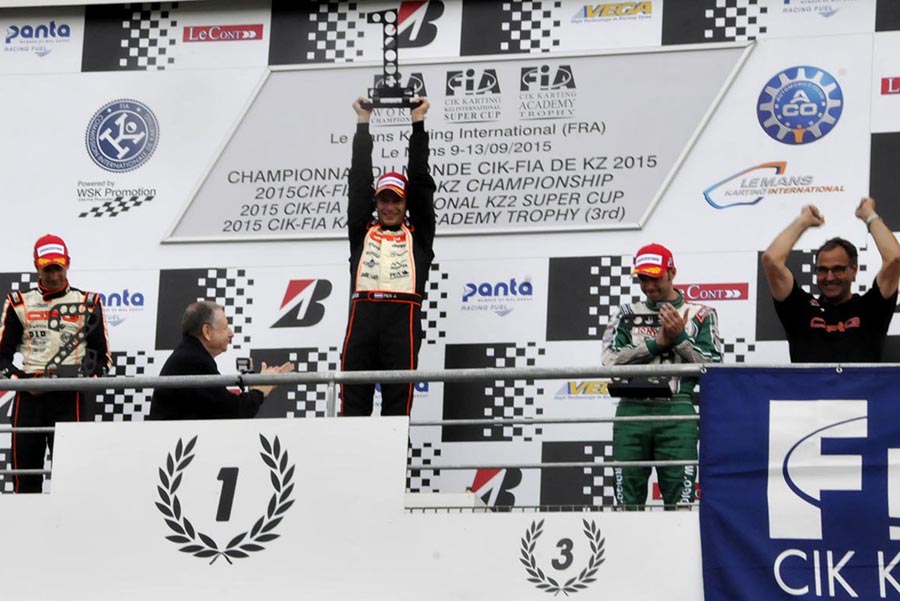 KZ podium (Photo: Press.net Images)
The Dutch Jorrit Pex (CRG-TM-Bridgestone) is the new World KZ Champion. The title was awarded today in Le Mans alongside with the CIK-FIA International KZ2 Super Cup, won by the French Thomas Laurent (Tony Kart-Vortex-LeCont), and the last round of the Karting Academy Trophy, won by the Spanish Xavier Lloveras while the Trophy was conquered by another Spaniard, Marta Garcia. These are the results achieved today on the circuit set in the Sarthe department, at the end of the most important weekend of the season for the shifter category. The race was attended by FIA President Mr Jean Todt, together with CIK-FIA Vice President Mr Kees Van De Grint and the Presidents of ACO Pierre Fillon and of ASK ACO Dominique Fussier.  The racing day started under a shower, a rain stopped only after the Prefinals. All the crucial moments of this exciting event will be available on Motors TV, which has scheduled reruns of the Championship in the next two weeks.
Jorrit Pex is the new World KZ Champion
It was a gripping final the one won by the Dutch Jorrit Pex. The French Arnaud Kozlinski (Sodi-TM-Bridgestone) was the quickest at the start: he gained the lead of the race from the second row closely pursued by the pole-sitter Paolo De Conto (CRG-Maxter-Bridgestone). The Italian driver hauled himself to the head of the race after few laps, followed by Pex while, after a start from the fifth row, the Italian Marco Ardigò (Tony Kart-Vortex) gained ground thanks to a series of fast laps. The reigning champion closed the gap with the two leaders with few laps remaining. A tough battle followed, a battle won by Pex on De Conto and Ardigò right on the last lap. The end of the race was uttelry disappointing for Ardigò: he got hit by a penalty because the front bodywork of his kart came detached. So the third position was scored by Kozlinski.
Laurent wins the KZ2 Super Cup
Thomas Laurent won after a lonely ride. He started from the pole-position in the CIK-FIA International KZ2 Super Cup Final and won over the new European Champion Joel Johannsson (Energy-TM-LeCont). The Swedish remained always behind the winner and finished in second position. The Spanish Pedro  Hiltbrand (CRG-Maxter-Le Cont), who was in third position on the last lap, was hit by an after race penalty which forced him to leave the position to the Italian Alberto Cavalieri (Righetti Ridolfi-Modena).
Lloveras wins in the Academy and Marta Garcia grabs the Trophy
He kept the head of the race from the beginning until the end: Lloveras Brunet won the third round of the Academy Trophy, followed by the Brazilian Murilo Della Colletta and the Spanish Marta Garcia Lopez. Thanks to her third position, Garcia won the Trophy (all drivers on  Parolin-FIM-Bridgestone).