Top Kart USA Wins Big at WKA Grand Nationals
Team takes home the Manufacturers Cup trophy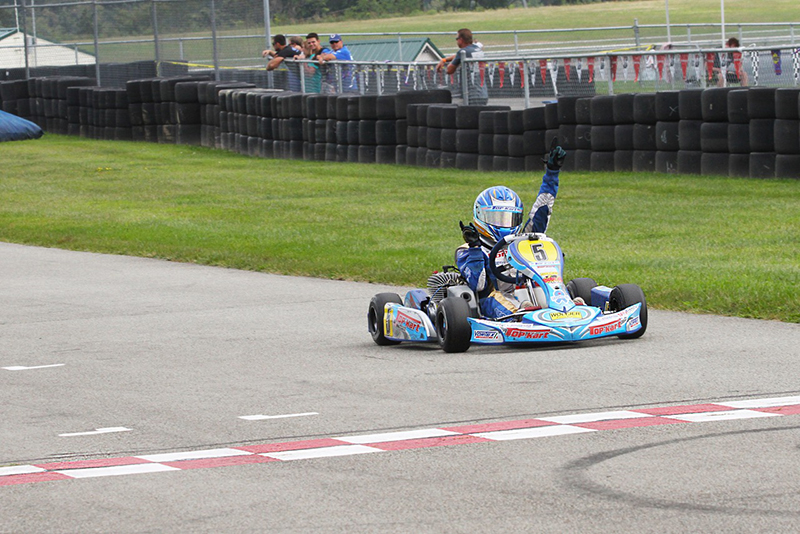 Jason Welage (Photo: Double Vision Photography - Carl Barnes)
True to form, Top Kart USA was once again the class of the field at the final round of the World Karting Association's (WKA) Manufacturers Cup series, the Top Kart USA Grand Nationals, held August 28-30 in Pittsburgh, Pennsylvania. The team brought home ten podium finishes, eight pole positions and six wins and eight championship title awards on the way to their fourth consecutive Manufacturers Cup title.
"It is an honor to sponsor one of the greatest kart racing series in North America at its largest event of the year, the Grand Nationals," said Bill McLaughlin Sr., owner of Top Kart USA. "Top Kart USA is grateful to be part of such a series, and even more grateful to have the opportunity to take home the prestigious WKA Manufacturers Cup Trophy home four years running."
In Swift Cup, championship title winner Jason Welage was also the race winner. Teammate Ty Gibbs finished third, while Madison Campeau finished fifth after qualifying on pole. Tyler Ferris finished sixth. It was a 10-11-12-13 sweep for Owen Mahle, Eli Trull, Riley Erickson and Jamie Newton. Connor Ferris did not start the final.
In Yamaha Junior, JP Southern Jr. finished fourth, wrapping up the championship title as he crossed the line. Marina Walters finished sixth. Teammates Ariana Gnad, Austin Schultz and Ty Canoles finished ninth, 10th and 12th respectively.
"We came into this year as a development and learning year for JP Junior. We joined a new team, ran new classes and moved up  to junior category, and with tougher competition we knew that we would have our work cut out for us," said JP Southern Sr., father of JP Junior. "Working with Top Kart USA helped guide us to a championship in Yamaha Junior. We can't thank Woltjer Engines, Grand Products, and Top Kart USA enough for all of their efforts!"
In Yamaha Sportsman, Jason Welage wrapped up another championship title, finishing second in the race after qualifying on pole. Teammate Tyler Ferris finished fourth. Emil Schultz crossed the line in 11th place, with Kyle Ford 13th and Riley Erickson 14th.
In Pro X30 Senior, Garrett Johnston won the race from pole. Teammate Alexander Kardashian crossed the line second, winning the championship along with a spot on the podium. Abby McLaughlin completed the Top Kart USA 1-2-3 with a third place finish.
Kardashian also brought home a championship in Pro Leopard Senior after winning the race. Teammate Garrett Johnston started  on pole and finished second.
"This was my first year in senior, and it turned out to be nothing less than amazing," Kardashian said. "Having won both X30 Senior and TaG Senior Pro, I bring home two championships this year. Top Kart USA is always a great support system for my father and I, providing anything and everything we could need at track and away. We started our own Top Kart dealership in Minnesota, AMK Race Products, and we have been able to get more and more testing at our local track, Stockholm Karting Center."
In Yamaha Senior Pipe, Dakota Pesek won the championship in dominant fashion, winning the last race of the season from pole.
In Pro TaG Sportsman, Jason Welage won his third championship of the weekend, crossing the finish line first after starting on pole. Connor Ferris finished fourth. Teammates Ty Gibbs and Jamie Newton did not finish the race.
"This year has been a great year on the Top Kart chassis. With such a great support team behind me, along with Woltjer Racing  engines and my entire family at most all of the races, it has pushed me to work harder and drive my best," Welage said. "Top Kart USA has given me the opportunity to prove my driving skills and this year has been the best year of my karting career. I've now won four championships, and I'm officially leading the points in SKUSA Pro Tour going into the final race at Las Vegas!"
In Yamaha Rookie, Owen Mahle finished second after starting on pole. Teammate Eli Trull finished eighth.
In the Kid Kart class, Benjamin Maier won the race from pole, taking the championship win in the process. Teammate Danny Dyszelski finished sixth.
"One of the best things about racing is getting to spend time with your children at the track and watching them grow. Watching Benjamin grow as a young successful driver since we have started karting has been a great joy in my life," said Jim Maier, Benjamin's father. "The greatest moment thus far is earning the WKA Kid Kart Championship in 2015. Hard work for our team has paid off, and we thank CRP Racing, Brian Erickson and Top Kart USA for always being there to help us when we really needed it at the track. We look forward to continuing our fast pace next year, when we move up sportsman with Top Kart."
It was a weekend to forget for Top Kart USA drivers in the Pro IAME Senior class. Neither JP Southern Jr. nor Jeremy Conklin  finished the race.
"It was yet another extremely successful season for our team, and we really can't thank our customers and their families enough for their dedicated support and hard work throughout the year," said Blake Deister, co-owner of Top Kart USA. "Everyone involved in our Top Kart family played a very important role in the success of the season. We never expected to end the season with multiple championships, countless victories, and a Manufacturers Cup title. It is a great feeling to know that our support helps achieve these great results. Nothing is better than seeing the huge smiles on these young racers' faces after knowing they locked up the championship or race win!"
About Top Kart USA – Top Kart USA is located in Indianapolis, Indiana and is a distributor for the Top Kart product line. Housing a  national level race team and competing in the World Karting Association and SuperKarts! USA programs as well as throughout the regional level in the Midwest, Top Kart USA is continuing to evolve and develop Top Kart dealerships throughout the United States. Supported by Top Kart importer Grand Products, Top Kart USA is owned and operated by McLaughlin Motorsports.