NOLA Sprint Kart Championship – Round Eight Report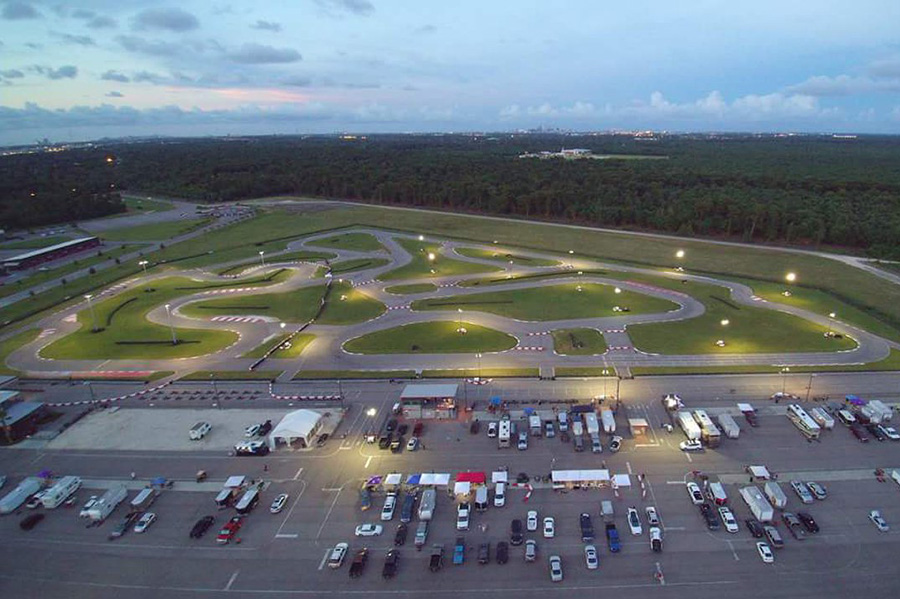 Bird's eye veiw of NOLA Sprint Kart Championship Race #8
NOLA Sprint Kart Championship Race #8 did not disappoint with plenty of action for the final night race of the season. 67 racers hit the track under the lights with races well into the night hours with all race groups running incident free with plenty of position swaps and close finishes at the flag. In the Junior 1/Junior 2 group, Macon Moore (Ionic Edge) dominated the night in Junior 1, taking pole position in qualifying and wins in both the Pre Final and Final. Ayden Guilbeau (Coyote) finished a strong 2nd with Camryn Reed (Ionic Edge) placing 3rd, earning her third podium of the season. Moore reclaims the top spot in the standings over Guilbeau by 20 points going into Race #9, with Max Meyer (CRG) holding 3rd at 150 points out. Micheal Causey (Coyote) continued his championship run sweeping the night in Junior 2, J.J. Bailey (Ionic Edge) placed 2nd with Seth Corbin (Margay) rounding out the class. Causey holds a 190 point lead over Corbin going into September.
Cole Killian (CRG) and Jesse Mitchell (CRG) are looking to be the championship favorites in Rotax Micro Max after Race #8. Killian battled with Mitchell all evening and prevailed to claim his fourth win of the season over Mitchell. Peyton McDonough (CRG) held on to score 3rd. Killian's win places him back in the points lead by 26 over Mitchell, Noah Jourdan-Carollo (CRG) follows in third by 187 points.
Rotax Junior Max had the most action from qualifying till the checkered in the Final. Logan McDonough (Tony Kart) set the pace in qualifying with Bryce Boada (Kosmic) along side on the front row, by the time the Pre Final ended Tyler Bruno (CRG) looked to be the man to beat claiming top honors in the Pre Final against McDonough. Both drove hard in the 20 lap Final with McDonough taking the checkers by .232 over Bruno at the line. Devin Melancon (Comp Kart) rounded out the podium with Boada finishing 4th due to mechanical issues. McDonough going into Race #9 extends his points lead over Boada to 60 points, Bruno maintains 3rd 216 points back.
Greg Lacoste Jr. (Margay) continued his dominance in Senior 4-Cycle by sweeping the night, claiming his 7th win of the season, and taking maximum bonus points. Anthony Harwin (K&K) was the closest to Lacoste finishing 2nd with Logan McDonough (CRG) placing 3rd in a guest drive on a borrowed kart. Lacoste stretches his lead in the standings to 390 points over Scott Griffin (Razor) by virtue of a DNF in race #8. Harwin moves to third in the points 500 back from Lacoste.
The Rotax Senior Max/Rotax Masters Max race had some interesting shake ups. Qualifying seen John Robicheaux (FA Kart) take the Senior Max pole over points leaders Everett Thomas (Comp Kart) and Zach Rouse (Energy), but by the end of the night Rouse proved he would be the one to beat taking the win in both the Pre Final and the Final over points leader Thomas. Sebastian Guerra-Mondragon (Tony Kart) battled Robicheaux and prevailed to finish 3rd. Rotax Masters Max seen David Killian (CRG) return for a second time this season to take the class win over James Dix (Birel) and Joel Bonomolo (CRG). In the points standings, Rouse closed the gap to Thomas to 200 points, Jacob Crowell (Sodi) maintains third 480 points back. Dix with his 2nd place finish in class clinched the 2015 NSKC Rotax Masters Max Championship.
In the small group of shifter karts for race #8, Dallas Lassalle (CRG) continued his championship drive in Shifter Open, Tyler Bruno (Energy) clinched the championship for Shifter Junior-S5 by starting the Final, and Anthony Harwin (CRG) claimed another win in Shifter Masters-S4 over Joseph Bernos (Birel). Lassalle and Harwin hold comfortable leads in their respective classes and will look to clinch the title in the next few races.
Luis Zervigon (CRG) looked to have heavy competition in Rotax DD2 Max from Joseph Hidalgo (CRG) coming off his dominate win in Race #7, but due to misfortune on Hidalgo's part, Zervigon cruised to his 5th win of the season closing the championship points gap to just 66 behind Chad Clark Jr. (CRG) and David Grant (CRG) who finished 2nd in race #8, Al Hassenbohler (CRG) placed 3rd in class. Todd Meyer (CRG) broke through to win his fourth Rotax DD2 Masters race of the season over George Zarragoitia (CRG) in 2nd followed by Rocky Clotiaux (Corsa) finishing 3rd. Meyer will have an opportunity to wrap up the title in Race #9 if he can finish on the podium in class.
Race #9 of the championship is scheduled for the daylight hours on Saturday, September 19th. The track layout will be a new layout never ran in the NSKC, Track AC is slated to be one of the faster tracks on the calendar, look for lot of action to happen at turn 3. There are no previous records in all classes for this track layout
About NOLA Motorsports Park and the NSKC, located less than 20 minutes west of New Orleans, NOLA Motorsports Park is a world class facility that has hosted two international karting events, the 2013 Rotax Pan American and Rotax Grand Finals, is the largest and most versatile karting facility in North America capable of running 80+ configurations and up to three configurations at the same time. The NOLA Sprint Kart Championship will hold 12 races over 10 months with the majority being single day events with two doubleheader weekends and two Saturday night races. Focusing on affordability and competitiveness, the NSKC's kart classes are based on the national rulesets for Briggs & Stratton's Local Option 206, the United States Rotax Max Challenge and Superkarts USA's Stock Honda Shifter Category, helping to ensure that experienced and novice karters can all have a level playing field to compete in. Albeit a local or sometimes referred to as a "club" series, the NSKC often draws over 60+ racers, rivaling that of some larger regional events, not only from the state of Louisiana, but Texas, Mississippi, Alabama and Tennessee. For more info on the NSKC and NOLA Motorsports Park, visit our website at www.nolamotor.com or send an email to karting@nolamotor.com