EKN Trackside: 2015 Rock Island Grand Prix – Saturday Report
First time racing on Saturday gets rave reviews on streets of Rock Island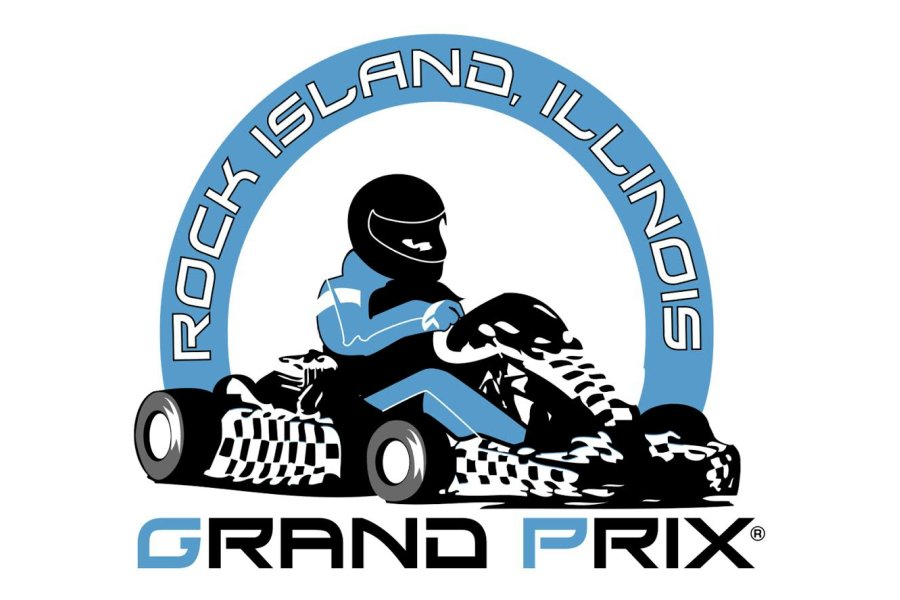 Day one of the 2015 Rock Island Grand Prix went into the books Saturday with action taking place on the city streets from 8am to 5pm. Two rounds of practice and inaugural heat races were the schedule for the day in the Quad Cities, as the weekend festivities began. The format for this year's event gave competitors the chance to race on Saturday, rather than qualifying with the RIGP officials adding a heat race for all the drivers. An old-school 'pea-pick' set the line-up for the heat races, mixing the field up before the green flag waved. The grid for the main events Sunday would not be decided by just the finishing order in the heat races, but each driver gains points for every kart they pass in the 10-lap race. Final points combined and using tie-breakers set the grid for Sunday main events. Intensity was amped up with racing against racers, instead of the clock and contenders for the Rock trophy winners exposed.
The opening class was Briggs LO206 Heavy, with Tony Nielson (Margay) opening up the event with a win. He came from fourth on the grid, while Matt Pewe (Margay) was a rocket in Group B heat to come from third to score the victory. Nielson will earn the pole position for the passing points, with defending champion Connor Lund (Arrow) coming from 10th to fourth in his heat race behind Neilson. The Medium category was Neilson and Lund scoring the victories. Neilson climbed from 13th to first in 10 laps, pressured by Monroe Johnson (Italkart) and Bermuda driver Scott Barnes (Birel). Lund performed a similar feat, starting 10th and driving away to 3.6-second win. Heavy 2 was another win by Neilson and Lund. The big winner was Lund, coming from 11th to first in his race, while Neilson advanced from sixth to first in his 10-lap race.
Margay Racing has developed the perfect spec-entry level package for new karters and clubs to promote. Working with Rock Island GP, a new class was developed for this year, as 16 drivers are taking part in the event. Jeffrey Dolian started third and was able to lead all 10 laps of the race. Kyle Scharf drove from 12th to second, but Jeremy Remick started dead last and finished third to start P1 on Sunday. LO206 Masters champion Tony Neilson began his Rock defense with a win in his opening heat race. A 17-second advantage after 10 laps makes him the favorite. Ken Williams (Margay), a top-five finisher last year, won the other heat ahead of Greg Jasperson (BirelART) and Robby Warner.
Defending Yamaha SuperCan Heavy winner Tony Jump (Arrow) won his heat race after starting fourth, but will lose the pole position to Tim Goettsch (Margay). The local favorite came from 12th to 1st in the other heat. Front runners Michael Dittmer and Tony Neilson (Margay) were involved in separate incidents, and will have to come from the back in the main. Jump had another win in his hands for the Medium category, beating out Neilson and Austin Osborne (Tony Kart). Jump had a broken airbox boot during the race, resulting in the airbox flying off his kart. The DQ will put him at the back of the field for tomorrow's main event, and gave Nielson the win. Dittmer bounced back to win his Medium heat race, holding off Mike Welsh, Goettsch and Killian Keaveny (Ricciardo). Heavy 2 was won by Osborne, starting on the pole position and holding off Dittmer, Weston Moon (Tony Kart) and Morgan Schuler (Margay). Neilson had another stellar drive to cap his day off, coming from 17th to fifth.
From the pole position, Colton Aldridge (TB Kart) led the entire 10-lap heat race for King of the Streets. Aldridge is returning after a hard wreck a couple years ago, and looked strong in his KZ entry. Josh Lane (DR Kart) came from 10th to second to push back Italian Motors driver Don McGregor (Italkart) to second.
Mazda Road to Indy driver Scott Hargrove won his first race at the Rock Island Grand Prix. The Canadian started on pole and was able to earn the heat race win over Italian Motors / Italkart teammate Don McGregor. TaG Master has two SKUSA Fikse Wheels Pro Tour front runners in defending champion Ethan Wilson and SKUSA #3 plate holder Anthony Honeywell. Wilson (FA Kart) led all 10 laps to the win after starting fourth but Honeywell (Praga) came from 11th to second, earning the pole position for the main event.
Three drivers showed the way in the 125 Masters with Eric Riggs (GP) setting the pace. Bermuda driver Scott Barnes (GP) started second and finished there after Riggs climbed up from P5 on the grid. First time RIGP competitor Jason Alden (Praga) was a close third after starting P9. Former Clone winner Connor Lund (Arrow) won his heat race from P2, with Jesse Clossey following him through from P4. It will be Matt Pewe (Margay) to watch Sunday, climbing from 11th to third.