US Kart Star Askew Set for Open-Wheel Debut at Zhuhai
Formula Masters China Series outings confirmed with Absolute Racing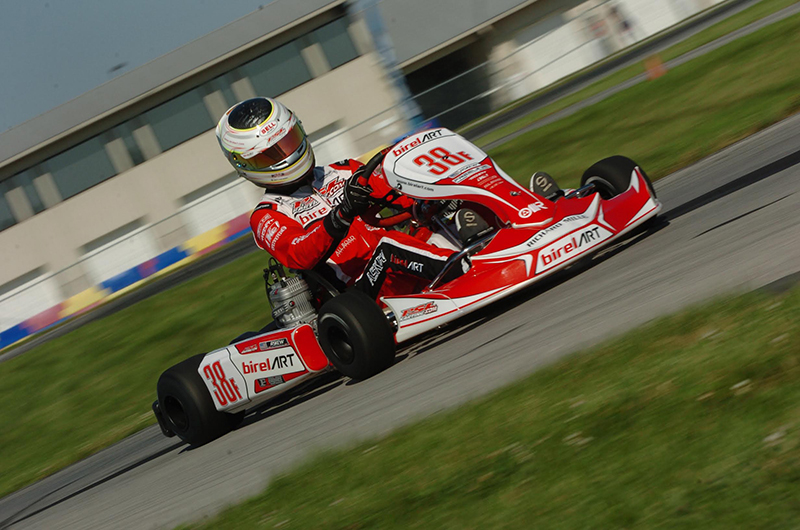 Formula Masters China Series outings confirmed with Absolute Racing for Oliver Askew (Photo: On Track Promotions - otp.ca)
Newly crowned European BNL Senior Max champion Oliver Askew will make the jump from karts to cars this September after signing with Absolute Racing to contest 2015's two remaining Formula Masters China Series rounds.
The 18-year-old American is set to make his competitive open-wheel debut at the Zhuhai International Circuit on September 18-20 before also contesting the final round of three races at Shanghai's Chinese Formula 1 venue exactly one month later.
Askew makes the step up having earned a reputation as one of the US's most promising karting stars courtesy of four domestic titles and a string of other impressive performances, including a third place on the world stage in 2013. His recent move into European competition proved just as successful after sealing the BNL Senior Max crown with the Birel ART / KMS Team two weeks ago.
The Tequesta, FL, resident is now eager to transfer that promise from karts to cars and views his end-of-season Formula Masters China Series outings as sound preparation for the 2016 campaign.
"Karting has given me a fantastic base to work from and I feel like the time is right to be making the move into single-seaters," said Askew. "Absolute Racing's Ingo Matter and Fabien Fior have been so supportive by offering me an opportunity to prove myself, so I really must thank them for the chance to race in China.
"Motorsport is growing across Asia and the Formula Masters China Series attracts a lot of young international drivers; the competition will be very tough indeed. Most of the guys have been racing there all year so know the cars and how to get the best out of the tyres. I won't have that same luxury, nor know any of the circuits, but if I can compare well against them and my team-mates then that at least gives me some competitive experience in a single-seater ahead of next season. 2016's already my main focus."
Askew hasn't ruled out racing in any junior single-seater series, be that in Asia, Europe or the US, next season. Indeed, it will be the securing of adequate funding that determines his next move.
"We need to be smart and think about where the opportunities lie," he confirmed. "Motor racing isn't cheap and I don't have the finances to fully fund my career, so we'll be working hard over the winter to source necessary budget. That's why the two rounds in China are so important. As I said, I know we don't have the experience of others but if I compare well against them then hopefully it will prove my credentials and attract interest. The great thing is there are a number of different routes to the top. I just need someone to believe in what we're trying to achieve."
Askew is back in karting action this weekend at the final round of the 2015 Rotax Euro Challenge in Genk, Belgium.
Want to know more? Then visit www.oliveraskew.com, like Oliver's Facebook page and follow him on Twitter.