Rotax Max Euro Challenge: First Stage of Final Round at Genk Completed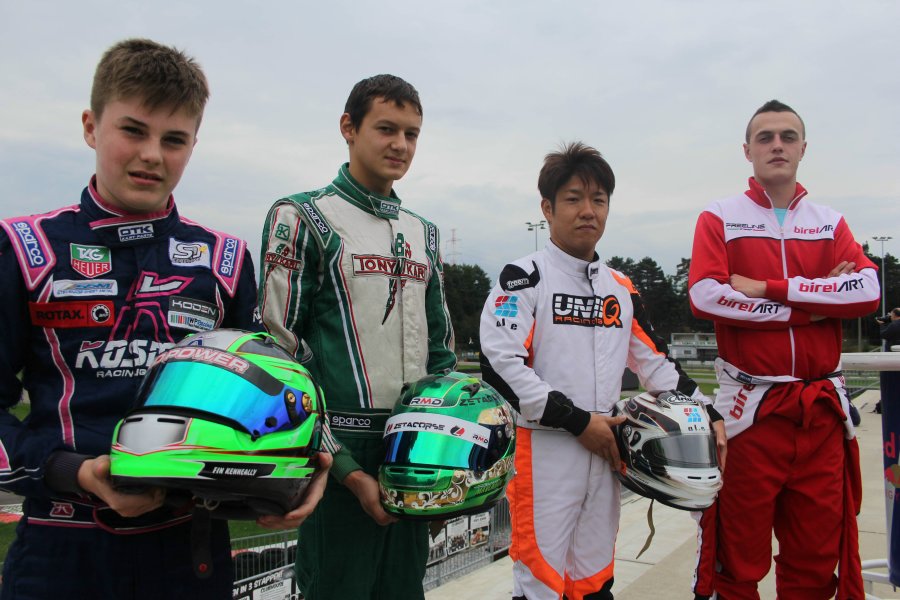 Today about 130 drivers kicked off the first decisive day of the final round of the ROTAX MAX Euro Challenge 2015. The qualifying practice on the 1.350 metres long circuit at Genk in Belgium revealed the balance of power in the grids of juniors, seniors and DD2 – especially in terms of the upcoming decisions in the championship. Although weather made for autumnally and changeable conditions the qualifying stayed dry with a highly balanced outcome and some close decisions …
In the juniors category UK driver Fin Kenneally (Aim Motorsport) drove the fastest time in the qualifying session. By a gap of only 0.005 seconds he was quicker than the local hero Eric Stahl (Daems Racing) who established himself in second place. Frenchman Axel Charpentier (Strawberry Racing), who still has theoretical chances for the championship crown, followed in third spot ahead of Frenchman Adam Eteki (SG Drivers). Championship leader Jack McCarthy (Strawberry Racing) convinced by a solid fifth place while his hardest title opponent Dean MacDonald (Aim Motorsport) had to be satisfied with 13th place. The other championship aspirants did even worse: Zak Fulk (Coles Racing) reached 20th place and Alex Quinn (CRG SPA) ended up in 25th position of the 51 drivers comprising field.
The senior's qualifying had a sensational outcome in store: Not less than three drivers drove an identical best time of 55.708 seconds! Consequently the second quickest time decided the ranking and so it was Russia's Denis Mavlanov (KR Sport) taking first place ahead of the championship rivals Rinus van Kalmthout (Daems Racing) from the Netherlands and Pierce Lehane (Strawberry Racing) from Australia. Fourth place went to Dutchman Luc Willemse (Team TKP) in front of Sam Marsh (Dan Holland Racing) from the UK.
Championship leader Ferenc Kancsar (BirelART/ KMS) did not leave any doubt in the DD2 qualifying session. By a time of 54.177 the title favourite from Hungary set the pace and was remarkably faster than his opponents, which were led by Germany's Marcel Schirmer (RS Competetion) and Switzerland's Kevin Ludi (Spirit Racing). Championship contender Paolo DeConto (CRG SPA) followed in fourth place, still being in a promising position to stop Kancsar from a walkthrough. The top five were completed by Constantin Schoell (BirelART/ KMS) from Austria.
In terms of the Masters classification Japan's Kawase Tomokazu (Uniq Racing Team) stood out of the pack. He took the Masters' pole position for the heats by taking eleventh place in the overall grid. Behind him UK lady Tamsin Germain (DG Racing)
followed in second place ahead of Christophe Adams (BirelART/KMS). Meanwhile the clear championship leader Igor Mukhin (CRG SPA) struggled a bit and only ended up in 28th place of the grid.
Tomorrow the final event will enter the second stage: All told 18 qualifying heats promise an action loaded day, which eventually will set the grids for the main races on Sunday. Everybody is invited to join the race action, as live TV coverage will start on Friday and continue throughout the weekend. So stay tuned on the official website www.rotaxmaxeurochallenge.com or www.rgmmcmedia.com, where you get all information regarding reports, photos, results and live TV stream.