Less Power, Equally Powerful: Drag Racing Veteran Explores Newfound Passion for Karting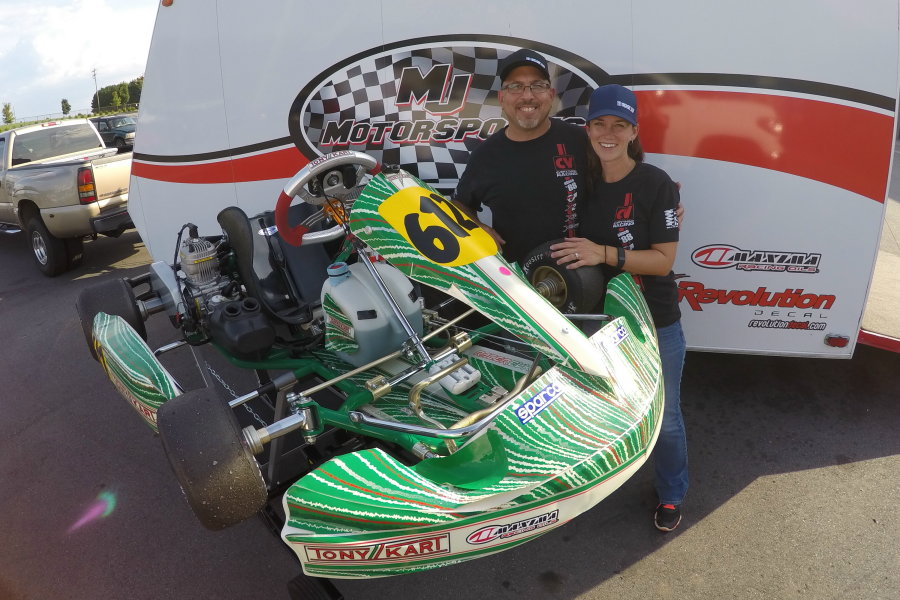 Matt Giangrande
To a self-proclaimed "car guy" with "oil in his veins," any loss in horsepower would typically be devastating, but not to Matt Giangrande. The drag racing veteran with 35+ years of experience both professionally racing and working in the industry, a drop from 3,000 horsepower to a mere 28 doesn't upset him at all. Why? Because GoPro Motorplex Karting Challenge IAME Masters Round 8 Driver of the Week, Giangrande, loves the powerful experience he has found in his new karting hobby.
"Usually karting is a stepping stone to some other automobile," said Giangrande. "People start racing in karting and then race cars. For me, it was the other way around. I spent 35 years drag racing and I'm just eight months into karting. I have been fortunate to go 0-195 mph in 3.90 seconds in my drag car. But, I tell people, "There is nothing like going 55 mph in the rental karts or 75 mph in my kart when you're an inch off the ground! It grabs your attention quick. It's a cost effective way to have a fun time and go fast."
Cost is the keyword. Giangrande just recently sold his Pro-Mod drag car and is taking a break from drag racing due to the high costs.
"I like to call it a hiatus from drag racing," said Giangrande. "We may buy some new drag stuff or who knows we may come with more karts next year! It has certainly been a lifestyle change because drag racing consumed my life for so many years. It will be hard or impossible to replace. But karting is filling the void for now. I think my wife is more upset I sold the car than I am."
Giangrande's wife of nine years, Jennifer, supports his passion every step of the way. She loves cars and being involved and is now starting to learn the different aspects of karting where she can contribute. From his racing number (612) being symbolic of her birthday to the "MJ Motorsports" (Matt and Jen) logo on their trailer, it's apparent that the two are a team in marriage as well as racing.
For Giangrande, racing, more specifically drag racing, has shaped not only his marriage, but also his career.
"I spent three years drag racing professionally in the IHRA Pro-Am and Pro-Mod divisions," said Giangrande. "Now, for the past seven years, I have worked in sales at CV Products providing support for our drag racing teams and drivers. I love what I do, where I do it and who I do it with."
We hope the same is true while he is karting at GoPro Motorplex.
Learn more about Giangrande as he explores the world of karting in our driver of the week interview:
Fast Facts:
Age: 50
Hometown: Brooklyn, New York
Current City: Pleasant Garden, NC
Occupation: CV Products Drag Race Team Leader
Favorite Food: Steak
Pets: Cat, Izzie and Horse, Dan
Biggest Fear: Failure
Favorite Track: GoPro Motorplex
Years Racing: 35 years drag racing experience, first year karting
Team & Crew: Wife, Jennifer
Q&A:
Q: How did you first get involved in drag racing?
A: Growing up in New York without a lot of round track options, drag racing just seemed like the natural kind of racing to do. I was 15 years old when I started. You naturally get the hand-me-down car from your parents and hot rod it and go out to see if you can beat your buddies. One thing progressed to another and if you stay in it long enough, I'm sure there are a lot of stories like mine where you progress an ultimately end up almost at a professional level. Sometimes it's just a fad, but not with me. I think oil runs through my veins. It's always been about the cars.
Q: So when did you get the idea to start karting?
A: Because of where I work at CV Products in Mooresville, I got my intro to the Motorplex through coworkers and of course trash talking begins and we have to come ride the rental karts. Like any car guy or gear head, what's not to love about racing karts? This isn't the first time that I have tried something and ended up getting fully consumed by it. I started talking about getting a kart after the first time I rode the rentals. This was last November. I rode the rentals, went on a business trip for a week and couldn't stop thinking about riding karts. By the beginning of year, I had gotten a lot of help from KartSport NA's Eric and Brandon Jones and had purchased my first kart.
Q: Do you see any similarities between karting and drag racing?
A: The only similarity between drag racing and karting out here at the Motorplex is the front stretch. I think I've got it and I'm going as fast as I can go, but of course when you get to the end of the straightaway you have to turn. I'm nowhere close to knowing what I am doing, but I'm learning and asking questions. Going slower to go faster is the key; the complete opposite of drag racing. The biggest difference is being in the car for a 4-second pass to being in the kart for 50 seconds per lap. I find karting very enjoyable from that aspect. I'm really enjoying the thought process. You can think about what you're doing, what you just got done doing and what you need to be doing in the next turn. If you don't get it right the first time, you have the chance to get it right the next lap.
Q: How did you choose the Turn 4 Pizza IAME Masters Division?
A: Being new to karting and due to my age and weight, the masters division was a really good fit for me. I wish we could have a few more karts regularly. But, it's all about seat time. No matter how many karts are on track, there's no such thing as bad seat time.
Q: What do you like most about GoPro Motorplex?
A: Now that I am into karting, I have looked into some of the other tracks. We are really spoiled here. By far, the Motorplex is head and shoulders above the rest. I like coming to a nice facility with nice people.
Q: What is your favorite corner?
A: I enjoy the challenge of the entire track. What I love most is that I can't look at the track and say, "I've got that corner licked." It's an ongoing learning process to figure out how to be a little faster each time. Because no matter how fast you are, there is always someone faster.
Q: What do you hope to accomplish in karting this year?
A: I think it is always about trying to run a little faster each time. We have a really accomplished competitor (Nick Tucker) in my division who wins just about every race. Every time I race, my goal is to just be able to see him at the checkered flag! At the last race, I could! There are pros and cons to it. It's tough because no one wants to be racing for second, but you also know if you're gaining on him, you're really doing something. We are second in the points championship, so hopefully we keep that up.
Q: What would you tell someone who is thinking about getting into karting?
A:  If you want to go fast for minimal cost, karting is the way to go. It's a fun challenge because even if someone has a faster kart than you, you still have a chance to beat them by outdriving them. It's about having a good time. Of course, if you do badly, you're upset. But at the end of the day, it's all just for fun. It's really fun for my wife and me to see a family doing stuff together and the little kids enjoying karting so much.
Q: What's next?
A: There's a chance that next year I go back to drag racing as crew chief or in a consultant role. However, I know we will definitely be karting again next year because I'm not going to settle for second.
NEXT UP: See Matt in Action in Round 8, Sept. 12:
Round 8 of our 10-round club series will be on Saturday, Sept. 12. The series features 10 divisions for kart owners as well as the Rental Kart Light and Heavy division. Each segment of the Karting Challenge Presented by Hoosier Racing Tire consists of two practice sessions, qualifying and two finals per division. The race day starts at 8:30 a.m. and Spectator Admission is free! Competitors can pre-register in advance at a discounted rate on MotorsportReg.com. For more information on the Karting Challenge series, CLICK HERE>> (http://www.gopromotorplex.com/race-events/kart-owner-events/gopro-motorplex-karting-challenge/)
2015 Driver of the Week Program:
The Driver of the Week program is new for the 2015 Karting Challenge Presented by Hoosier Racing Tire. The goal of this program is to spotlight our club series karters each week leading up to a Karting Challenge race. To learn more, CLICK HERE>>( http://www.gopromotorplex.com/race-events/kart-owner-events/gopro-motorplex-karting-challenge/)