Ricciardo Back to His Karting Roots in Monza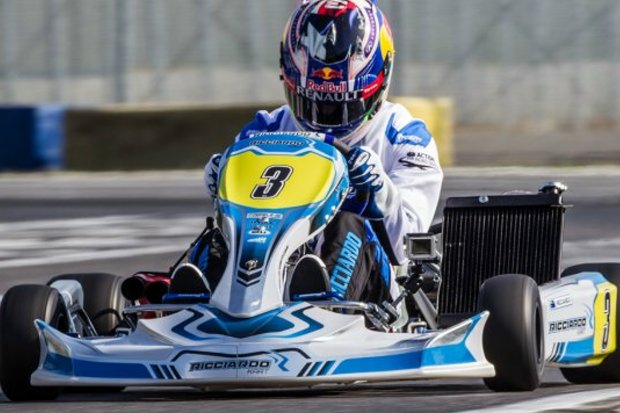 Like the majority of Formula 1 drivers, Daniel Ricciardo got his first taste of motor sport at the wheel of a go-kart and while many Grand Prix stars still enjoy a fun karting session, the Australian has gone one step further, establishing his own brand of kart – Ricciardo Kart.
In conjunction with Birel ART, one of the leading kart producers in the world, there is now a full range of Ricciardo Kart machinery being built in its Lissone factory and raced all over the world. With the facility just a stone's throw away from the Monza circuit, this week seemed like the ideal opportunity for Daniel to visit the factory and hit the track in one of his own karts.
On Wednesday morning, at the 7 Laghi International Circuit, Daniel spent some time laps at the wheel of a Ricciardo Kart, setting a lap time as a target to beat for presenters from F1 TV broadcasters, NBC (USA), Canal + (France) before racing with members of the Sky Italia F1 crew.
Daniel said he was going to "take it easy" ahead of the Italian GP weekend, but once the visor came down on his helmet, his advice to himself went out the window and he was soon absolutely flat out. "I must admit I was surprised at how quick the TV guys were and I even learned a quicker line through one of the corners by following Will (Buxton, of NBC.)  As for Sky Italia, they fielded professional racer Davide Valsecchi and we had a fantastic wheel to wheel dice."
The day ended with a visit to the factory in Lissone, where all the Ricciardo Karts are manufactured.
A range of 8 Ricciardo Karts is available on all continents and they are already making their mark on many of the most important championships. In the first year of competition, Ricciardo Kart factory drivers have already been frequent visitors to the podium in the World Series of Karting, with drivers of the calibre of talented Swedish youngster Rasmus Lindh, who finished on the podium in the final round of the WSK Super Master and Rick Dreezen, the 2014 European KZ Champion, always fighting for the podium in his Ricciardo Kart. Only last weekend, Mirko Torsellini claimed the runner-up spot in the 2015 Italian Karting Championship and around the globe, privateer racers are enjoying great success with Ricciardo Kart.