Back to Basics: TJ Patrick Planning Return to Sport
Father of NASCAR star rekindles love of karting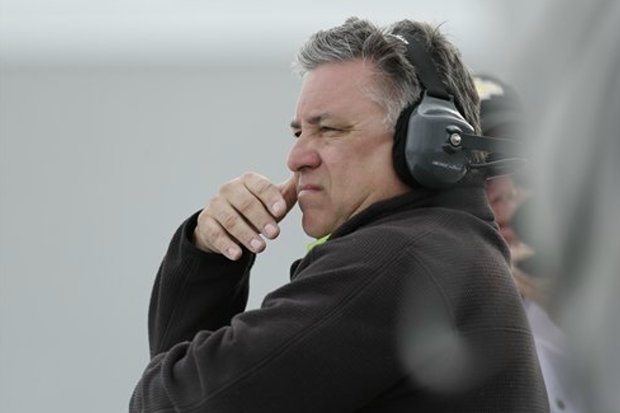 TJ Patrick (AP Photo/Chris O'Meara)
Over the past 10 years, you might have seen him pop-up in the background during the regular television coverage of an IndyCar or NASCAR Sprint Cup, providing support for his daughter Danica Patrick, one of the most famous names in motorsports.  Family patriarch TJ Patrick was there for his daughter during her entire journey from karts through Formula Ford, into the Toyota Atlantic program and eventually the Verizon IndyCar Series.  Danica's transition onto NASCAR's big stage propelled her to global celebrity status, and TJ has watched with pride as his daughter has learned to manage and excel in a crazy world.  And like so many racing parents, he looks back at their time together in karting with fond memories.  It was a simpler time, when they could enjoy the fun of racing, together as a family.
Like all forms of motorsports, the purity and true enjoyment of karting makes way for the commercialism and the business of the sport as racers climb the ladder, and for Patrick, the days of wrenching on his daughter's Coyote in the Junior Yamaha ranks of the WKA Manufacturer's Cup are but a great memory.  That said, a recent return trip to a karting event quickly rekindled TJ's love for the sport, bringing back the understanding and respect for the purity of karting.  Over the years, we've enjoyed watching the return to competition of pro drivers like AJ Allmendinger, Will Power and Jamie McMurray, who come back for the love of karting, and now it appears that a famous father will be venturing to his roots to once again enjoy the experience that karting offers.
EKN's Rob Howden caught up with TJ Patrick just before he left for New Castle Motorsports Park to take in the final round of the United States Pro Kart Series.
eKartingNews.com:  Without going back and looking at the exact dates, it has to be at least 17 or 18 years since Danica competed in North American karting, so let's start by welcoming you back to the sport, TJ.   Karting has evolved a little since your days, with an increase in professionalism and some mandated safety features, but the basic program is still in place and the purity of karting is still intact.  It's cool to hear that you're planning a return, but let's start by finding out what drew you back.
TJ Patrick: Well Rob, after attending a few karting events over the past couple years, I was reminded that karting is the most pure racing a person can do. Why? Well, let me tell you, the journey to get Danica to where she is today was not without heartbreak, financial stress, dealing with agents, team owners, contract payments, and travel. Basically, it is a 'dog eat dog' business from the time we left karting to where she is today, it was not easy at all. My wife Bev and I managed Danica from Day 1 in 1993 until 2009, when it was just too big and not much fun anymore.  We did her contracts with teams, personal deals, marketing, did all her finances, and travel, I would say pretty much all the day-to-day stuff.  Our fun racing job turned into a real job and working with family is not always fun or the best thing either. So after my visits to the karting events the last year or so, I was rejuvenated on racing, it looked fun…I even watched all the Kart Life shows on TV. Oh I was one of those fathers at one time! So after some discussions with my wife, we thought it would be a fun idea to get back into karting.
EKN: That's pretty exciting news.  What do you expect to focus on?
TP: I would love to work with some young drivers and help them with my knowledge. Back when Danica raced, the fathers were the mechanics; there were very few hired hands in the lower formulas.  I have been racing my whole life, since I was 13. From racing snowmobiles professionally to motocross and dirt midgets, I have always been active in some sorts in racing one way or another, like my business I do now making carbon fiber parts for snowmobiles.  It would be refreshing to help some young 10-year-old kid (when Danica started racing) who has a dream to become the next BIG racer or whoever they want to be.
I plan on providing a full-race deal where I will provide the karts, motors, parts, tires and I would personally tune and work on the karts by myself, and help with driving, tuning, fitness, and understanding the real art form of racing.  I like working with the younger kids, as they like to learn and like seeing themselves get better.  If you watch the Senna movie, his last words in the movie where something like, "the purest form of racing he ever did was karting", and that is so true!  I tell every parent I talk to that they should enjoy karting as a family as it only gets harder, more stressful, more expensive and, most of all, less fun!
EKN: So are you plans in place for 2016?  What series are you looking to focus on? And have you decided on the equipment you'll use for your team?
TP: I have spoken to many of the motor builders and chassis distributors along with team managers to understand as much as possible (all of whom we raced with years ago with Danica as a sponsor or supplier) about how they run things today versus how we did them years ago. Everyone used to own there own motors, but from what I understand, everyone now leases motors.  I am a bit old fashioned in that I would like to own my motors as I feel and know that every motor is different and each has its own feel in regards to the RPM needed to carb settings etc.  It's the same with chassis. I would own my own chassis and I am particular to Tony Kart as they where a major sponsor of ours for many years.
I am really sort of 'retired', so I would like to do as much racing as possible, from the winter series to the WKA, USPKS, and SKUSA.  I feel most drivers need additional testing so I am open to that as well.  We are in the process of buying a trailer and motorcoach to get to and from the races.  That would allow us to provide a full arrive-and-drive deal with motors, chassis, tires, food, and what I will enjoy the most is driver coaching and setting up the karts.
Now I am not looking to be a huge team by any means, and I am sure that works good for some people, but I like a small two-driver type deal where I can spend some real good time with them one-on-one, keeping them focused on why they are there, which is to race. I have not spoke or asked Danica if she is willing to do some sponsorship yet, but you never know.  I know many people in the racing world and feel I can help with connections in many different ways, from helmets to race suits, for example. Trust me, I was once one of those parents with a kid racing trying to make the big time.  I am so much calmer now and I hope I can help with the calming of the parents. I've 'been there and done that' in that aspect. My main objective is to see that young kid's smiling face after they just won a race, and get a big hug…which, as they say, is 'priceless'.
EKN: After attending some of the recent events, what do you feel has been the biggest change in how the sport is today from the time when you and Danica raced in the 1990s? What new aspects do you like and what do you think is missing?
TP: In general, not a whole lot has changed.  The thing I see as the biggest difference is how they run the races.  I am not a fan of the qualifying format where the fastest drivers start up front.  In WKA Man Cup, when Danica raced, it was a pea-pick for your starting position in the first two heats, and then they averaged how you finish in both and then you started straight up for the final.  As it is now, you could win your class and not pass a single driver! That makes no sense to me; we are supposed to be teaching these kids how to pass, and in watching some of today's racing, many kids do not know how to pass.  There is a art and a way to pass clean, and not be passed back.
One of the biggest changes is why I am getting back into the sport that I like. The weights they have for the class structure is crazy, way too heavy for 95% of the drivers.  When a kid has to add over 30-40 lbs, it kills the kart and to me, it's a disadvantage to the smaller driver over the bigger driver.  When you need hydraulic lifts to pick the kart up after a race, that might be a sign!  Back in the 90s, it was all dads and families working on the karts; there was not much arrive-and-drive offered.  Being in racing since 1974, it was to our benefit as I knew how to work on two-cycles better than most of the dads. It makes sense financially in most cases to have an arrive-and-drive program by the time you buy a trailer, a truck to pull it, and all the karts parts and motors it is pretty much the same.  I myself remember spending close to, if not more, than they are spending today.
EKN:  TJ, we're seeing kids start racing at five-years-old these days, and they are often gone off to other forms of motorsports before they reach the age of 12. It seems the upper echelon of motorsports are reaching more and more for the younger drivers to fill in the empty seats each year, trying to make them the next Joey Logano or Kyle Larson. From your experiences, what do you feel is a good age to leave the sport of karting?
TP: I agree, these kids are leaving after Junior karting to take up another form of motorsports, and here's why.  I feel that the Junior racing is as hard and aggressive as any form of racing anywhere, so once you get over 15, the competition is less. I know I may upset some people, but Senior racing seems to be easier than Junior from what I've seen. Plus, kids are starting at 4-5 years-old, so they have 5-8 years of karting in already and want a new challenge. The other aspect is the team owners are hiring kids younger too! Look at Lewis Hamilton. He was hired by McLaren at around 10 years old!  If you are an exceptional racer at a young age, you are on the radar of the bigger teams in the top level of motorsports.  I don't think that it's a bad thing to move up to try and better your career, but the difference is knowing if you are that special type racer who will keep moving up.  There is a fine line and a different mentality to making the next step and making it up the ladder.  Karting can be a fun family sport and a sport only, but it can also be a stepping ground for a racing career and neither one is bad, both are good.
EKN: Moving forward, what is your timeline for your new program? Do we expect to see you fielding a driver at any events before the 2015 season is over, or maybe down at Daytona KartWeek this winter?
TP: I would like to start after the first of the year as the season begins in the winter series. That is only if we find a driver or drivers. I may attend the Superkarts! USA SuperNationals XIX in Las Vegas as a spectator just to see how that race works as it is the biggest of the year.
---
We at eKartingNews.com look forward to seeing more of TJ Patrick among us in the karting paddock in the future. And as he said, karting can be many things, it can be a source to bring families together one or two weekends a month. It can teach you life lessons, just like many other sports do for young athletes. And it can help prepare you for a career in motorsports, similar to what his daughter Danica, and many others in the IndyCar, NASCAR, Formula One and other forms have done. Passion however helps fuel exactly what you do with it.