Surprising Finale in Siena's Last Round of the Italian ACI Karting Championship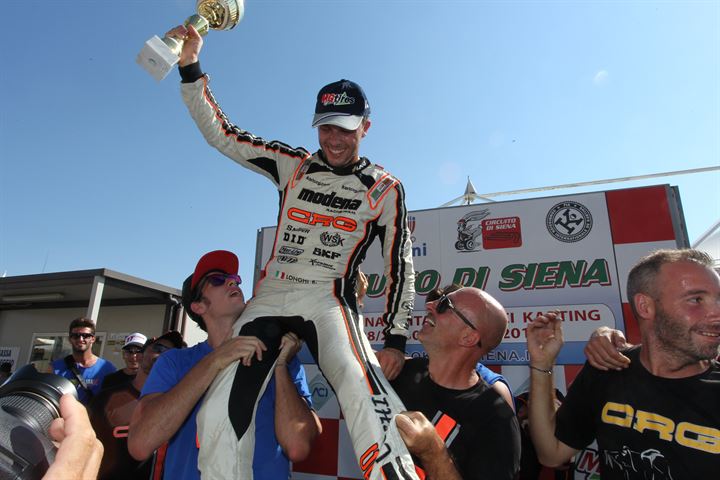 KZ2 Italian Champion Riccardo Longhi
Longhi (CRG) got a late KZ2 Italian title thanks to the victory in the last final after Torsellini's win in race-1. Victory for Gheno (Tony Kart) in KF, for Giardelli (Tony Kart) in KF Junior, and for Michelotto (Energy) in 60 Mini
Everyone had clear in mind that the Final round of the Italian ACI Karting Championship in Siena would have been quite uncertain, but it turned out to be a thrilling event all the way to the final moment.
In KZ2, the most performing of the four categories on track with 87 drivers, Mirko Torsellini (Ricciardo-Tm) seemed to have the Italian Championship nearly in his pocket after the pole position, the two victories in qualifying heats and the strong win in Race-1. In fact Torsellini proceeded his two strongest rivals in Race-1, namely Loris Spinelli (PCR-Tm) and previous classification leader Riccardo Longhi (CRG-Tm). After Race-1, Torsellini reached 180 points in the classification, while Longhi was at 148 and Spinelli at 142. Longhi would have had to win Race-2 to get the title off Torsellini's hands and the latter would have had to finish out of the top four. And that is what happened: Longhi put in a great race taking an early lead and pulling away. Torsellini, started from P8, managed to get some ground back but only to the final fifth place as he could not find his way past Nicola Gnudi (VRK-Tm) not even in a final desperate attack. Behind Longhi, Race-2 podium was obtained by Massimo Mazzali (Croc-Tm) and Paolo Ippolito (CRG-Tm), who has also been very quick during the whole weekend. The title went therefore Riccardo Longhi's ways, who won a race in the first round in Sicily at Triscina, totalling 185 points that was 5 more than Torsellini, that was eventually handed a 10 seconds time penalty (which relegated him to P13 in Race-2) as the nose cone of his kart dropped after an unlucky contact with Spinelli that had spoon a few laps before the end of the race. Spinelli ended third at 142 points leading Lorenzo Giannoni (Maranello-Modena) at 110.
KF had 2 title contenders and Stefano Cucco (Energy-Tm) seemed to be all set to get the title after the first final of Siena ended right behind Lorenzo Travisanutto (Tony Kart-Tm) but ahead of his direct rival Jacopo Gheno (Tony Kart-Vortex), taking the classification lead. In Race-2 Gheno got to grips with the race and Travisanutto got in between ending second ahead of Cucco. Gheno won the title at 116,5 points as Cucco ended at 111.
KF Junior has been the only category that saw the games being closed in race-1, when Alessandro Giardelli (Tony Kart-Lke) took the title thanks to the second place behind Davide Lombardo (Tony Kart-Vortex) who dominated the race. Third at the flag was the Russian Ivan Grigoriev (Kosmic-Vortex), who was in the title fight but then was relegated to P6 due to the 10 seconds time penalty of the dropped nose cone.
Category 60 Mini, together with KZ2, produced as usual the strongest emotions. The Final victory seemed to go Dennis Hauger's ways (CRG-Tm), but Gamoto's driver who was leading the classification before the round of Siena could not get a result in this crucial round despite ending qualifying heats with a promising fourth place. Mattia Michelotto (Energy-Iame) got the most of the situation, set the quickest time in qualifying, was on top after heats and second in race-1 behind Federico Cecchi (Tony Kart-Tm) and leading Leonardo Marseglia (Evokart-Tm), as Hauger was fifth. Michelotto completed his masterpiece in race-2 winning ahead of Marseglia, as Leonardo Caglioni (Evokart-Tm) was third and Hauger ended sixth losing a few positions towards the end of the race. Mattia Michelotto ended the championship on top at 221 points, overtaking Hauger that ended second at 205, while Cecchi was third at 202, Marseglia fourth at 180 and Biagio Ruvolo fifth at 164. The classification is sub-judice though due to two appeals filed by Ruvolo in Sarno's race-1 and Adria's race-1. A third appeal is still pending for Coluccio in Val Vibrata. Michelotto's victory should not be affected, but Cecchi could get the second place off Hauger.