Cole Peschang and the 206 Cup Invade Concept Haulers Motor Speedway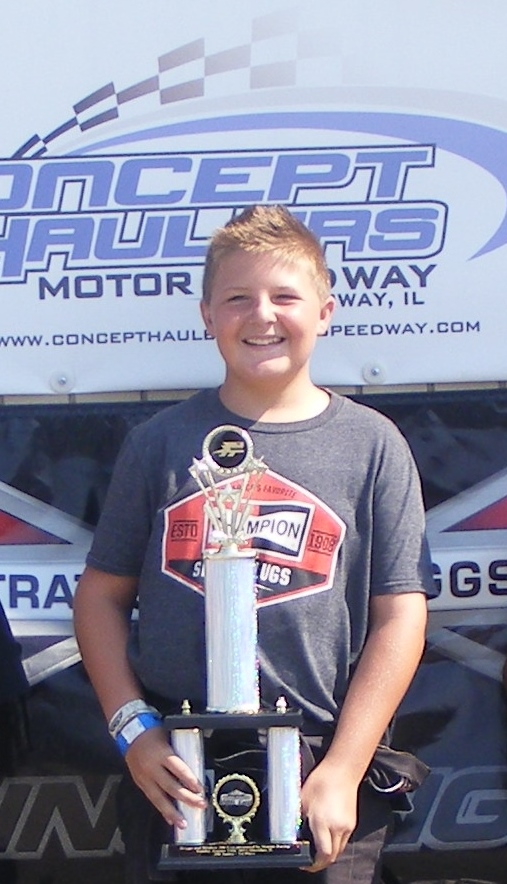 The 206 Cup made their 1st appearance at Concept Haulers Motor Speedway in Norway, IL for Race # 5 and 6 . The weather was sunny for Saturday. Sunday started with some rain showers and made things a bit dicey for the JR practice session. All 8 of the Jr's going off course because it was only a light mist when they started. The rain got heavier and the track got slick in a hurry.
Saturday's first LO206 Jr heat was a close one with Cole Peschang winning by .201 over Brian Van Cleve.
The 2nd heat of the day was a great race for all the spectators and racers with the lead changing 5 different times between Brian VanCleve, Justin Wishard and Cole Peschang. VanCleve and Wishard drafted as a team and got by Peschang on the last lap for the 1-2 finish. It was so close between the Top 3 they were separated by only .396.
The Final was also a nail biter also won by Brian VanCleve. Justin Wishard followed .206 behind with Cole Peschang rounded out the Top 3 .416 behind. Saturday's Overall Winner was Brian Van Cleve , 2nd went to Justin Wishard and 3rd to Cole Peschang.
Sunday started bad for all the teams. The JR class was on the track with a very light mist. After a few laps the heavier rain came along . Almost every kart spun or went off course. The practice was red flagged for the track being too dangerous . After a ½ hour of track drying and the rains headed east to Chicago the track was ready for a 2nd practice session. Much better for all of the teams. The rain tires and rain setups were thrown in the trailers and it was time to race.
Heat #1  started with Aaron Bromberek on the Pole in his DR kart. By the end of lap 1 Cole Peschang's Coyote Widetrack was in the lead and never looked back. He had a 1.6 second lead over 2nd place Justin Wishard also in a Coyote. When asked about his win Cole said " It took me awhile to get used to this kart. It's new to me. We just got it from Rob Wilhemi . He raced at Sugar River in Brodhead. It was a Championship winning kart there. We set it up close to what my Coyote Bullet had for it's setup and winged it. My dad and grandpa just got it together in time for this race. Didn't even scale it till we rolled across the scale here"
Heat #2  was a mirrored finish of heat #1 with Peschang winning but Brian Van Cleve got around Justin Wishard with 2 laps to go only .558 behind Peschang.
The feature was a 12 lapper with Cole Peschang on the Pole. Justin Wishard 2nd and Brian Van Cleve rounding out the top 3. Cole never had anyone close for most of the race but bobbled in Turn 4's right hander and Wishard was side by side with him heading into the long back straight.  Wishard's Kart City Performance Lo206 had some carb issues which helped Cole Peschang speed away to a  .865 finish over Justin Wishard. Brian VanCleve's tires came in too early and he fell back to a 2.649 behind Wishard.
Top 3 for the day were :
Cole Peschang ( who also set the Concept Haulers Motor Speedway's LO206 all time track record with a blistering 53.665 . It was even faster than any LO206 Sr driver too)
2nd -Justin Wishard
3rd – Brian VanCleve