Joseph Lamberth Impressive On and Off the Track
Lamberth scores top ten in US Grand Nationals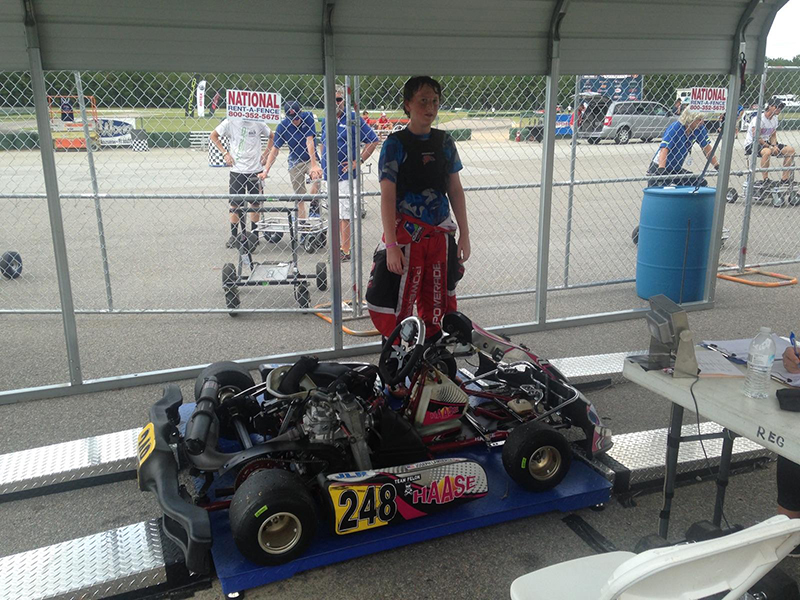 Joseph Lamberth scores a top ten finish in Junior Max at the Cold Stone United States Rotax Grand Nationals in his junior rookie season (Photo: Joseph Lamberth Racing)
As a newcomer to the Junior Max division of Rotax this year, and as a Junior rookie at the Cold Stone United States Rotax Max Challenge Grand Nationals, Joseph Lamberth might have considered merely finishing to be a success. His family had no idea how it would turn out. But Joseph already knew what he planned to accomplish.
When Nationals are held on your home track, you want to perform the best you possibly can. You want to represent your track well. Lamberth represented Carolina Motorsports Park (CMP) very well. He was the top finishing junior driver from CMP and furthermore, showed why he is a threat for future race wins and championships on the national level.
After a rough weekend at the Rotax Summer Shootout three weeks prior, Lamberth rebounded with a ninth place finish in the final of the Rotax Grand Nationals in Kershaw, South Carolina. His strong finish did not come easily though, as he was forced to overcome adversity and challenges against some of the top junior Rotax drivers from around the country.
Lamberth was thirteenth fastest in qualifying and started each of the three heat races from that position. In each of those three heat races, he got caught up in incidents that would send him to the rear of the field. Lamberth started the final in last place, shotgun on the grid and with only the chance to move forward. On the first lap, he drove through a tangled mess of karts, emerging to find himself in fourteenth place. After all was said and done, when the double checkered waved, Lamberth had driven his way into the top-ten and held onto to secure a ninth place finish.
"I wanted to finish in the top-ten since this was my first Nationals as a Junior Max driver, and I did that," Lamberth said. "I'm hoping to carry the momentum from this strong finish into my club races and attempt to take the championship there as a rookie, too."
In off track news, Lamberth has found a generous way to invest some of his winnings. He has signed a deal with his school, Southview Christian School in Statesville, North Carolina, to sponsor their athletic program. Joseph Lamberth Racing is now one of the primary sponsors of the program. Donations from the team will help with the cost of purchasing new equipment and uniforms for the sports teams at the school.
For more information on Joseph Lamberth and information on how to be part of his karting program, interested parties are asked to contact Brandy Lamberth via e-mail at blamberth1211@hotmail.com. To keep up-to-date with Joseph's 2014 racing season, please visit him at his Joseph Lamberth Racing Facebook Fan Page on Facebook or follow him on Twitter at @Jlamberth480.
Please follow and like us: