2015 4-Cycle Super Showdown Registration Open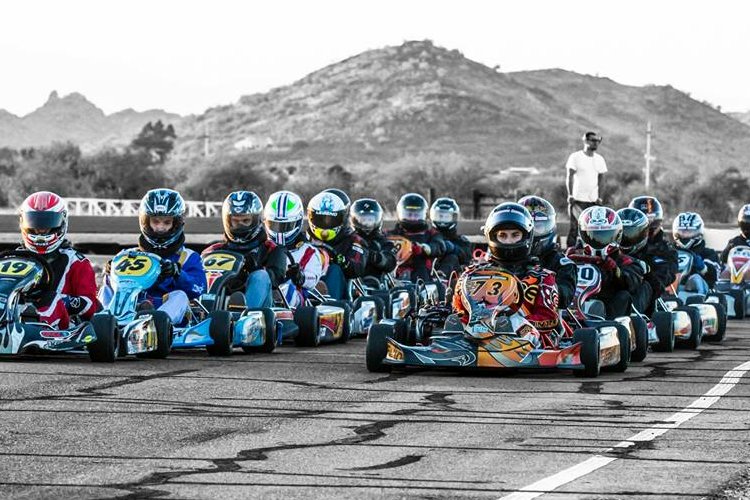 The 2015 4-Cycle Super Showdown Preregistration is currently open. Once again the Super Showdown is being held at the Phoenix Kart Racing Association's (PKRA) track located in Phoenix Arizona. The dates for this year's event are Thursday, October 22 Move in. Friday's practice on October 23, Gates will open by 7AM. Racing will be Saturday and Sunday, October 24 and 25.
Two of the changes that have been made to the race format has to do with the grid line up. For heat one the first 10 drivers to preregister for each class will be randomly place on the front 5 rows. All others will be placed behind them based on when they register. All other heats (from heat 2 on) will be lined up based on total accumulated points with the highest points on pole to the lowest points in the back. But then the front half of the lineup will be inverted. So if there are 20 entries, P1 becomes P10, P2 becomes P9, P3 to P8, P4 to P7, P5 to P6, P6 to P5, P7 to P4, P8 to P3, P9 to P2 and P10 gets Pole.
The last two years the whole field was inverted, except for the JR1 (LO206 Cadet) and Jr2 (WF Jr.) classes. With this new inversion program, all class will be inverted based on this year's program.
Showdown Racing, the promoter of the Super Showdown has opened the event to all IKF Briggs and Stratton classes. So far during the Early Preregistration period, that ended August 21, there has been entries in the World Formula Master class and the LO206 Jr.2 class that were not available the last two years. As well as entries in all the classes that ran in the past; World Formula Medium, World Formula Heavy, World Formula Jr2, LO206 Sr. and the LO206 Jr1 (Cadet).
For more information go to www.supershowdownracing.com
Email Showdownracing@cox.net