Rock Island GP Enjoying Surge of Interest
Pre-entries showing positive increase two weeks out from event
Over the past five years, the organizers of the Rock Island Grand Prix have been working different angles in an effort to breath new life into their legendary race, which celebrated its 20th anniversary in 2014. The Labor Day weekend street circuit event has always paired great racing with a festival atmosphere, which brings people back year after years to run in four-cycle, two-cycle and shifter competition, and recent adjustments to the class structure have helped fuel new growth. The Briggs & Stratton LO206 classes have provided the biggest surge of support in recent years, and this September's event promises to be no different. All four of the LO206 classes (Medium, Heavy 1, Heavy 2 and Masters) have topped the 20-driver mark, ensuring that we'll see some close four-cycle action all weekend. We all know that everyone wants to race against a big field, and we won't be surprised to see these classes push over the 30-entry mark by Labor Day weekend. We've been told that both the LO206 Heavy 1 and Medium classes are currently sitting at 26 entries, so less than a handful of new entries will reset the bar. If you're considered making the trip to Rock Island, get entered and let's push these classes over 30. The race for the coveted Rock trophy in these classes is going to be hard-fought. As of today, the pre-entries are already 20% up on last year's total entry number, which is an extremely positive sign.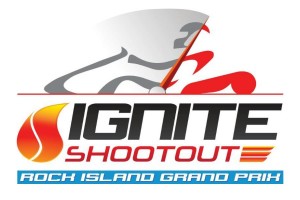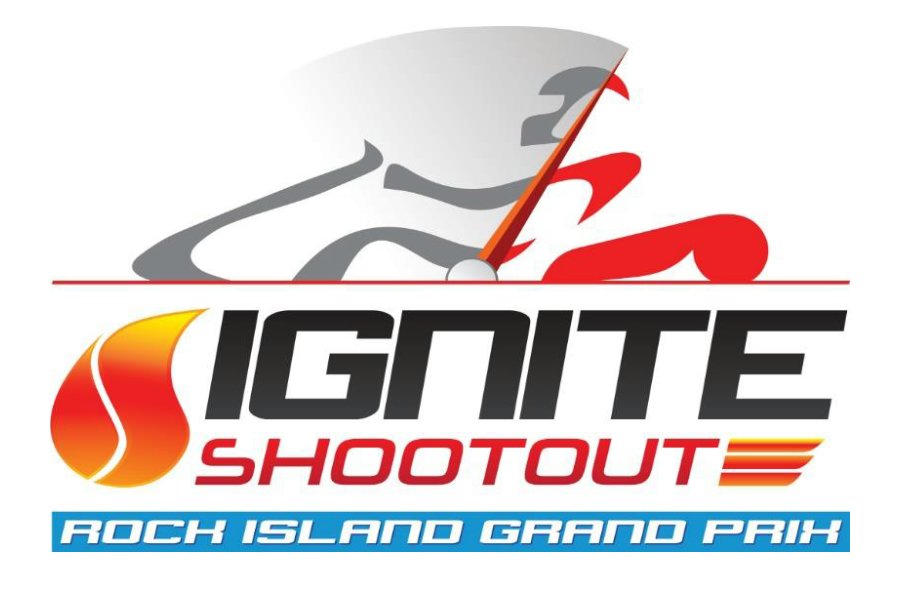 Margay Racing has been a huge supporter of the RIGP over the years and their new Ignite program will provide an exciting addition the 2015 race. The spec LO206 kart package is being run at the new Gateway Kartplex in St. Louis and is gaining popularity in a big way. For this year's RIGP, Margay is rolling out a new arrive-and-drive category that will provide everything that a racer needs to cross the Grand Prix off his or her bucket list, with minimal effort. For just $995, Margay will provide a brand new Ignite K3 chassis, paired with new Briggs LO206 and Bridgestone YDS tires to be run in the spec Ignite Shootout class. Catered lunches are being provided on Saturday and Sunday and Margay will have a team of mechanics in the paddock to support the drivers. You only need to pay for your entry to be part of action. EKN spoke with Margay's Keith Freber on Thursday, and he confirmed that they have 14 entries thus far, split between actual Ignite kart owners and Arrive-and-Drive racers. Freber confirmed that they have entries from as far away as Texas, Wisconsin and Georgia. EKN's own Rob Howden will competing in the class, as he will have an Ignite K3 with his name on it. If you'd like learn more about signing up for an Arrive-and-Drive package for this year's GP, check out the following link:
http://www.margay.com/shopmargay/Arrive-and-Drive/
One of the exciting adjustments for this year's Grand Prix is the format change, which will provide an entirely new experience for Saturday. The traditional timed qualifying session will be replaced with a 10-lap sprint heat race to set the grid for the main events on Sunday. The grid for this heat race will be set by a draw at registration, but the final main event line-up will take into consideration a driver's finishing position as well as how many karts he or she passed to post that result. So, in the end, you could win the heat race from the front row, but still not start on the pole in the main. It's definitely a new challenge to the program and will add race laps to the overall experience.
The focus of the prestigious King of the Streets race has been adjusted as well, and will be offered up to the Open Shifter category this year, instead of the Stock Honda class, which has been the headline for the past few years. This throw the prestigious crown into the pool of drivers using KZ, Mod Moto and Stock Honda powerplants. A total of 11 drivers have thrown their name in the hat for this race, and it appears as through we'll see a new King (or Queen) this year as none of the former winners have entered as of yet.
If you have yet to register for this year's Rock Island Grand Prix, you can do so through the following link:
https://rockislandgrandprix.com/registration.html
The nightlife in the downtown District will once again be part of the overall Rock Island experience as the popular Travoltas are back for the 18th year, playing on Saturday and Sunday nights! The entertainment organizers – RIBCO – have also added a new great act from Atlanta – Nashville Pussy – which will be playing on Friday night with some opening bands. As RIGP veterans know, what goes on off the track at Rock Island can be just as important as what happens on-track. The restaurants and bars are primed and ready to welcome back the racers and the teams for this year's Grand Prix week.
eKartingNews.com will be trackside once again, providing live streaming play-by-play on the EKN Live page. Broadcast sponsorships are still available. EKN's Rob Howden and David Cole will be covering the race from start-to-finish with race previews, immediate results reporting on Facebook and Twitter, and daily reports detailing the on-track action. It all gets started on Saturday, September 4.
Please follow and like us: