Connor Takes Lights Class Points at Auckland Rotax Round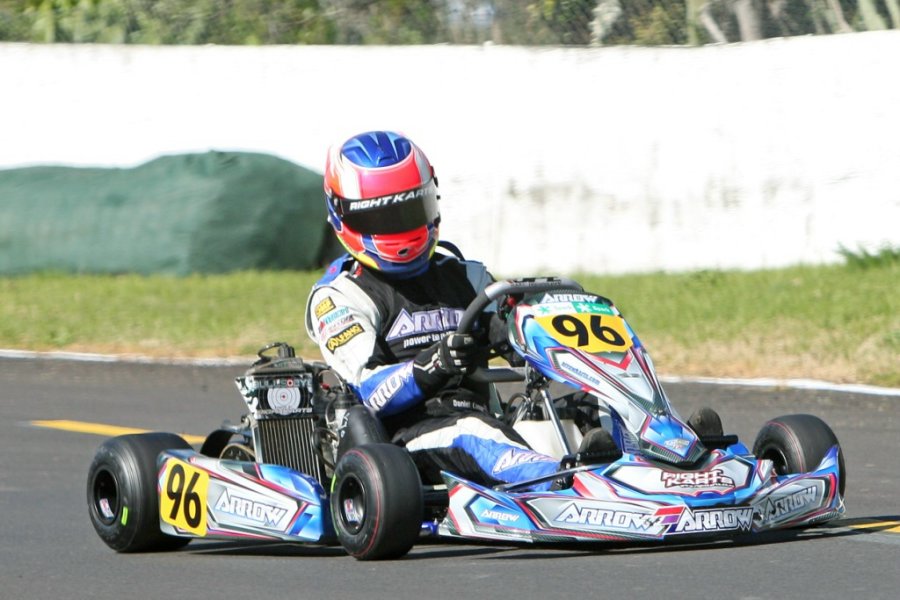 Daniel Connor (#96) took the series' points lead in 125cc Rotax Max Light at Auckland on Sunday (Photo: Fast Company/Graham Hughes)
Comeback kid Daniel Connor has taken the points lead in the 125cc Rotax Max Light class after a edge-of-the-seat Final at the penultimate round of this year's Logitech New Zealand Rotax Max Challenge series in Auckland over the weekend.
Connor, from Muriwai on the city's west coast, has been playing catch-up since a battery issue at the first series round at Rotorua in late January. And though he was beaten to the finish line in the Final at the Kartsport Auckland club's Strata Networks Raceway on Sunday – by long-time series rival and former class winner Mathew Kinsman – he scored enough points to finally wrest the series' lead off Palmerston North international Josh Hart, who finished the Lights class Final fifth.
Connor and Mathew Kinsman were the class of the Lights field over a weekend of mixed weather and fortunes, Connor qualifying on pole and winning the opening heat and Pre-Final and Kinsman winning the second (heat) and Final, the latter from Connor and Schofield with Hart sandwiched between Hamilton drivers Campbell Joyes and Rhys Tinney in fifth.
Consolation for Hart came in the other class he has been contesting at recent Rotax Challenge rounds, DD2, winning the Final and with it the round.
The former international driver and engineer pipped series class points leader Daniel Bray for pole in qualifying on Saturday before swapping heat wins with Bray, finishing fourth in the Pre-Final then winning the Final from Auckland ace Mason Armstrong and fellow class young gun Jonathan Buxeda from Tuakau.
There was a new round winner, meanwhile, in the Junior Max class with young Pukekohe driver Matthew Payne qualifying quickest and winning the first heat, Pre-Final and Final, the latter from defending class title holder and New Zealand representative, Dylan Drysdale from Palmerston North.
With an impressive series points lead already, Drysdale had nothing to prove, but with the win, 12-year-old Payne marked a unique double.
Having already won his class (Junior Trophy) at rounds of this year's Rotax Pro Tour in Australia this year, he is now one of, if not the first, New Zealand driver to win his class at rounds of both the Australian and New Zealand Challenges in the same calendar year.
He also elevated himself from fourth to second in the series' points in the Junior Rotax class with one round to go.
Like Dylan Drysdale, defending DD2 Masters class title-holder Ryan Urban already has one hand on the 2015 class trophy after another Final win at Auckland on Sunday.
He didn't have it his own way on Saturday, or even Sunday morning, however, with both Christchruch's Tiffany Chittenden and Auckland's Stuart Marshall pipping him for pole in qualifying and Marshall winning the second heat and Pre-Final.
But when a shower swept across the track early in the Final, Urban used all his considerable skills to continue at pace on slick tyres, putting a lap on everyone else before the chequered flag finally came out.
Class winner at Tokoroa, Australian driver Scott Howard struggled with a down-on-power engine on Saturday but came good on Sunday after an engine change with sixth place finishes in both the Pre-Final and Final.
This year's Logitech New Zealand Rotax Max Challenge Series is again twinned with the KZ2-based ProKart Series, with over 100 karters from as far afield as Dunedin and Whangarei making the trip to KartSport Auckland's track on the Rosebank Domain in the city's near west for the weekend meeting.
KartSport Hamilton hosts the final rounds of both series next month.
2015 New Zealand Rotax Max Challenge
125cc Rotax Max Light
Final
Mathew Kinsman 14:15.581; 2. Daniel Connor +00.111; 3. Andy Schofield +04.873; 4. Campbell Joyes +09.746; 5. Josh Hart +10.064; 6. Rhys Tinney +10.841
Points after Rnd 5 of 6
Daniel Connor 425 points; 2. Josh Hart 421; 3. Andy Schofield 417; 4. Mathew Kinsman 399; 5. Caleb Huston 385; 6. Rhys    Tinney 379
DD2
Final
Josh Hart 16:58.646; 2. Mason Armstrong 19.350; 3. Jonathan Buxeda 25.590; 4. Bradley Hicks 31.770; 5. James Blair 43.014; 6. Daniel Kinsman +46.654
Points after Rnd 5 of 6
Daniel Bray 416 points; 2. Daniel Kinsman 413; 3. Jonathan Buxeda 411; 4. Mason Armstrong 396; 5. Bradley Hicks 392; 6. James Blair 388
DD2 Masters
Final
Ryan Urban 17:08.991; 2. Callum Orr +1 lap; 3. Brendon Gridley +1 lap; 4. Stuart Marshall +1 lap; 5. Tiffany Chittenden +1 lap; 6. Scott Howard  +1 lap
Points after Rnd 5 of 6
Ryan Urban 453 points; 2. Niki Urwin 393; 3. Tiffany Chittenden 393; 4. Aarron Cunningham 391; 5. Callum Orr 376; 6. Brendon Gridley 368
Junior Max
Final
Matthew Payne 14:39.026; 2. Dylan Drysdale +00.113; 3. Jacob Cranston +02.615; 4. Reece Hendl-Cox +07.637; 5. Kaleb Ngatoa +07.901; 6. Jaden Ransley +08.449
Points after Rnd 5 of 6
Dylan Drysdale 448 points; 2. Matthew Payne 407; 3. Jacob Cranston 404; 4. Reece Hendl-Cox 386; 5.Kaleb Ngatoa 382; 6. Madeline Stewart 364.