Race Report: 2015 Cold Stone United States Rotax Max Challenge Grand Nationals
Seven New National Champions Crowned at Rotax US Grand Nationals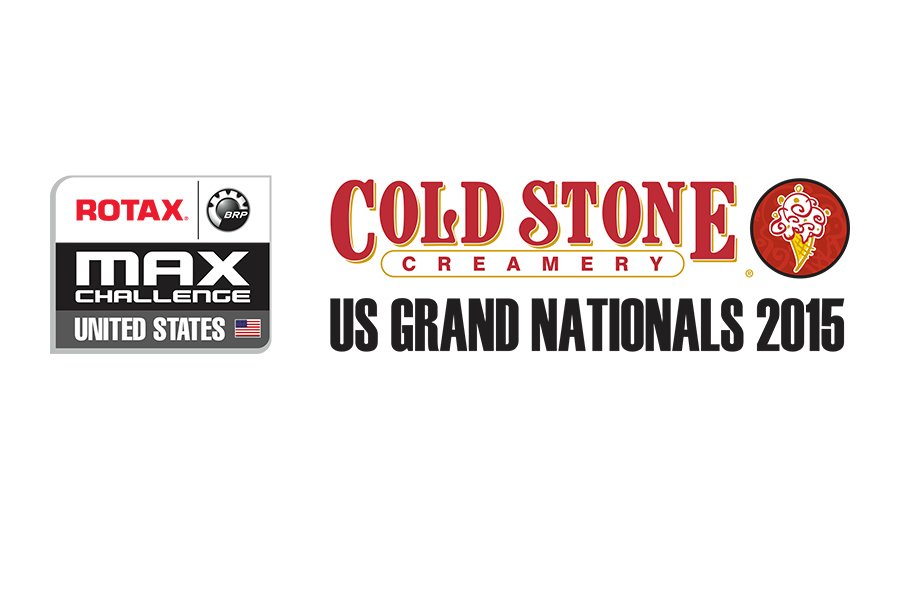 For the first time in its fifteen-year history, the United States Rotax MAX Challenge Grand Nationals presented by Chase/Brash Racing visited Carolina Motorsports Park as it welcomed the best Rotax drivers in the United States. On top of crowning seven new National Champions, five tickets to join Team USA at the Rotax MAX Challenge Grand Finals in Portugal this November would also be delivered. Outside of some minimal showers on Friday, the weather was flawless as 124 of the top Rotax drivers in the country were asked for everything they had on the .7-mile, 16-turn circuit.
If the Rotax Summer Shootout just weeks ago were any indication of what was to come for Kyle Kirkwood (OGP / Tony Kart), he would be extremely tough to beat. That precursor was right on point, as Kirkwood cruised through qualifying and heat racing alone at the front in Rolison Performance Group Senior MAX.
His first conflict of any kind came in the opening corner of Sunday's 15-lap prefinal. Kirkwood's closest competitor, Oliver Askew (PSL Karting / BirelART), wanted to put the pressure on the OGP driver right away, pinching him down to the inside. Perhaps it was a bit too aggressive from the BirelART Rotax frontman, causing quite the mess into turn one. The entire top four, including two of Kirkwood's teammates – Ryan Norberg and Austin Garrison – went spinning, with Askew paying the ultimate price with a snapped right tie rod and a DNF. The three OGP drivers fell to the back of the field, but continued on. Kirkwood would climb all the way back to seventh, setting fastest lap, followed by Norberg in 12th and Garrison in 16th.
Jake Craig (Formula K) took full advantage of the prefinal scuffle, earning the privilege of leading the 29-kart field to the green flag to start the 22-lap feature. With Craig having used his new tires in the prefinal, it was Matt Solarczyk (FA Kart) who had the upper hand early. Solarczyk led for three and a half laps until Kirkwood entered the scene. Lapping three to four tenths of a second faster than everyone, Kirkwood, already a Team USA member, got into the lead and took off into the distance. It then became a race within a race for Solarczyk and Craig, who would now be racing for the Rotax MAX Challenge Grand Finals ticket. Craig could not best Solarczyk's lap times enough to catch the Northeast driver by lap 22. Solarczyk crossed the line four tenths ahead of Craig, pumping his fist with emotion knowing he had just earned the Team USA invite. Craig would finish off the podium in third, followed far behind by Luke Selliken (RPG / Tony Kart) and Ryan Norberg (OGP / Tony Kart). Askew picked up 21 positions to finish eighth.
Much like Kirkwood, Anthony Gangi Jr. (GT7 Motorsports / Tony Kart) came in with high expectations in Grand Junction Motor Speedway Junior MAX from his Summer Shootout showing. Besting all 28 drivers in qualifying, Gangi went on to win his three heat races as well. That was until he would be docked ten seconds in heat three for contact with Nick Brueckner (Orsolon Racing / Tony Kart). With that penalty, Gangi would start third for Sunday's prefinal, behind Mathias Ramirez (OGP / Tony Kart) and David Malukas (COMPKART).
In the opening corner of the prefinal, Malukas and Gangi got tangled up, resulting in a spinning Malukas who dropped to the tail of the field, finishing 27th. Ramirez went on to win the prefinal over Gangi and Brueckner. Aiden Keel (Andersen Racing / BirelART) and Sting Ray Robb (OGP / Tony Kart) finalized the top-five.
The first half of the 22-lap Junior Max final was a thrill to witness. Ramirez, Gangi, Brueckner, Keel, Robb, Michael d'Orlando (Koene USA / Tony Kart) all had their eye on the prize, overtaking one another each lap. On lap five, Robb, after passing 59 karts in the heat races due to a mishap in qualifying, finally made his way into the lead for the first time on the weekend. Into turn one on lap seven, Gangi dove to the inside, taking the top position. Robb immediately threw it back underneath in turn three to take the lead back, while Gangi being caught off guard fell back to third. The exact same scenario played out again on lap ten, as Gangi took the lead back but was overtaken by Robb two corners later. Except this time, Robb had made contact with Gangi in order to make the pass. Two laps later, Robb had realized his mistake and moved over for Gangi to avoid any post race penalties for his contact. After Gangi assumed the lead, there was no catching the young New Yorker, as he cruised to his third Rotax National Championship and first Team USA invite.
Robb came home in second after a last lap pass on Ramirez, followed by Darren Keane (Tony Kart) and David Malukas, who started 27th, in fourth and fifth. Ramirez would later be disqualified in post race tech, bumping Michael McCarthy into the top-five.
One of only two drivers to sweep the entire weekend was Nicholas d'Orlando (Koene USA / Tony Kart) in Mojo Tires Mini MAX. This being his final race in the Mini Max category before he moves to Junior' next year, d'Orlando wanted to go out on top as National Champion like his brother Michael did two years prior. Starting with qualifying on Friday, d'Orlando claimed the pole on his final lap by .096 over Tyler Gonzalez (OGP / Tony Kart). The young Hartsdale, New York resident was untouchable in the three heats, leading every lap on Saturday.
Competition for the three-year Koene USA driver picked up on Sunday when Arias Duekmedjian (Kosmic) stayed right on the heels of d'Orlando in the 12-lap prefinal. On the final lap, the fuel pulse line had come undone on Duekmedjian's engine, ending his race with only a handful of corners left, sending him back 20 positions. As the only driver who could match d'Orlando's pace now starting in 22nd position for the final, d'Orlando was all clear in the final, pulling away to a four second win. Duekmedjian had made it all the way into second position in the closing laps to take the runner-up spot, followed by Jak Crawford (Tony Kart), Payton Durrant (Koene USA / Tony Kart), and Dillon Defonce (FA Kart). The major incident of the weekend came in the final corner as Gonzalez and Dylan Gennaro (OGP / Tony Kart) were fighting for third when they made contact and Gennaro went over. Neither driver was able to finish, but they were both checked out and walked away from the incident.
Scoring a perfect record on Saturday, Diego LaRoque (Benik Kart) held a familiar position in AM Engines Micro MAX heading into the 12-lap prefinal on Sunday – on pole. With two laps to go in the prefinal, LaRoque and Ugo Ugochukwu (Koene USA / Benik Kart) got together, sending both down the order to finish fourth and fifth. Ashton Torgerson, (Benik Kart), Tyler Maxson (Benik Kart), and Jak Crawford (Energy) each jumped up two positions to the top-three.
Early in the 16-lap feature, Crawford, LaRoque, and Torgerson formed the top-three and they fought between each other throughout. Ugochukwu had run into technical problems in post-race inspection in the prefinal, which slotted him into 19th position at the start. The Koene USA Micro MAX star had climbed 14 positions in ten laps and had his eyes set on a podium with just six to go. LaRoque made his move to the top with two to go, putting the ball in Crawford's court for the final lap. In the turn five-six complex, Crawford capitalized on the opportunity, getting inside LaRoque and into the spotlight for the final half-lap. LaRoque had lost momentum at this point with his defensive driving, getting bumped back into third and then into fourth when Ugochukwu got by. Crawford picked up the National Championship, followed by Torgerson and Ugochukwu. LaRoque came home in fourth ahead of Branyon Tiner (Tony Kart).
The other driver that swept the weekend was Florida's Scott Roberts (OGP / Tony Kart)  in Crosslink Powder Coating Masters MAX. Never truly contested, Roberts cruised to victory in all three heat races, the prefinal, and final. Previous Team USA member Bobby Greene (FA Kart) came up one position short of joining the squad once again, finishing second. Pete Fritsche finished the podium in third, followed by the Northeast COMPKART duo of John Bonanno and Sal Sparacio.
Nathan Adds (DKC / Sodi Kart) got better and better as the weekend progressed in Dallas Karting Complex DD2 MAX. Sabre Cook (PSL Karting / BirelART) had swept the heats, but had more and more pressure by heat three from Adds and her teammate Nathan Mauel (PSL Karting / BirelART). The field finally caught up with Cook on Sunday as she essentially tested the BirelART chassis ahead of the Grand Finals this November.
Adds had taken the lead early in the prefinal and that led a train of karts past Cook. During the shuffle, Harry Gottsacker (Champion Racing / Intrepid) and Cook made contact on lap three and sent both off track with stalled engines. In the final it was all about Adds as he led wire to wire to take an enormous win by five seconds. It'll be the Texan's first trip to the Grand Finals. Cook and Mauel finalized the podium.
Dallas Karting Complex DD2 MAX Masters was the only class with contrasting results in the heat races. PSL Karting's Richard Heistand and Luis Zervigon won heats one and three respectively, while Luis Schiavo (Goodwood Kartways / Intrepid) won the middle heat. Schiavo came to play on Sunday, beating his competition by twenty and seven seconds respectively in the prefinal and final. After coming up short in the Florida Winter Tour and US Open series, Schiavo has finally picked up that Grand Finals ticket he's had his eye on all year. Zervigon and Heistand came home in second and third.
Now that United States' biggest Rotax competition wraps up, MAXSpeed Entertainment turns their attention to the finale of their new US Open series in Las Vegas, Nevada. Halloween week will turn the Rio All-Suite Hotel and Casino into a karting spectacle when top Rotax and Shifter pilots invade the parking lot of one of Sin City's nicest establishments. Registration for this cornerstone event begins August 17 at www.MAXSpeedEntertainment.com