Driver News: Michael D'Orlando – Rotax Grand Nationals Report
No lucky breaks for talented driver in Keshaw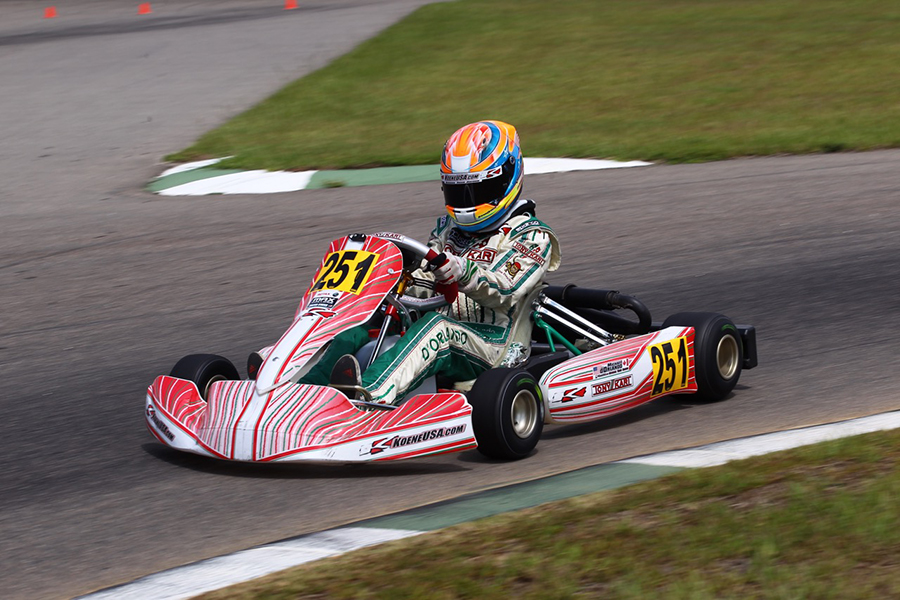 Michael D'Orlando did not get any breaks in his fight for the Junior Max title in Kershaw, SC
(Photo Courtesy of D'Orlando Racing)
TROUTMAN, NC (August 12th, 2015) Despite a frustrating weekend at the US Grand Nationals for Michael d'Orlando, the 13-year-old rookie showed he has the heart of a true champion as he fought back from constant adversity all race weekend long, and proved exactly why he is one of the top rookies in the Junior ranks. Until an unfortunate incident in the final, Michael was the top performing rookie in the stout field of thirty-one drivers.
Michael's weekend kicked off with a solid ninth place qualifying effort on Friday, but Saturday's Heat races were challenged. Overcoming contact in two out of the three Heat races and coming from the back of the pack, Michael fought his way to 8th, 16th, and 14th place finishes, putting him in the 10th starting spot for Sundays pre-final.
"Saturday started out well with an eighth place finish in Heat one," said Michael. "I just could not get a lucky break after that. Its frustrating but its just how things can go in racing sometimes. I did all I could to battle back and get the best finishes I could so we could have a decent starting spot for Sundays pre-final and final."
Michael headed into Sunday looking for some good fortune to turn his way. Things would look up in the pre-final as he turned his 10th place starting position into a strong 7th place finish. He would line up for the final inside row four in the 7th position and had a great start working his way up to 4th by turn three. As the first couple laps unfolded Michael continued to move forward reaching as far as third, however would lose a couple positions to fifth where he settled in readying for a late race charge. He would drive the wheels off his No.251 KoeneUSA Tony/Kart and had his eyes on a possible podium finish when another stroke of bad luck would cause Michael's day to end early. Contact from another driver would deem his kart undriveable, forcing Michael to retire and his hopes for a possible podium finish shattered, and ultimately classifying him as finishing 27th.
"Sunday was looking up," said Michael. "I had a good kart we had a good solid pre-final. I had a good starting position for the final. I was driving my race and I could not believe it happened again that another driver just comes in and hit me, taking me out. It is just very frustrating and it makes you mad that your day is ruined by someone else. I think I could have come away with a podium finish. All I can do is just continue to gain experience and keep plugging away and the wins and podiums will start coming more frequent. Despite the bad luck we had this weekend, I feel we've been making great progress. I just want to say I am just so proud of my brother, Nicholas, of winning the US Grand National title in Mini Max. I am proud to say we have both won that title."
DRC would like to give special thanks to their team at KoeneUSA (www.teamkoeneusa.com), including team owners/coaches Mike Maurini & Martijn Koene, Michael's mechanic Jesse Dunham and DRC's Adam Johnson for their continued hard work, support and dedication. DRC would also like to extend thanks to MaxSpeed Entertainment, with the support of all the event sponsors, for putting on such as great event. Finally, thanks to the support of their sponsors at adidas Motorsport (www.adidasmotorsport.com), Kool Nerd Clothing (www.koolnerdclothing.com), Focused Project Management (www.focusedpm.net) and Iona Preparatory School (www.ionaprep.org).
Please follow and like us: