Club News: NOLA Sprint Kart Championship – Race #8 Preview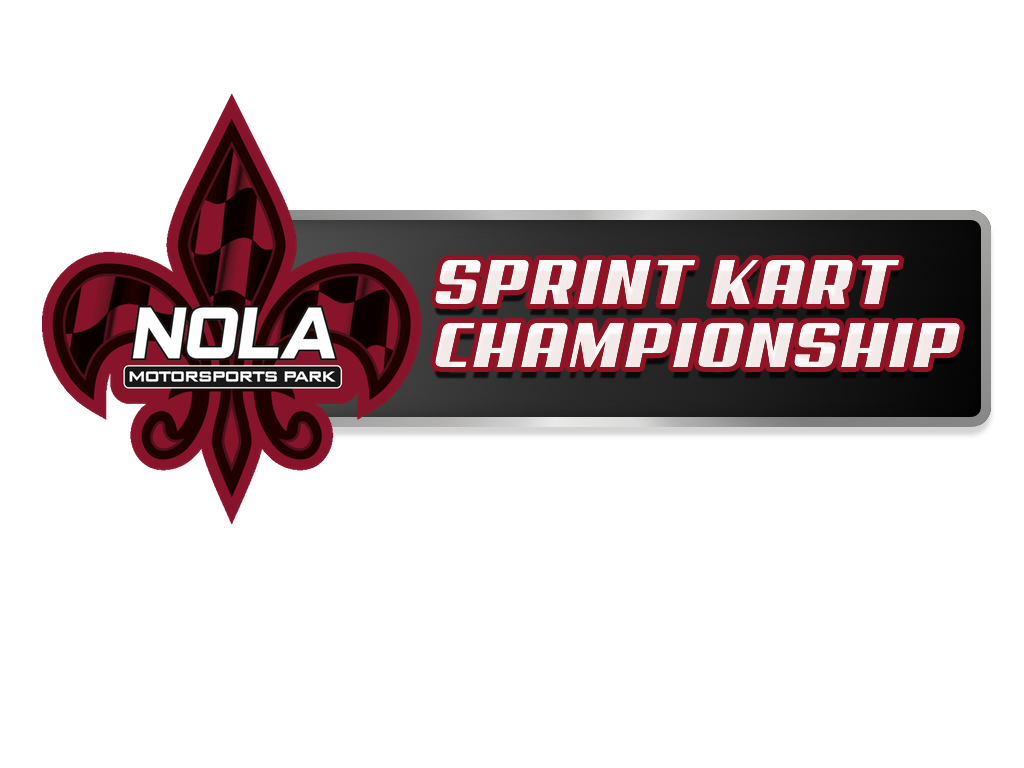 As the NOLA Sprint Kart Championship goes into Race #8 of its 12 race series, the championship is anybody's to win in 4 of the 14 classes. The closest points battle with the best racing at this point is Rotax Micro Max with only 2 point separating current leader Jesse Mitchell (CRG) over Cole Killian (CRG), both have an equal amount of wins on the season thus far. Noah Jourdan-Carollo (CRG) and Peyton McDonough (CRG) have a shot at the title but will have to work hard to decrease the 180 point deficit.
The restricted Briggs & Stratton LO206 powered class of Junior 1 have a tight points battle that can last well till seasons end. Sophomore racer Ayden Guilbeau (Coyote) leads that standings but just barley ahead of Macon Moore (Iconic Edge, -10) and Max Meyer (CRG, -92). Macon has shown the pace this year but lacks consistency that Guilbeau and Meyer have shown most of the season.
The other class this year that has produced the best racing with the greatest amount of competition this year has been Rotax Junior Max. Current reigning champion Logan McDonough (TonyKart) holds a 16 advantage over Bryce Boada (Kosmic), these two thus far have been the class of the field but Tyler Bruno (CRG) is not far behind and is just a breakthrough win away from being propelled back into the title fight. Don't count out Devin Melancon (CompKart) and Jeremy Crowell (CRG), while being borderline out of the championship running, both have scored podiums this year and can easily get a race win before seasons end.
Rotax DD2 Max has the most involved in a title fight with 5 drivers less than 170 points apart. Class favorite Luis Zervigon (CRG) has dropped to 4th giving the advantage back to reigning champ Chad Clark Jr. (CRG) followed by David Grant (CRG) and Al Hassenboehler (CRG), with his win in race #7, Joseph Hidalgo (CRG) has propelled him self back into the title fight as well. Still plenty of racing left in this class but look for many shake ups though out the class as the season winds down.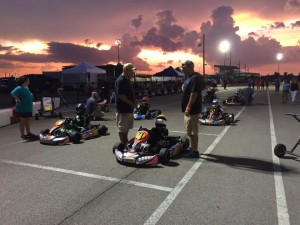 The remaining classes still have 5 races to contest, but time is running out if anybody wants to get a chance at an NSKC title. Micheal Causey (Coyote) leads Junior 2 by a comfortable margin over Seth Corbin (Margay) and looks good for his second title in a row. Greg Lacoste Jr. (Margay) continued his dominance in Senior 4-cycle winning race #7 in convincing fashion, Scott Griffin (Razor), Peter Tufaro (Margay) and Anthony Harwin (K&K) still have an outside chance though. Everett Thomas (CompKart) lost a bit of his lead in Rotax Senior Max to 2nd place in the points and race #7 winner Zach Rouse (Energy), but Thomas still holds about a 1 race lead going into race #8. Jacob Crowell (Sodi), Blane Cavin (Sodi) and Sebastian Guerra-Mondragon (TonyKart) still have time to make up the 500 plus point deficit, but not much. Shifter Open still has a potential title fight, Dallas Lassalle (CRG) made good on Stephen Lamana's (CRG) absence, stretching out a 125 point lead.
Honorable mention to the next few drivers, baring anything unexpected, these few can potentially lock up the championship in their respective classes before the season finale doubleheader in November. Rotax Masters Max racer James Dix (Birel) and Shifter Junior-S5 competitor Tyler Bruno (Energy) are shoe ins for the title. Anthony Harwin (CRG) in Shifter Masters-S4 and Todd Meyer (CRG) in Rotax DD2 Masters hold comfortable leads of 500 or more points over second place, but need consistant finishes to lock up the titles early.
Race #8 of the NSKC will be held under the lights on the .60 mile Track G on Saturday, August 15th. This will be the last night race of the season and one of the more technical layouts on the calendar. This layout made its debut for the NSKC in June of 2013 and has been a regular ever since, the short layout runs counter clockwise and offers multiple passing zones in its 9 corners. Spots to watch will be two increasing radius hairpins of turns 3 and 5 and the final turn 9 that uses the widest part of the NOLA Kart track.
About NOLA Motorsports Park and the NSKC, located less than 20 minutes west of New Orleans, NOLA Motorsports Park is a world class facility that has hosted two international karting events, the 2013 Rotax Pan American and Rotax Grand Finals, is the largest and most versatile karting facility in North America capable of running 80+ configurations and up to three configurations at the same time. The NOLA Sprint Kart Championship will hold 12 races over 10 months with the majority being single day events with two doubleheader weekends and two Saturday night races. Focusing on affordability and competitiveness, the NSKC's kart classes are based on the national rulesets for Briggs & Stratton's Local Option 206, the United States Rotax Max Challenge and Superkarts USA's Stock Honda Shifter Category, helping to ensure that experienced and novice karters can all have a level playing field to compete in. Albeit a local or sometimes referred to as a "club" series, the NSKC often draws over 60+ racers, rivaling that of some larger regional events, not only from the state of Louisiana, but Texas, Mississippi, Alabama and Tennessee. For more info on the NSKC and NOLA Motorsports Park, visit our website at www.nolamotor.com or send an email to karting@nolamotor.com