Top Kart USA Continues Winning Ways
Two wins, six podiums in round three of USPKS competition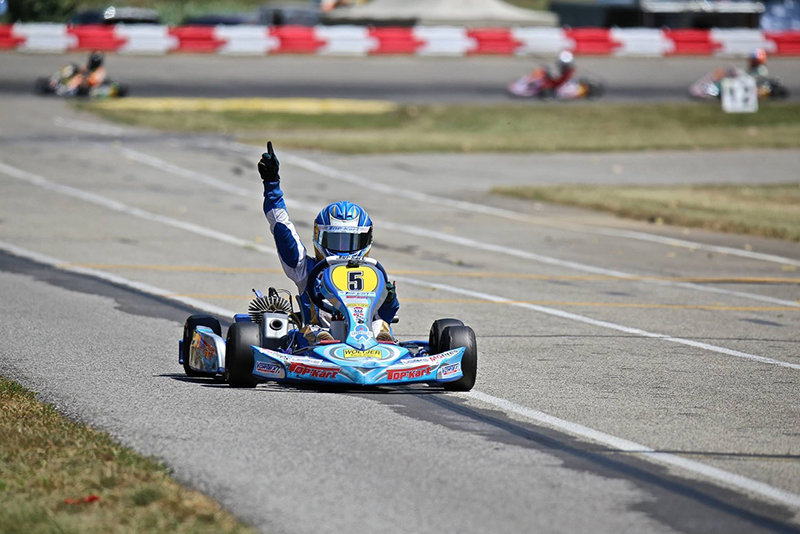 Jason Welage provides another win for Top Kart USA (Photo: Energy Racing - Kathy Churchill)
Top Kart USA didn't allow three straight weeks of travel and competition to get the best of them last weekend in South Bend for the third round of the United States Pro Kart Series (USPKS). The blue and white team brought home two wins and six podium finishes at round three of USPKS competition, held July 31-August 2 at Michiana Raceway Park in Northern Indiana.
"It has been a very long stretch, three race weeks straight, and preparation is a huge key to our success," said Blake Deister, co-owner of Top Kart USA. "Our hardworking, dedicated, and knowledgeable staff at Top Kart USA make sure that our customers have the support to bring their equipment to the podium. This is the greatest part of what we do, getting to enjoy families working with us to achieve a common goal: winning!"
In Yamaha Pro, championship leader Dakota Pesek continued his impressive season, qualifying first for Saturday's final, where he finished second. Pesek took the third step on the podium in Sunday's final.
In Mini Rok, Jason Welage came from fifth on the grid to take the top step of the podium on Sunday, after finishing fourth in Saturday's final. Teammate Kaden Wharff finished tenth on Saturday, and though he showed consistent speed all weekend, was unable to finish Sunday's final.
In Yamaha Cadet, Welage took the weekend's second victory for Top Kart USA, winning Sunday's final after finishing second on Saturday. Teammate Emil Schultz had a frustrating weekend. Despite lots of hard work, he finished 16th on Saturday and exited the race prematurely on Sunday.
In Yamaha Rookie, Owen Mahle earned two top-ten finishes over the course of the weekend, showing improvement every day. He finished eighth on Saturday and fifth on Sunday.
In Yamaha Junior, Collin Campbell returned to karting competition after a three year absence. He finished fifth on Saturday and second on Sunday. After a frustrating Sunday, JP Southern Jr. rallied to finish eighth on Sunday. Teammates Ariana Gnad, Austin Schultz, Dalton Peak and Jason Abel each scored at least one top-18 finish.
"It has been more than three years since my last real karting event, as I have a busy competitive shooting schedule," said Campbell. "Having a break, I wanted to get back into the saddle for a race to come have some fun. Top Kart USA provided me with a phenomenal chassis, along with Daniel Woltjer giving me rocket ship horsepower. I was given fellow competitor Zach Holden's recently vacated chassis and was able to run up front all weekend with the head guys in the class with much more seat time."
In Leopard Pro, Garrett Johnston led the Top Kart chassis in the field, finishing eighth on Saturday and third on Sunday. Jonathan Kotyk finished 14th in Saturday's final but did not start on Sunday.
Leopard Junior proved to be the most frustrating class of the weekend. Despite showing consistent speed all weekend, Myles Rowe, Top Kart's only competitor in the class, did not finish either race.
"Running against some of the toughest competition in the sport of karting at the USPKS event, we were prepared to race our hardest and determined to show our best results on track," said Bill McLaughlin Jr., co-owner of Top Kart USA. "In very hot and sticky conditions like those last weekend, we have proven time and time again that we can be at the head of the field in each class."
About Top Kart USA – Top Kart USA is located in Indianapolis, Indiana and is a distributor for the Top Kart product line. Housing a national level race team and competing in the World Karting Association and SuperKarts! USA programs as well as throughout the regional level in the Midwest, Top Kart USA is continuing to evolve and develop Top Kart dealerships throughout the United States. Supported by Top Kart importer Grand Products, Top Kart USA is owned and operated by McLaughlin Motorsports.