Morning Coffee – Friday, August 7
Rebuilding the Karting Pyramid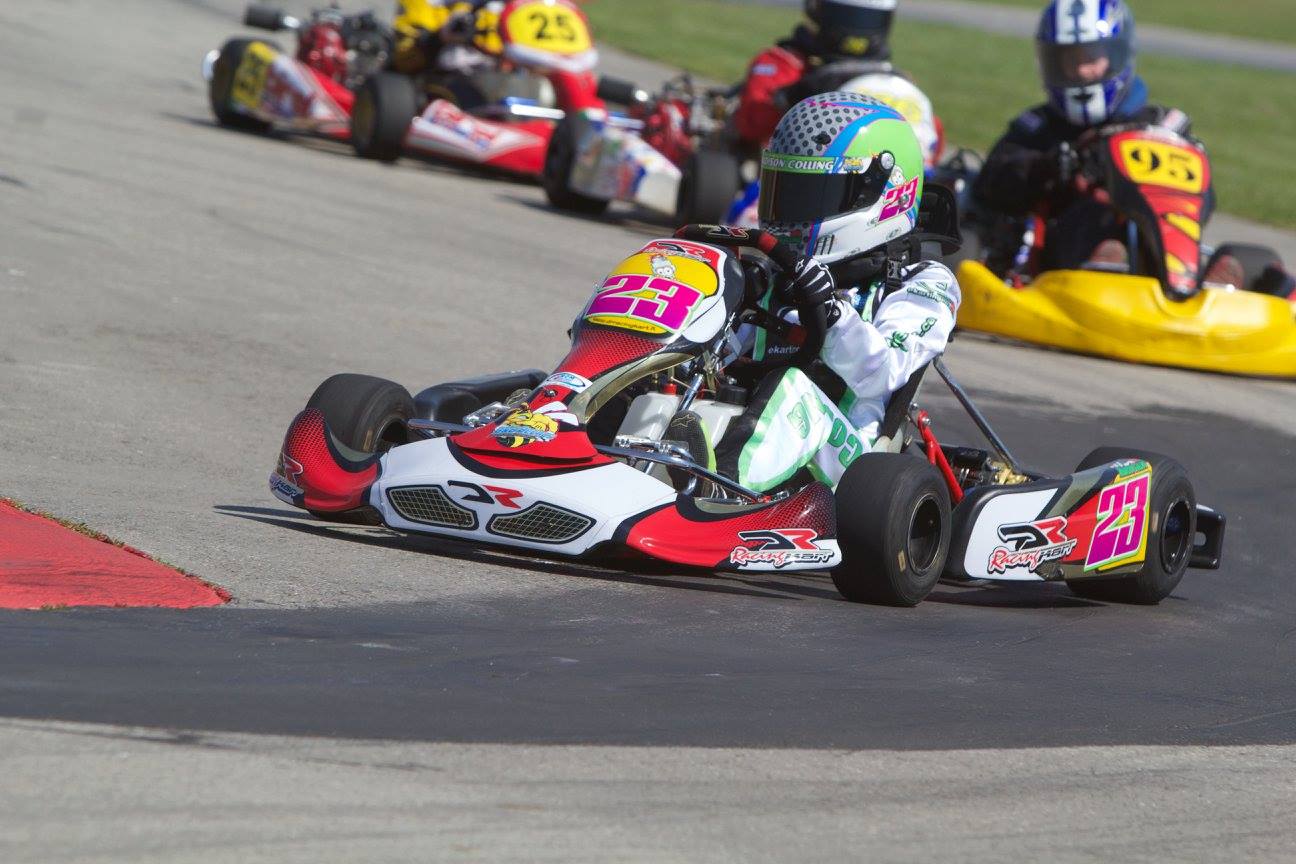 Four-cycle club racing is one of the core components of karting's foundation
(Photo: Debbie-Jo Zardo)
In the many discussions that I've had with racers and members of the karting industry in recent years, I often hear the statement that 'karting is broken' or that 'it's all upside down'. Your personal view likely depends on where you find yourself within the different levels of karting, but from someone who regularly connects closely with all three platforms – club, regional and national racing – I can certainly agree that we have issues that should be addressed as soon as possible. That said, I am very optimistic these days, thanks to the numerous shining lights in our current landscape, and I see a positive shift in play. Yet even with some exciting high points and the continuing development of important programs, the term 'upside down' is very certainly the case, as I believe that karting's very platform is improperly weighted in terms of support, attention and coverage. Really, it comes down to a simple understanding of the 'pyramid of participation', which will help the industry and the community develop stability in our sport.
As it stands, a vast majority of the karting's industry players are focused primarily on an extremely small percentage of the community. The national level of the sport is supported by massive dedication from the major organizations, importers and shops, and this focus produces tremendous events, high quality racing, a professional show and lots of revenue. That said, it's also focused on around only 600 total competitors. If you stand back and survey the sport on the whole, I think we can take an educated guess and say that we have approximately 10,000 sprint karters in the United States, although that number may be a little generous. But if we use that base number, then the 600 or so 'national' racers that are the current focus of the major organizations and teams equates to about 6% of the sprint karting community. This statement of fact sounds a little off, doesn't it? But sadly, it's not. In the end, I estimate that 75% of our effort is focused on 6% of our community. There is a very real imbalance. And, yes, I know full well that we at EKN have been as guilty as anyone in over-focusing on national competition. That said, I think it's clear to see with our increased focused on grassroots racing that we're looking in the mirror and taking our own steps to help regain the balance that karting needs.

While it may sound simple and straight-forward, like everyone should easily understand and implement it, here's how I believe karting (and any other sport for that matter) should be structured and supported to provide entry level enjoyment, the opportunity to develop and, finally, an ultimate platform for the best in talent and technology.
It is my belief that karting should be looked at as a pyramid. The foundation of this pyramid is club level racing. Club karting should be the biggest community in the sport with the most racers and it should attract a great deal of attention and support from the industry. This is where drivers should start when getting into karting, racing with their local clubs. Kart clubs are where racecraft is learned and honed, expensive mistakes can be made when they're not so expensive, and where the focus is on fun, family and having a pure motorsports experience. Club karting is the backbone of our sport, and it should be providing a stable foundation for everything else. If club racing is strong, the rest of the pyramid wouldn't be quite so important or crucial to the industry's bottom line.
The step up from club karting is regional racing. In my opinion, a regional series should be promoting the classes and technical specs that are run in that particular region, at the local clubs, from which the regional series should expect to pull entries. Regional racing should be where all of the top drivers from the local club programs come together looking for an increased challenge and better competition. If you have five clubs in a region, and the top-five from each club go looking for increased competition within a doable weekend road trip, then you have a strong 25-kart per class regional program. Ideally, a regional series' events short be run at all the club tracks in the region, and maybe one add-on destination track within suitable driving distance. Travel expenses must be taken into consideration. Regional programs should not stand alone with unique classes and their dates should definitely not conflict with the local club events. These need to be symbiotic programs that provide strength, stability and driver development within the region.
This is where we have a little trouble right now, because mistakes are being made on both sides of the club and regional line and these errors are not supporting the strength and growth of the pyramid. For one, clubs that run more than 10 events are prohibiting their top drivers from challenging themselves against tougher competition. And if they're scheduling events that conflict with the regional series in their area, or vice-versa, and are not offering a couple of drops, they're doing the sport a disservice. I've talked to countless racers, and a majority of them have told me that they want to run between 10-14 races a year. If a club sets its schedule at 10 events, first and second-year drivers, or those who simply want to keep travel to a minimum, can run all of their club races and race twice a month if you look at a standard karting season for a program not based in Florida or California. If the club schedule is over 12 races, they're forcing their drivers to choose between the club and regional championships, and this is counter-productive. For those drivers who also want to run regionally for more competition, running a four or five-race regional series and eight of their club's 10 races hits that middle mark of 12 races as well. The pyramid needs to be designed to allow for upward participation for those looking for increased competition and skill requirements.

On the side of the regional series, I believe that there are a couple key concepts that must be embraced. To begin, if they're not running the classes that are promoted by their local clubs, they're destroying the purity of the pyramid and not providing stability to the sport. They're also costing their racers money because they will need to purchase additional equipment dedicated to that particular series. This makes ZERO sense. Secondly, licensing must be put in place that restricts first-year drivers from running regionally. The requirement to learn the intricacies of the sport will provide necessary numbers for club racing, it will better guarantee the quality of competition on the regional level, and it will save karters from themselves, stopping them from over-spending on regional racing, which will push them out of the sport early. We've seen that happen thousands of times. A guy finds the sport, he starts racing at his club, and then the shop he deals with sells him on hitting the road to attend regional and national events. His budget gets tapped out, karting is all of a sudden ridiculously expensive, and he's gone. What he should have been able to do was invest in his program, build up his inventory of spare parts, tools and great memories, and run a full year at his local club. After that, if he's itching for a new challenge, has developed his skills and is ready to travel, he'll be primed to go regional racing the following year. And presto, we've kept a new guy excited and in the sport.
In contrast to that plan, for some reason, many in our sport's industry promote regional racing as a program to sell to rookie drivers in an effort to put revenue into their sales figures. This is a short-term band-aid that is not good for the customer or the sport.
The approach to licensing must extend to the national series as well, which should be populated by the top drivers from the regional series. If we look at the 12-event number again, there will be drivers who have graduated from club racing and prefer to run regional and national events. The skills they have developed would have them dominating at the club and they wouldn't be challenged. National programs should be requiring all of their drivers to have at least one year of regional racing under their belts, which will again improve the quality of competition.
Here's the bottom line. The karting pyramid would be ideal if 10,000 club karters (Level 1) fed 4,000 racers into the regional series (Level 2), which in turn saw 500-1000 run regional and nationally (Level 3), all controlled by proper licensing. That equates to 100 karts clubs in the United States drawing 100 racers to each club race. The problem is this…there's not many clubs drawing 100 racers regularly these days. So, not only is the focus of the major industry players misdirected at the small upper level percentage of the pyramid, but the foundation, the base, the strength of the sport, is faltering and it's almost like they don't know or don't care.
Here's part of the solution for each and every karting industry member out there. Spend some time growing and supporting club karting. I know that you're focused on your team and running national races all year, but nurturing your local club will pay off. If you're a shop, make sure you have a $4000 turn-key four-cycle package to sell, because that $10k-plus shifter or TaG package you have on the showroom floor will often turn away the guys we need in the foundation. Spend some weekends at your local club helping out newbies and teaching them in the ins-and-outs of our sport. It's not that difficult. If we're to grow this sport, it will happen through a dedication to growing club racing, not adding another family with a $100,000 budget to your tent.
Race safe,
Rob Howden
Editor-in-Chief / Publisher
eKartingNews.com
Twitter: @robhowden
Please follow and like us: