Simraceway Performance Karting Center Gearing Up for International Kart Federation 4-Cycle Sprint Grand Nationals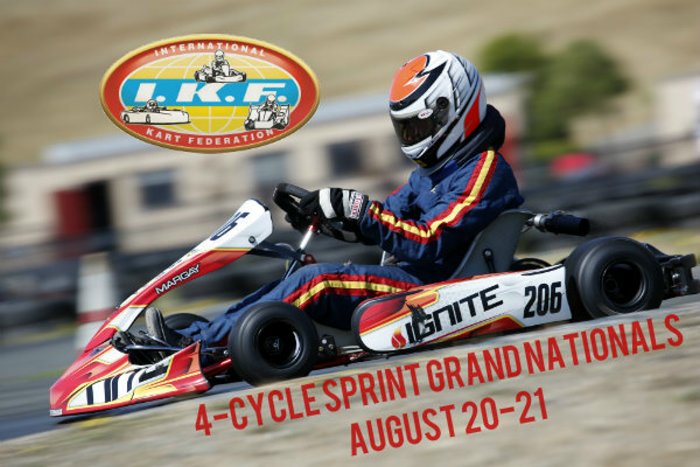 The International Kart Federation is scheduled for honored to again partner with Briggs & Stratton Racing for the 2015 IKF 4 Cycle Sprint Grand National in Sonoma CA. David Klaus, Director of Briggs Motorsports, wanted to find a way to give back to the same racers that have made 2015 such a positive year in 4 Cycle karting.
Briggs has taken things a step further, establishing a credit so that all entries have $35.00 discounted for the first class they enter. That's an instant credit, recognized when registering.
"It's wonderful to see the growth of grass-roots racing nationally. Club racing is where it all starts and we are pleased to share in the excitement that makes this family sport special" Klaus stated.
IKF member Dan Pellizzari, one of those working on the Sprint Grand National, said "It is truly special to work with such a great group at Briggs Racing. The 4 Cycle Sprint world does appreciate the continued generosity of our title-sponsor; we're working hard to make this a complete success".
Hoosier's R60 will again be the designated tire for this year's 4 Cycle Sprint Grand National, 4.5 fronts & 6.00 rears for all classes (except Junior 1) in Sonoma. Fuel will be a 91 octane, and available for sale each day…all day at Sonoma's facility.
Entrants can follow the simple instructions that allow racers to register and pay by credit card online at www.motorsportsreg.com. The Registration Form is also available on the IKF website, www.ikfkarting.com. Entrants can email, fax, or send USPS directly to the IKF office in Ontario, CA.
International Kart Federation 4 Cycle Sprint Grand Nationals will run August 20th & 21st, and the track will be open for testing up until the day of the event. For more information, contact Dan Pellizzari @ 530-221-4561.
The track layout will be the famed NATIONAL Layout.
Track Schedule Prior to Race Event:
August 17 – 9 a.m. – 5 p.m.
August 18 – 9 a.m. – 5 p.m. (Limited sessions)
August 19 – 9 a.m. – 5 p.m.
Arrive and drive seats are available. Please contact KC Morrison for more information.
International Kart Federation
1609 South Grove Avenue Suite 105, Ontario California 91761
Phone: 909-923-4999, Fax: 909-923-6940
IKF Website:  www.ikfkarting.com